SU to retire jersey of former Jaguar and NBA great Bob Love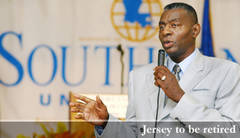 Southern University Athletics will retire the jersey of former basketball All-American Bob "Butterbean" Love during a ceremony at halftime of the men's game against Grambling State University Jan. 7. Tipoff is at 4 p.m.
"We are extremely honored to celebrate the ground-breaking achievements of Bob 'Butterbean' Love," said interim Athletics Director Sandy Pugh. "Love's contributions, both on and off the court, serve as a constant source of inspiration for not only our current student-athletes but our department as a whole."
"His journey encourages us to pursue greatness even in the midst of difficult times," she said. 
Love's No. 41 jersey will become only the third jersey retired in Southern men's basketball history and will hang in the F.G. Clark Activity Center's rafters alongside the late Bobby Phill's No. 34 jersey.
"After surveying our program's history, we decided that we needed to retire Bob Love's jersey, not based solely on his great career at Southern," said head men's Basketball Coach Roman Banks, who is also Love's godson. "Bob was a class act off the court and was the first NBA player to come from Southern all while dealing with a severe speech impediment which he overcame."
Love, a native of Bastrop, earned All Southwestern Athletic Conference honors from 1963-1965. Love also earned NAIA All American honors during his illustrious career at Southern. He went on to play 11 seasons for the Chicago Bulls in the NBA and currently ranks as the second- leading scorer in Bulls history behind only Michael Jordan.
"I am deeply honored that the university decided to retire his jersey during my tenure because he has influenced me as a person and a coach," said Banks, adding that Love has influenced his coaching career and has been an inspiration to his family.
The three-time NBA All-Star has been inducted into the NAIA, Basketball Coaches, Illinois, Helms and Louisiana Halls of Fame. But Love is widely respected for overcoming a debilitating speech impediment to become a motivational speaker, an author and the Bulls Director of Community Affairs, a post he's held since 1993.
"I think the value of his jersey being retired makes a statement to all student-athletes that despite all inefficiencies, you can strive to be the best and achieve greatness," said Banks.
"I think the time is right because he can express himself in his own words and I can remember once when he wasn't able to do that," Banks said.
Tickets for the Jan. 7 doubleheader (Lady Jags play at 2 p.m.) are $5 and can be purchased at the SU ticket office. For more information, please contact the SU Box Office at 225.771.3171.