The Southern Digest racks up at HBCU Student News Media Conference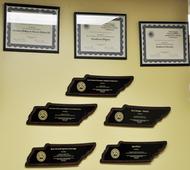 Courtesy of Fredrick Batiste
The awards keep rolling in for The Southern Digest, Southern University's student-run newspaper.
The Digest picked up eight awards, including five first-place honors, during the 2013 National HBCU Student News Media Conference's Excellence in Journalism contest.
The other three awards were for second-place. The conference was held at the Freedom Forum Diversity Institute on the Vanderbilt University campus.
"I am extremely proud of our student staff for their outstanding accomplishments," said Heather Freeman, Director of Student Media. "I have witnessed the dedication and hard work of our students, and it is rewarding to see their talent recognized by others."
The Black College Communication Association annually conducts the Excellence in Journalism contest to encourage and recognize excellence among HBCU student journalists and newspapers. The contest is open to BCCA member publications and entries came from the publications' 2012 coverage.
"This recognition is not just for the SU office of student media, but it is also for Southern University and A&M College. We represented our school, our office and ourselves well," said Evan Taylor, Southern Digest editor in chief. "We're the best among HBCUs now, but next year will be a new year… the work continues, we strive to be the best and awards continue that legacy."
The first-place awards include the following:
· Best student newspaper: regular production (producing issues more than once per week)
· Best newspaper design for tabloid-sized newspapers (Taylor)
· Best spot news story (Taylor)
· Best news series, investigation or in-depth story for the Digest's coverage of Hurricane Isaac preparation. The Digest earned national recognition from the Associated Collegiate Press in October for its Isaac coverage.
· Best overall sports coverage (Aristide Phillips, sports editor and Morris Dillard, sports writer)
The Digest's Bayou Classic multimedia package (http://bit.ly/Y2dHtw) earned a second-place award in the best multimedia package category. Former news editor Charles Hawkins II's coverage of the state of the university's architecture school placed second in the best news series category. The final second-place finish was in the best overall sports coverage category.
"These awards make the late nights and complaints a lot easier to tolerate," said Fredrick Batiste, Office of Student Media publications assistant and BCCA vice-chairman. "All of the credit goes to the staff. This recognition is based upon the hard work and sacrifices that they have made, and will continue to make, to cover the Southern University community better than anyone else."
The BCCA is a not-for-profit organization established through a grant from the Freedom Forum. Membership consists of administrators at HBCUs with communications programs. The BCCA's mission is to identify resources necessary for strengthening communications programs at HBCUs; provide technical assistance to HBCUs seeking accreditation; and establish state-of-the-art hardware systems, which can be shared by member institutions to promote the understanding and advancement of communication as an academic and professional field.
"These entries and winners show a real passion for journalism from a new generation of journalists," said Reginald Stuart, contest coordinator and recruiter for the McClatchy Company. "We're excited about their future and look forward to seeing their work in media."
In the photo from left to right: Evan Taylor, Editor-in-Chief, Digest; Marcus Green, Manager Editor, Digest; Fredrick Batiste, Advisor, Digest/Ego Magazine; Jessica Sarpy, Commentary Editor, Digest; Aristide Phillips, Sports Editor, Digest; and Norman J. Dotson, Jr., Editor-in-Chief, Ego Magazine.