SUBR MBA team places 2nd in annual Diversity Summit Case Competition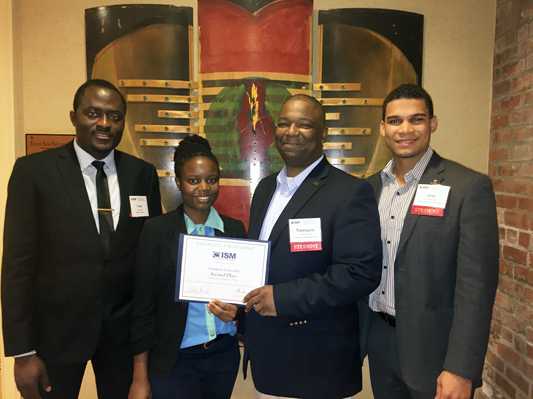 The Southern University Baton Rouge (SUBR) MBA team took second place at the 2016 Institute for Supply Management (ISM) Annual Diversity Summit Case Competition in New Orleans, February 12, 2016.
The SUBR team included College of Business graduate students Tremayne Criner, Sophie Balunywa, Chie Fred Awumah, and Jose Francisco. Howard University placed first. Other participating institutions included Tennessee State University, Clark Atlanta University, Spellman College, and Texas Southern University.
"Working on the case with a diverse team gave me a glimpse into the trials and tribulations of actual teamwork. Presenting the case to an audience of professionals and receiving positive feedback was refreshing, this experience showed me that we all have the capabilities to compete anywhere, regardless of our backgrounds; as long as you set your mind to it," said Balunywa.
Criner added, "Participating in the ISM Diversity's Case Competition event was a great opportunity to showcase our talent we have in the Southern University's MBA program against other top-notch HBCU institutions. The ISM Diversity sponsors, supporters, and attendees were all pleased with our team's enthusiasm, positive energy, and our will to strive for excellence. I am truly humbled by the experience and proud to have represented 'The Great' Southern University in this event."
At the annual competition, teams from invited colleges have the opportunity to develop analytical and reasoning skills in a professional setting, much like they will face in the business world.
According to Francisco, "This case competition was an eye-opening experience to demonstrate the talent of the student body of our University and the quality of education that we are obtaining. I think we set the path for the next generation of students. We should promote the participation on case competitions and encourage the students to participate, which is a learning experience with a lot of benefits. Networking with chief officers in top companies in our desired career path, there is no classroom for that. I encourage teachers to coach and motivate our students to participate and take advantage of this life changing opportunities."
ISM is the largest global organization dedicated to advancing the practice of procurement and supply management. ISM is the leader in supply chain, driving value to its members with its two widely renowned certifications, the Report On Business®, countless educational resources, and extensive networking events around the globe.
"The Institute for Supply Management (ISM) Diversity Summit 2016 created numerous opportunities for networking with top supply chain professionals and recruiters from leading industries such as Johnson & Johnson, Wells Fargo, Honda, Du Pont, UPS, Pfizer, American Water, Merck, ADT Security Services and more. Talks laid emphasis on the importance of getting a mentor (professional) to help build a career. The ISM provide these activities and professionals are willing to take up mentoring roles. Other HBCUs are taking advantage of these opportunities thus I want to call on my fellow College of Business/Southern University students to engage in such activities to boost their career chances," Awumah said.
Jose Noguera, MBA professor, supply chain management and chair of the Management and Marketing Department in the College of Business, SUBR, organized and coached the team for the competition.
#     #     #