Commencement Information
SUBR Commencement Information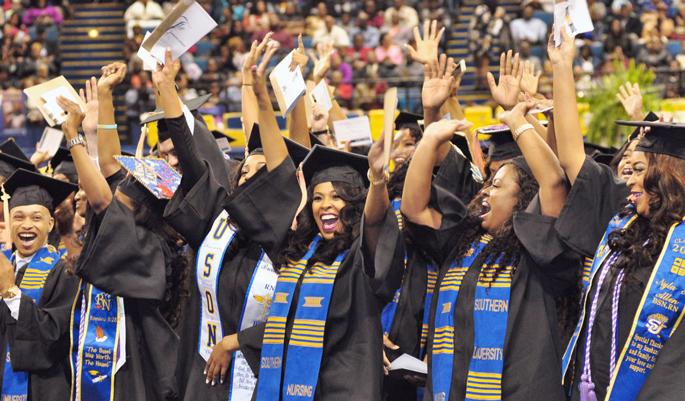 These resources are provided to help prepare degree candidates and their guests for the commencement ceremony, which is under the direction of the Office of Academic Affairs and the SUBR Commencement Committee.
The Fall 2017 Commencement procession of the SU graduation candidates is set to begin at 10 a.m. on Friday, December 15. Family and friends of graduating students are encouraged to arrive early.
Southern University is expecting over 500 students to graduate during the Fall ceremony. In the event the F.G. Clark Activity Center should reach its capacity, there will be an overflow location for a live stream of the ceremony at the Smith-Brown Memorial Student Union. Shuttles will be provided to transport attendees to and from the F.G. Clark Activity Center.
Again, early arrival is suggested prior to 10 a.m. to allow time for parking and seating.
DROP OFF LOCATION FOR PERSONS WITH LIMITED MOBILITY
Persons with limited mobility who plan to attend Southern University's Fall 2017 Commencement Services on Friday, December 15, 2017 at 10:00am should enter the F.G. Clark Activity Center parking lot by way of Harding Boulevard or Swan Avenue.
Signs stating "Handicapped Parking" and "Limited Mobility Drop-off" will direct vehicles with limited mobility guests to the elevator entrance of the Activity Center located on the Harding Boulevard side where they can be dropped off.
For more information on graduation day, please follow Southern University on Twitter (@southernu_br) and Facebook.
Fall 2017 Commencement
Ceremony:
Friday, December 15, 2017; 10:00 a.m.
F.G. Clark Activity Center
Rehearsal:
Thursday, December 14 @ 10:00 a.m.
F.G. Clark Activity Center
Click here to access the Commencement Fact Sheet

Important Information for Graduation Week
Contact Information
graduation@subr.edu

Watch Commencement Ceremony stream live by clicking the following link:
https://www.youtube.com/watch?v=IVXuUPiCCCA