Manning becomes first to earn Southern's BIS online degree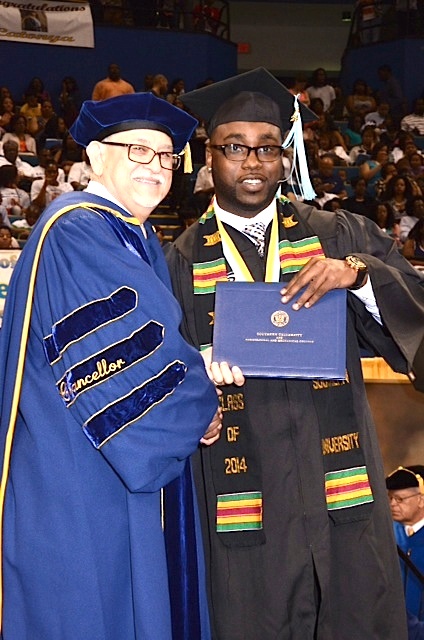 Joseph Manning says he is happy and excited about being the first graduate of Southern University Bachelor of Interdisciplinary Studies online degree program.
"It feels good to be the first," Manning said. "I hope others see this and it can get other athletes motivated to finish their degree."
Manning completed the online degree program and received his degree at graduation ceremonies here on May 9.
His travel to the BIS degree took a little while. Manning transferred to Southern from Florida State University in 2007 to play football for the Jaguars. The cornerback played two years on the team before ending his eligibility in 2008. However, he still had some hours to complete before he could get a degree.
He left school and started working in the Baton Rouge area. Then he moved back to his hometown of Tallahassee, Fla., also the home of Florida State and Florida A&M University.
While there, he was considering working toward his degree. "I got some encouragement to go to FAMU, but I just wanted to finish as a Jaguar," he said.
Manning said he heard about Southern's online degree program a little over a year ago and became curious about how it worked. He contacted Dr. Luria Young, interim dean of the College of Education and Art and Humanities.
At the same time he sought out funding from the National Collegiate Athletic Association degree completion award.
The NCAA established the program to assist student-athletes who have exhausted their eligibility for institutional financial aid (in five years). Applicants must have completed eligibility for athletics-related aid at a Division I member institution before applying and must be within 30 semester hours of their degree requirements.
Student-athletes receiving the award receive an amount equivalent to tuition and fees, and receive a book allowance based on the number of hours in which they are enrolled.
"It took a little while but we got it together and we were able to get everything done," he said.
Manning said he wants to be an example for other athletes who do not have a degree when their eligibility is exhausted. "A lot of players want to go home when they are through playing football. They don't make it a point to graduate," he said.
Manning, who turned 28 on May 15, is working in retail in Tallahassee. He is waiting to see his scores on the Law School Admissions Test that he took recently because his goal is to attend Law School.  He is leaning toward attending the Southern University Law Center.
"I guess you can say I like Southern," he said laughing. "But, I really hope this gets others to complete their degree."
(If you want to know more about the Bachelor of Interdisciplinary Studies Online Degree or any of Southern's other online degree offerings, call 1-877-976-5601 or visit our website at www.subr.edu and click on the New Online Degrees icon.)