Jaguar Preview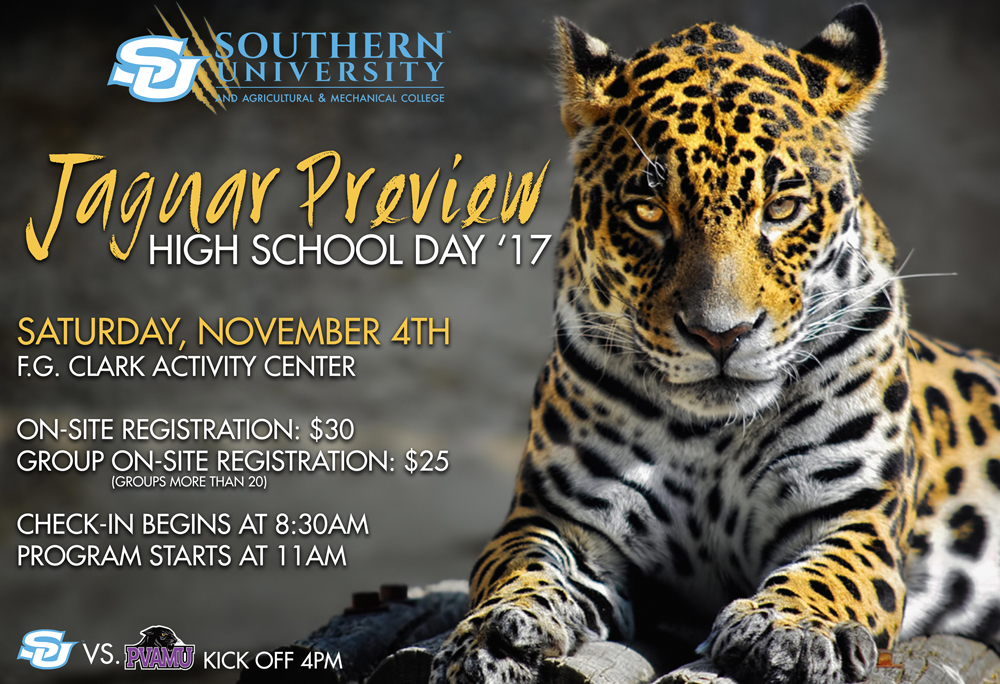 JAGUAR PREVIEW
HIGH SCHOOL DAY 2017

November 4th, 2017
PROGRAM BEGINS: 11:00 AM
ON-SITE REGISTRATION ONLY
On -Site Registration: $30
Group On-Site Registration: $25
(Groups more than 20)
Southern University vs. Prairie View A&M University
ALMOST THAT TIME OF YEAR! Southern University and Agricultural & Mechanical College is gearing up for Jaguar Preview - High School Day 2017.
Are you ready to endure your first experience as a student in Jaguar Nation? It's an all-day event!!!!!
Jaguar Preview - High School Day is an opportunity for prospective students that have an interest in enrolling in Southern University along with parents, teachers and guidance counselors to get an intimate look into the University's world class educational programs and exceptional student services. The students will have the opportunity to speak with faculty and staff from various academic departments and throughout the day the Southern University Student Recruiters, will provide campus tours. Planned activities include a welcome program, student organizational fair, tailgate, performance by the World Renowned Southern University Marching Band, the Gold N' Bluez Dance Team, the SU Cheerleaders, the National Pan Hellenic Council, and you get to witness the Southern University Jaguars take on the Prairie View Panthers.
For more information, call the Southern University Office of Admissions and Recruitment at 225.771.7827
We look forward to seeing you! #WeAreSouthern #JaguarPreview17 #SU22 #DiscoverYouAtSU GEAUX JAGS!