FRF Brandon K Dumas

Brandon K. Dumas, Ph.D.
Dr. Brandon K. Dumas was appointed Vice Chancellor for Student Affairs at Southern University and A&M College, effective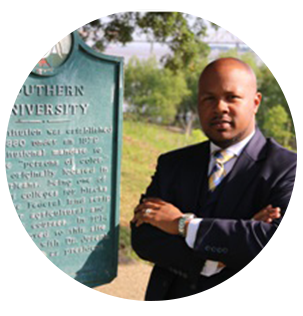 November 1, 2012. His appointment was approved and confirmed by the Board of Supervisors of the Southern University System at its November, 2012 meeting. He supports both the academic mission of Southern University and the Division of Student Affairs. As Vice Chancellor for Student Affairs and a member of the Chancellor's Cabinet he reports directly to the Chancellor. In this position, Dr. Dumas oversees an annual budget in excess of $21,000,000.00 and is responsible for fostering an atmosphere conducive to the pursuit of knowledge, basic rights and responsibilities by providing disciplinary standards that are in the best interest of the University and its students. He provides leadership to over 100 professional staff members. He is responsible for the oversight of the following areas: Campus Dining, Career Services, Dean of Students, Greek Life, Intramural Sports, Residential Life & Housing, Smith-Brown Memorial Student Union, Student Health Center, Student Life, Student Media, Student Programs and the University Counseling Center.
Prior to this appointment, Dr. Dumas served as the Associate Vice Chancellor for Student Affairs from October 2011 to October 2012. He supported both the academic mission of Southern University and the Office of the Provost and the Division of Student Affairs. As the Associate Vice Chancellor, he reported to the Provost and Vice President for Academic Affairs.
From September 2010 to September 2011, Dr. Dumas served as the Deputy Chief of Staff of the Southern University System. In that position, Dr. Dumas managed the operations and support staff in the Office of the President and served as the president's liaison with university constituents. Prior to being named Deputy Chief of Staff, Dr. Dumas served Southern University as the Coordinator of Student Affairs, Student Relations Coordinator, and Executive Associate to the President.
Dr. Dumas holds degrees from Southern University (A.S., B.S.), Criminal Justice and from Salem University (MBA). In 2011, First Lady Michelle Obama and Governors Haley Barbour (Mississippi) and Bobby Jindal (Louisiana) acknowledged him for becoming the youngest graduate in the history of Jackson State University's Executive Ph.D. Program, where he earned the Doctorate of Philosophy in Urban Higher Education with a focus in Higher Education Leadership and Administration at the age of 26. His dissertation was entitled Decision-Making Practices of Presidents at Historically Black College and Universities and he ultimately aspires to become a President/Chancellor of one of the Nation's 105 HBCU's.
In addition to his service to his alma mater, Dr. Dumas is active in several religious, educational, social and civic organizations. He serves as Chairman of the Board of Directors at the Dumas House Senior Living Complex and as Vice Chairman of the Board for the East Baton Rouge Council on Aging, the East Baton Rouge Housing Authority and the Wesley Foundation. He serves as Deacon at the Greater Mount Olive Missionary Baptist Church and holds membership in Alpha Phi Alpha Fraternity, Inc.; Association for the Study of Higher Education (ASHE); American College Personnel Association (ACPA); National Association of Student Affairs Professionals (NASAP); Southern University Laboratory School Alumni Association; and Southern University Alumni Federation.
He is married to Shená R. Dumas, a native of Alexandria, Louisiana and they are the proud parents of two energetic daughters, Braxtyn and Brailyn.
⇐ ICITD Faculty Research Fellows
Office Address: Southern University and A&M College, College of Business, T. T. Allain Hall.
P. O. Box 9723, Baton Rouge, LA 70813. Email: icitd@subr.edu, programs@icitd.com