Campus Tours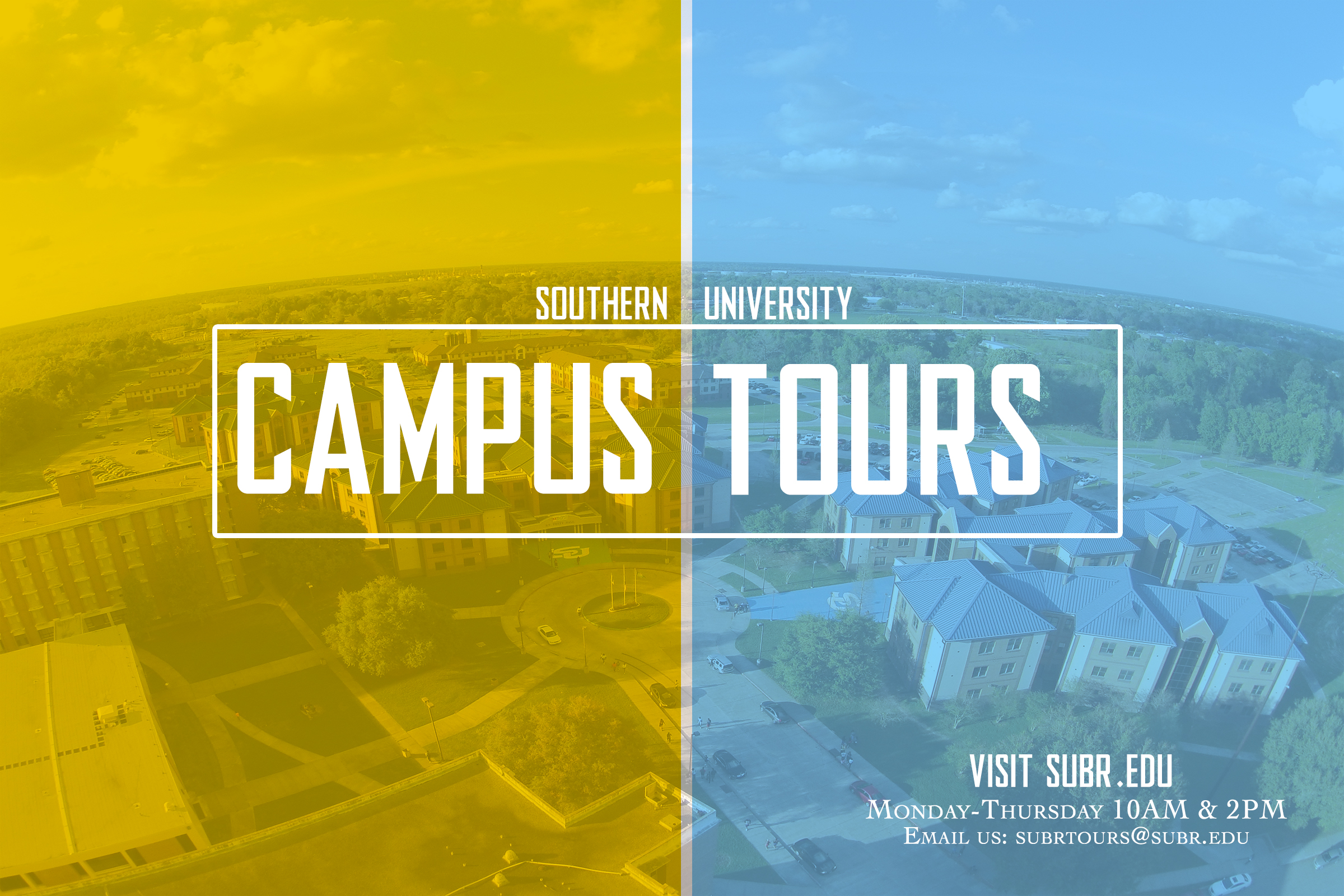 Campus Tours at Southern University
The Office of Admissions and Recruitment welcomes prospective students to the campus to learn about the university from our Academic Recruiters and Jaguar Ambassadors. We are delighted that you are interested in visiting Southern University and A&M College and ask that you make your reservation using the convenient link below. A campus visit consist of an Information Session geared toward prospective freshman applicants and a Central campus walking tour. Some academic departments will meet with prospective students if time allows.
Campus Tours Availability
Monday - Thursday 10:00 AM or 2:00 PM (Central Time)
Campus tours and visitations exclude ALL semester breaks, holidays, & Southern University and A & M College closures
Reservations are required. Do not make travel arrangements until you receive your email confirmation including the time for which you are scheduled.
How to schedule a Campus Tour:
E-mail your tour request to subrtours@subr.edu.
Online Schedule a Campus Tour
Once you have completed the Campus Tour, you will be asked to complete a Campus Tour Survey. Please use the link below to complete the survey and submit your feedback.
*** Please be sure to include: at least two (2) suggested dates, an official contact person, cell phone number(s), an e-mail address, a fax number, & where you would like your tour confirmation sent ***
**** Please allow 48-72 business working hours for a Tour confirmation. ****
Group Tours
Southern University and A&M College Office of Undergraduate Admissions is committed to providing access to the University's campus for school groups, educational organizations, and other special visitors who are interested in learning more about Southern University.
We provide a campus visitation program for students, grades 8-12. Information sessions and campus tours are organized with prospective college students in mind, and are not intended for general school field trip purposes.
If your students would like to eat on campus, you MUST make those arrangements with the Department of Campus Dinning. Please contact Campus Dining at 225-771-2363 prior to visiting the campus to ensure meal accommodations. Please understand that lunch is a separate activity from the campus tour and is not included within your designated tour time. Dining arrangements must be made for a time before or after your tour.
Please contact us at:
SUBR Campus Tours
P.O. 9231
Baton Rouge, LA 70814
Phone: 225-771-7827
Email: subrtours@subr.edu