Educational Talent Search (Pre-College program)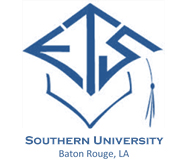 Educational Talent Search
Educational TALENT SEARCH (ETS), one of the pre-college "TRiO" programs, federally sponsored by the U. S. Department of Education, created as part of the Higher Education Act of 1965. TALENT SEARCH joined Upward Bound, which emerged from the Economic Opportunity Act of 1964. In 1968, Student Special Services, now known as Student Support Services, was authorized. The term "TRiO" was coined to describe these programs.
Housed on the campus of Southern University at Baton Rouge for fifty years, TRiO- Educational Talent Search, a/k/a as Project Aspiration Uplift in early years, has continued to provide program services to students of South Central Louisiana. Currently, the program is funded to serve 985 participants aged 11-27 from a seven-parish target area, both rural and urban parishes, with the majority of participants coming from rural parishes.
Educational TALENT SEARCH, an informational and preparatory enrichment program, identifies and assists low-income and first-generation individuals (aged 11-27 and/or grades 6th-12th) who have the academic potentials, but lack adequate preparation needed to succeed in secondary school and/or postsecondary programs. The program provides academic, career, personal-social, and financial counseling to its participants and encourages them to graduate from high school and continue on to complete their college education or career training program. ETS assists participants in obtaining financial aid for college or career programs along with completing the postsecondary application process. The program's goals are to generate skills and motivation necessary for participants to complete secondary school in the standard four years and postsecondary education programs in six years.
ETS Services and Activities
— College and Career preparation
— Academic/Study Skills development
— ACT Interpretation and Motivation (Explore, Plan, The ACT)
— Self-development for self reliance, leadership and character
— Core 4 course selection advisement
— Financial aid opportunities (FAFSA ANDSCHOLARSHIPS!!!)
— Financial planning and literacy
— Interactive workbooks/technology for developing and achieving goals
— "Xternships" (Partnering- off-campus educational and cultural training experiences)
College~Career~Cultural Awareness trips and tours
Former Participants... We want to hear from you! Please email or phone your name, high school, year as a student-participant, and current contact information.
For more information contact:
Educational Talent Search,
Patricia Doucet, Executive Director,
Honors College Building, #187
P.O. Box 9694
Baton Rouge, LA 70813
Phone: (225) 771-5100
Fax: (225) 771-3507