Homecoming 2018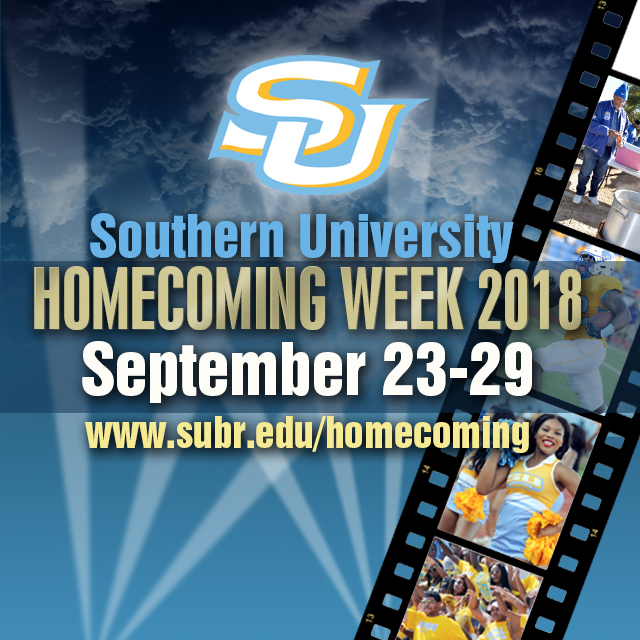 Welcome all visitors, alumni, and Jaguar Nation to Homecoming 2018
The SU Family, Homecoming Committee, Administrators, Student Government Association, Alumni Federation, Faculty, and Staff all welcome you back home to the best HBCU in the world Southern University and A&M College. We want you all to enjoy the ambiance and reminisce of your good times here at this fine institution as well as make new memories. Welcome Home!
ACTIVITIES
Sunday, September 23
"Generation Wars"- Alumni vs. Student Basketball Game
F.G. Clark Activity Center
7:30 p.m.
Monday, September 24
Spirit Day: Dress in Blue and Gold
Convocation- "SU Advengers"
Royal Cotillion Ballroom
10 a.m.
Free and Open to the Public
Special Guest- Bishop Raymond Johnson
*Scanned event- Student IDs will be scanned at the end
The Ultimate Talent Showcase
Smith-Brown Union Front
Noon
Free and open to the public
Gospel Fest (Co-Sponsored by WXOK)
F.G. Clark Activity Center
6 p.m.
FREE to all SUBR Students / Scanned Event
$15.00 Regular
Tickets can be purchased online at Ticketmaster.
Open to the Public
Artists:
Maranda Curtis
Smokie Norful
Casey J
Ted Winn
Johnathan Nelson
Melvin Williams
Phil Thompson
Joshua Rogers
Terrell Rogers and Men of Destiny
Isaiah Templeton
Alvin Darling
Kelontae Galvin
Jimmy Hicks
Christina Bell
Tuesday, September 25
University Police Safe Driving Campaign
Smith-Brown Union Courtyard
Noon
10th Annual Alumni Homecoming Exhibition and Showcase
Frank Hayden Hall
Visual Art Gallery
6 p.m.
Reception to follow
Comedy Show and Fashion Extravaganza
F.G. Clark Activity Center
7:30 p.m.
FREE to SUBR students
Special Guest: King Kiren, De Lay, & Darren Brand
General Admission-$20 with 18+ ID
Tickets can be purchased at Ticketmaster.
Wednesday, September 26
"Wakanda Wednesday"- The Ultimate Pretty Wednesday and Annual Student Health Fair- Dress- African-inspired Attire
Smith-Brown Union Front 11 a.m.-3 p.m.
Health Fair includes*:
HIV testing
Blood pressure screening
Cholesterol screening
Diabetes screening
Eye screening
Clinical breast exams
Height, weight, and BMI measurements
Nutrition education
Mental health appraisals
*Free for SU students, faculty and staff
"The Empire's New Reign"- The 88th Miss Southern University's Coronation
F.G. Clark Activity Center
Pre-Reception begins at 6 p.m.
7 p.m.
Formal White Grecian Attire Required
"E.M.P.I.R.E."- Toga Party with SGA, Miss SU, and NPHC- Toga Attire
Horace G. Moody Intramural Complex
9 p.m.-midnight
Free to SUBR Students with Valid ID
Toga Attire
Thursday, September 27
Day of Service and Mentorship- Dress- Camouflauge Day
ROTC Challenge
Obstacle Course
Smith-Brown Union Courtyard
Noon
Alumni and SUS Foundation- Welcome Wine and Cheese

5 p.m. – 8 p.m.
Donald C. Wade Alumni House
Homecoming Concert
Artists
Yo Gotti
Avant
Money Bag
F.G. Clark Activity Center
7:30pm
Free with SU ID Card/Scanned Event
$40.00 Admission without SU ID and with valid 18+ ID
Tickets can be purchased at the SU Ticket Office
Friday, September 28
EBR Chapter Alumni David Quiett Golf Tournament
8 a.m.
Woody Dumas Golf Course
13350 LA-19
Zachary, LA 70791
Pep Rally
F.G. Clark Activity Center
Noon
Free and Open to Public
Southern University Alumni Federation (SUAF) Roundup on the River/ SUAF Party
1 p.m. – 6:00 p.m.
Entertainment-Mike Foster Project & DJ Major
Donald C. Wade Alumni House
Alumni- Open House and Campus Tours
SU Alumni House
Noon- 1 p.m.
Celebrating the Class of the 8's
Greek Show
F.G. Clark Activity Center
7:30 p.m.
$10 for students in advance
$15 General Admission
$15 online sales
Tickets can be purchased on Ticketmaster.

Alumni- Jags Living Their Best Lives - The Meltdown VI SU 80 & 90s Reunion Party featuring Mannie Fresh
8 p.m. – 12:30 a.m.
The Estuary
College of Business- "Gala on the Bluff" Scholarship Fundraiser
Belle of Baton Rouge Casino and Hotel
8:00 p.m.
Featured Guest: The Manhattans featuring Gerald Alston
Tickets: $100
Contact Toni Jackson at 225-771-5640 for more information or visit www.galaonthebluff.com
Alumni- Reunion of Friends
10 p.m. - 2 a.m.
$10
Proceeds go to The Top Jags Scholarship Fund
Saturday, September 29
Homecoming Parade
8 a.m.
Routes start Scotlandville Community

SUAF Reunion Tailgate
Nursing School Lawn
11 a.m. – 4 p.m.
Non-Members: $10
Pre-Game Ceremony
A.W. Mumford Stadium
4:45 p.m.
Homecoming Game- Shirt Color: White
Alcorn Braves vs. Southern University Jaguars
A.W. Mumford Stadium
6 p.m.
Sunday, October 1
Brunch
Mayberry Cafeteria
Noon
For information regarding athletic events, please contact the SU Ticket Office at 225-771-3171.

For information regarding alumni events, please contact the Office of Alumni Affairs at 225-771-4200.

For informations regarding student events, please contact the Office of Student Affairs at 225-771-3922.