Information for Graduates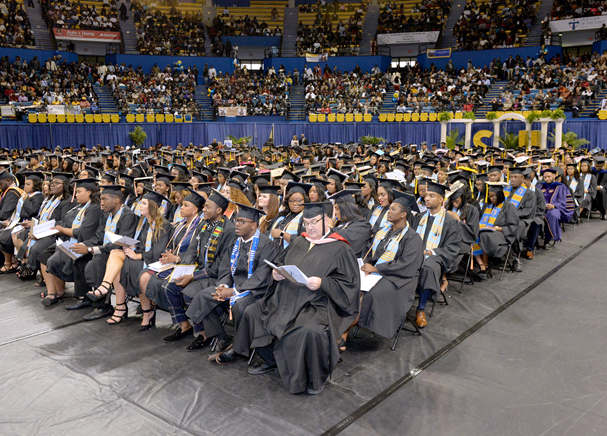 Clearance for Graduation
Candidates for graduation are responsible for satisfactorily completing all general University, major department, academic, and financial requirements. Participation in the Commencement Ceremonies, the appearance of names in the printed program, or receipt of this information will not be considered evidence of graduation.
Academic Clearance - Candidates are required to consult with the Office of the Dean of their respective College to determine if they have met all academic requirements. Candidates, who are unsuccessful in completing the graduation requirements, must RE-SUBMIT an application for graduation for the semester in which degree requirements are completed according to the published deadline.
Financial Clearance - Candidates are required to log onto their Banner account to ensure that there are no outstanding balances associated with their account (Campus Police, Library, Financial Aid and Bursar). The Graduation Fee for all candidates is $41. Payments may be made online or by cash, certified check, credit card, or money order. Personal checks are not accepted.
All students must complete the Exit Counseling interview online at www.studentloans.gov. Students should contact the Office of Student Financial Aid with any questions or concerns: 225.771.2790.
Check-Out Process
The check-out process for candidates for graduation has been updated. Candidates should complete the Exit Counseling interview as requested by the Office of Student Financial Aid. Candidates should also ensure that there are no financial obligations to the university. This should be completed prior to Friday, December 6, 2019. All forms that require signatures will be routed from the Registrar's Office to each respective area. Listed below are the respective areas that candidates should contact:
Financial Aid Office
International Student Affairs (International Students Only)
Comptroller' s Office/Cashier (Accounts Receivable, NDSL, Library)
Campus Police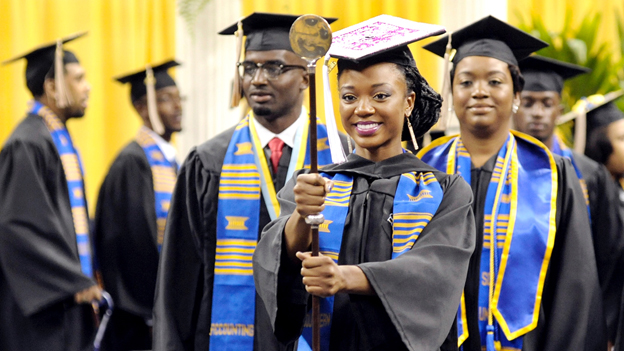 Arrival/Assembly for Academic Processional/Recessional
Graduates must arrive in cap and gown promptly at 8:00 a.m. on Friday, December 13. Family and friends will not be permitted to enter the assembly area. Staff members will be available to help direct graduates to the appropriate line-up areas as well as to direct family and friends to seating areas. Following the ceremony, all students will participate in the formal recessional from the arena.
Diplomas/Degrees
Diploma covers (not diplomas) will be issued to each candidate walking across the stage at the commencement ceremony. All students who have been cleared by the close of business on December 12, 2019 will receive their diplomas in the auditorium of the J. K. Haynes School of Nursing following the commencement ceremony. Diplomas for students who have cleared and do not come to the J. K. Haynes School of Nursing auditorium following the commencement ceremony will be available for pick up from the Registrar's Office the following business day.
Upon verification of degree requirements, diplomas will be mailed to the address listed on file. Diplomas will be issued to students who are awarded ONLY! That is, students who have been cleared by their respective dean. If a student has NOT been awarded, then the student must see their respective dean for clearance.
Photographs
A photographer with the private vendor, Candid Campus Photography, has been engaged to take your picture with the President-Chancellor as you cross the stage. You may order pictures directly from the photographer. Specific details will be provided directly from the vendor.
Review the Commencement Fact Sheet for more information.