Good Governance, Entrepreneurship and Grantsmanship for Sustainable Development

Good Governance, Entrepreneurship and Grantsmanship for Sustainable Development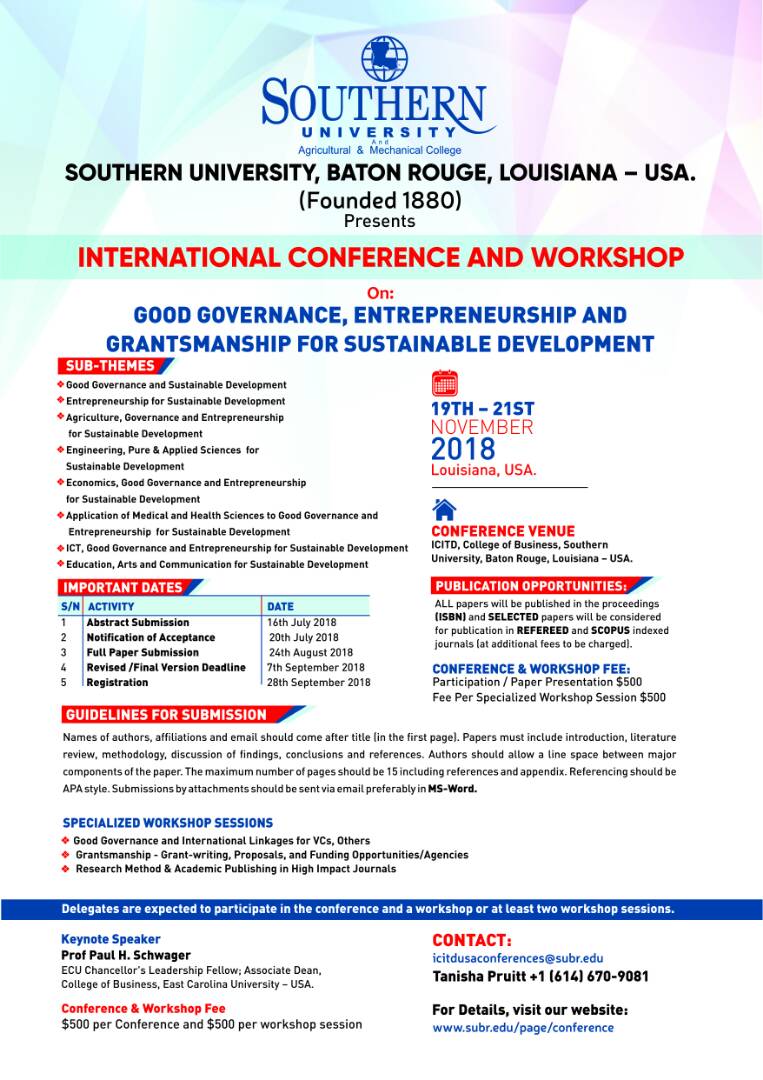 Sub-Themes
Good Governance and Sustainable Development

Entrepreneurship for Sustainable Development
Agriculture, Governance and Entrepreneurship for Sustainable Development
Engineering, Pure & Applied Sciences for Sustainable Development
Economics, Good Governance and Entrepreneurship for Sustainable Development
Application of Medical and Health Sciences to Good Governance and Entrepreneurship for Sustainable Development
ICT, Good Governance and Entrepreneurship for Sustainable Development
Education, Arts and Communication for Sustainable Development
Click this link for the Conference Registration Form
Conference Venue
ICITD, College of Business, Southern University, Baton Rouge, Louisiana – USA.
Important Dates:
| | | |
| --- | --- | --- |
| S/N | ACTIVITY | DATE |
| 1 | Abstract Submission | 16th July 2018 |
| 2 | Notification of Acceptance | 20th July 2018 |
| 3 | Full Paper Submission | 24th August 2018 |
| 4 | Revised /Final Version Deadline | 7th September 2018 |
| 5 | Registration | 28th September 2018 |
Publication Opportunities:
ALL papers will be published in the proceedings (ISBN) and SELECTED papers will be considered for publication in REFEREED and SCOPUS indexed journals (at additional fees to be charged).
Guidelines for Submission
Names of authors, affiliations and email should come after title (in the first page). Papers must include introduction, literature review, methodology, discussion of findings, conclusions and references. Authors should allow a line space between major components of the paper. The maximum number of pages should be 15 including references and appendix. Referencing should be APA style. Submissions by attachments should be sent via email preferably in MS-Word.
Conference & Workshop Fee:
| | |
| --- | --- |
| Participation / Paper Presentation | $500 |
| Fee Per Specialized Workshop Session | $500 |
NOTE:
Invitation letters for those needing such for visa applications can only be issued when at least 50% of conference fee is paid. Those who have US visas will need to register for the conference with at least 20% of the conference fee. Balance can be accepted at the conference venue. The fee covers for lunch, conference materials (soft), book of abstract, Certificate of Attendance / Presentation, etc.
METHOD OF PAYMENT:
Over-the-Counter Bank Transfer:

Bank account will be informed upon request or upon acceptance of submission.

Credit Card:

Payment can be made online via PayPal or our platform. The instruction and permission of online payment will be provided along with the acceptance.
PAYMENT CALCULATION:
Each participant needs to pay the registration fee. One author with one accepted submission will have to pay $500. The co-author of the same paper shall make the payment of $500 individually if he/she will present the paper together in the conference. If one author has more than one accepted paper to present, he/she will have to make the payment $150 for each submission.
RECEIPT:
The receipt as a proof of payment can be downloaded on ATTENDEE platform after the payment is completed. Alternatively, receipts will also be sent via email or collected at the venue.
Specialized Workshop Sessions:
Good Governance and International Linkages for VCs, Others

Grantsmanship – Grant-writing, Proposals, and Funding Opportunities/Agencies
Research Method & Academic Publishing in High Impact Journals
Delegates are expected to participate in the conference and a workshop or at least two workshop sessions.
Keynote Speaker:
Prof Paul H. Schwager
ECU Chancellor's Leadership Fellow; Associate Dean, College of Business
East Carolina University – USA.
Accommodation:
Good and budget-friendly hotels are available around the conference venue. Information on accommodation is available on request. The hotel offers reduced rates for conference delegates. Reservations can be made by the organizers on request.
Contact
Call: Tanisha Pruitt +1 (614) 670-9081
Click this link for the Conference Registration Form
FREQUENTLY ASKED QUESTIONS (FAQ)
What is the Conference and Workshop about?
The Conference is an academic gathering for scholars, researchers and others to make paper presentations on topics related to the theme. The Workshop is a session meant to share knowledge, skills and experience. There will be three sessions on Good Governance; Grantsmanship and Research Publications.
Who organized this Conference and workshop?
It is organized by the International Center for Information Technology Development (ICITD), College of Business, Southern University, Baton Rouge – Louisiana, USA.
Who are the target audience for the conference and workshop?
University Vice Chancellors, Heads of Institutions of higher Education, Principal Officers, Heads of Entrepreneurship Centers, Academics, Researchers and other interested corporate organizations and individuals from all over the globe – Europe, Asia, Africa, Americas, etc.
How can I be part of the Conference and Workshop?


You can be part of the program by attending either the conference, or workshop(s) or both. This you can do by indicating your interest to attend any of the program activity via the e-mail:

icitdusaconferences@subr.edu

or call Tanisha on +1(614) 670-9081.

What is the Fee for the conference and Workshop?
To either attend or present a paper at the conference, the fee is $500. While another $500 is for any of the three workshop sessions. If one is to attend all the events therefore, it will be $2000 (to cover conference and all the three workshop sessions).
How do I pay for the conference and workshop?
Payment can be made after acceptance to attend which will be sent via e-mail. Thereafter, electronic platforms shall be given to the intending delegate or organization to make the payment. Note that a commitment fee is expected before the program and balance can be accepted at the venue. US and Canada citizens however can pay at the venue.
Is there room for late registrations?
No. Except cogent reasons are advanced and the organizers grant approval in which case, a token shall be charged for late registration which and be advised via e-mail.
How do I get invitation letter to process visa to attend the program?
Invitation letter to attend the program shall be issued to those needing to apply for US Visa. This shall be issued to such individuals after confirming payment of at least 40% of the conference fee.
What about accommodation for delegates?
All conference participants will be staying at Fairfield Inn by Marriott, Essen Park Avenue, Baton Rouge LA , USA. The negotiated reduced rate is $75 however the conference participants can share a room if they so wish. all participants can book for this hotel and make the payment on arrival.
How do I get clarifications on issues regarding the conference?


Clarifications and response to inquiries can be given via e-mail:

icitdusaconferences@subr.edu

or phone calls (only) to Tanisha Pruitt +1(614) 670-9081.
Conference Technical Committee:
Prof. Victor Mbarika - Chair
Assistant Professor Foluso Ayeni - Secretary
Professor Kim Macgregor
Professor Rhonda Syler
Professor Chanika Jones
Prof. Nicholas Omoregbe
Dr. Sena Okuboyejo
Assistant Professor Femi Ekanoye
Dr. Sharon Nicholas Omoregbe
Professor Shettima Saidu
Mr Isaiah Bulus
Ms Tanisha Pruitt
Dr Toyin Enikuomehin
Click this link for the Conference Registration Form
Follow the online payment method below for the conference registration
Office Address: Southern University and A&M College, College of Business, T. T. Allain Hall.
P. O. Box 9723, Baton Rouge, LA 70813. Email: icitd@subr.edu