Account Information
ACCOUNT MANAGEMENT & ENROLLMENT
ACCOUNT INFORMATION
1. Go to ps.subr.edu
2. Enter your username in the User ID field and click on I Agree.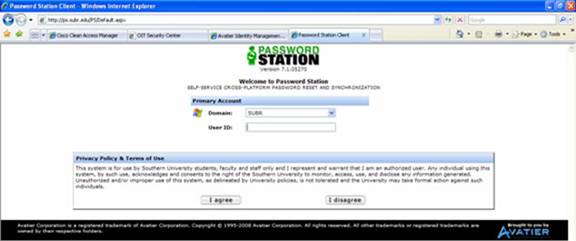 3. To view your current Account Status information click on the ACCOUNT INFO button. Displays information about your Password Station managed accounts (e.g., password age, password expiration date, etc.)
4. To verify you are the user of the account, you will be asked to answer your three (3) security questions.
5. You will view your account information. You will view your Full Name, the status of your Account and Password.
CHANGE ENROLLMENT
1. Type in your username and click I Agree.
2. To updating your enrollment information and selecting different challenge questions and answers at any time click on the ENROLL NOW button.
3. To verify user's identity, enter your current password.
4. At this time you may change and select three (3) new security questions.
5. You have successfully enrolled. Click Continue.