Nelson Mandela's grandson visits SU ahead of program rededication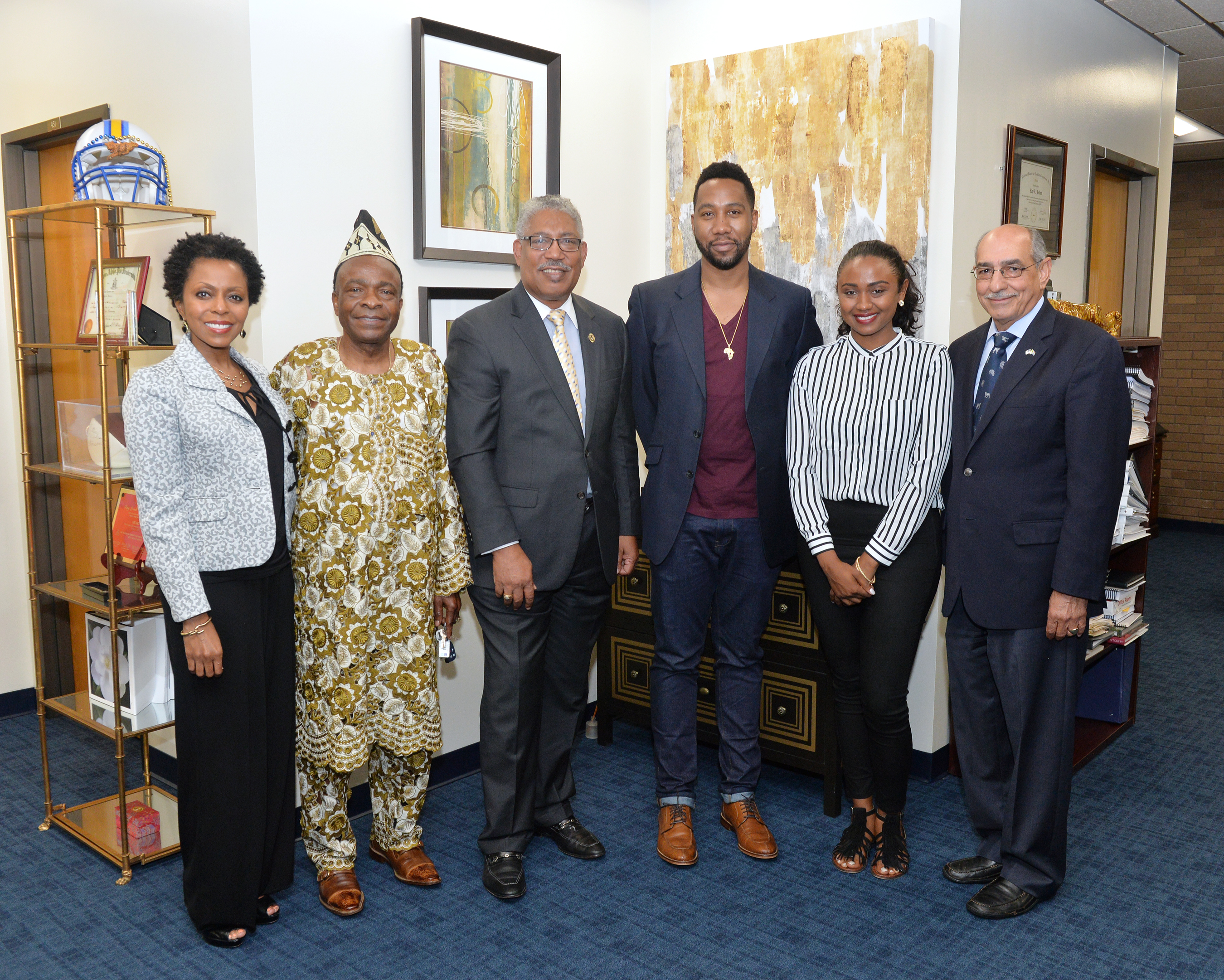 Ndaba Mandela, the grandson of the late Nelson Mandela, visited Southern University Baton Rouge during his trip to the United States and stop in New Orleans, Wednesday, May 3, 2017. Nelson Mandela College of Government and Social Science dean Damien Ejigiri welcomed Ndaba to the campus while sharing stories of Nelson Mandela's historic visit to Southern in 2000.
Ndaba Mandela is the son of Nelson Mandela's son Makgatho Mandela. Ndaba developed a relationship with his grandfather in 1990 while visiting him at the Victor Correctional Centre when Nelson Mandela was transitioning out of incarceration.
"When your grandfather was here the state of Louisiana stopped for literally three days," said Ejigiri. "It was a real privilege for us to name this program (Nelson Mandela School of Public Policy and Urban Affairs) after him. A few months ago, the school was upgraded, and it is the only college of government in the state and the region. It is good to say that Nelson Mandela's grandson got to visit the College. I know Mandela is smiling in his grave," said Ejigiri.
Keith Doley, a 1987 SU Law Center grad and honorary counsel for the Republic of South Africa, was instrumental in arranging Ndaba's visit to the campus while in town. Doley said he thought it would be nice for Ndaba to walk on the campus where his grandfather once visited and spoke.
Ndaba said, "It is always an honor to visit places my grandfather spoke at and has an affiliate with, of course it brings back memories of him and the amazing man that he was, and how many people he touched. It is always a humbling feeling and reminds us of the work that we have to also continue and embark on."
During a brief meeting, Ejigiri and Ndaba discussed future partnerships and developing a strong relationship with Ndaba and his foundation along with the Nelson Mandela Museum Foundation. Ndaba runs a foundation called Africa Rising that provides programs for South African youth in developing them as leaders through education and entrepreneur programs.
Ejigiri stated how Ndaba's programs aligned with the mission of the College and the University, "One of our many objectives is to forge a connection and strong relationships with institutions and businesses that can be beneficial to them and the college. One request we get is to build a strong relationship with the University and the African countries. We invite distinguished leaders from Africa, like you, to come to Southern to see how we can continue the vision of your grandfather."
Before ending his visit on campus, Ndaba stopped by to meet SU System President-Chancellor Ray Belton, where Belton extended an invitation for Ndaba to come back for an official visit. He also was able to take in the view of The Bluff.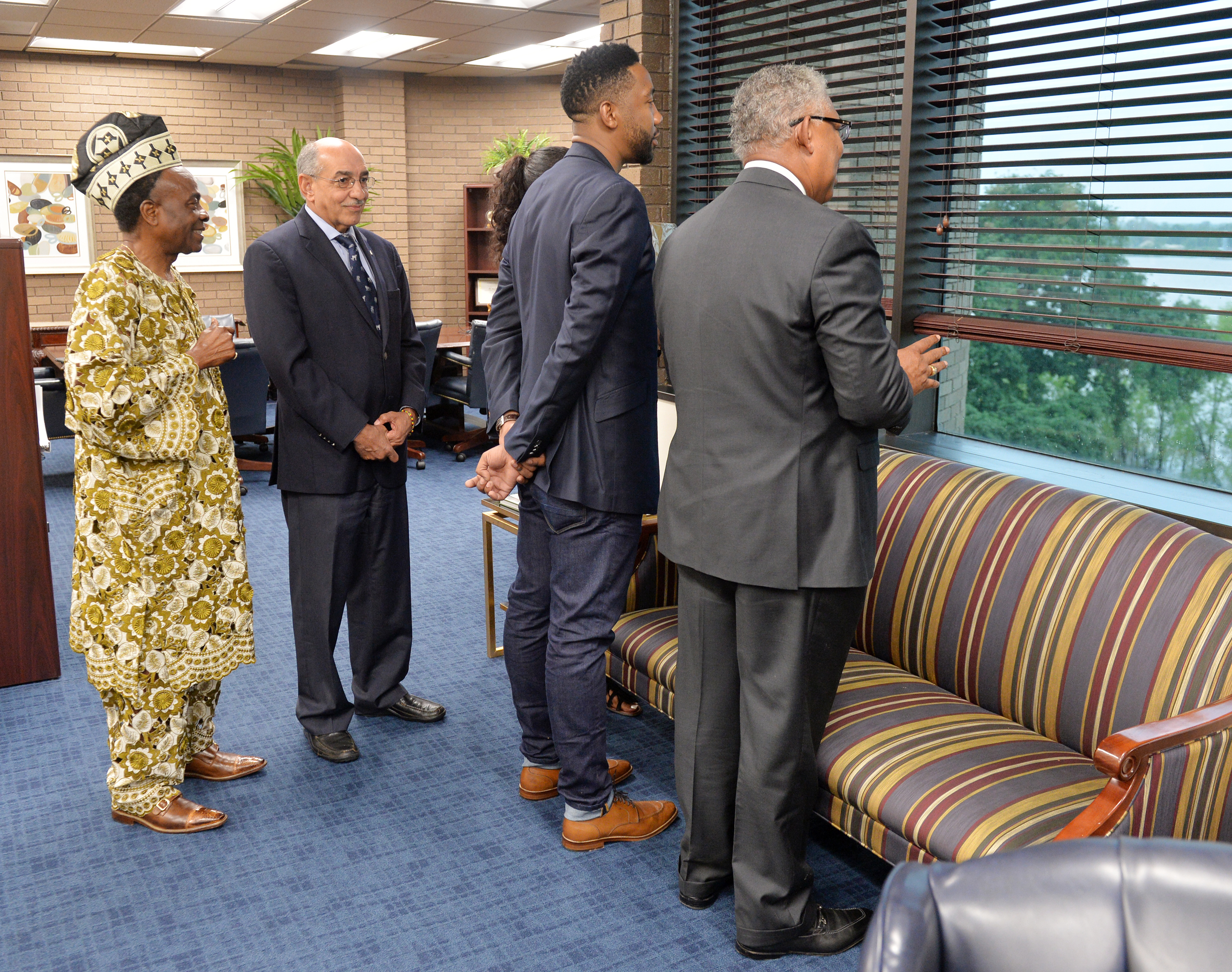 "It is an honor to have Ndaba visit the University, especially following the recent development of the growth to the Nelson Mandela College of Government and Social Sciences," said Belton.
Belton went on to share the desire of the University to develop more resources into international education for Southern students. Many of the visions Southern shares aligns with the work Nbada is doing in South Africa with building the next generation of African leaders, he said.
Next week the Nelson Mandela College of Government and Social Science will host a rededication ceremony and South African Ambassador to the United States, Mninwa J. Mahlangu will be the guest of honor. Mahlangu also will be the commencement speaker for the spring commencement ceremony Friday, May 12, 2017.
To learn more about Africa Rising visit www.apbspeakers.com/speaker/ndaba-mandela#speaker-topics