Southern University grad Keith Tillage among 14 CEOs invited to White House by President Obama to discuss "fiscal cliff"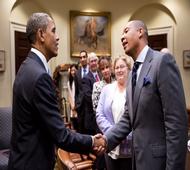 Southern University grad Keith Tillage was among more than a dozen CEOs from around the U.S. to listen to President Barack Obama discuss his effort to keep the country from heading over the so-called "fiscal cliff."
Tillage, owner of the Baton Rouge-based Tillage Construction, was among 14 other small business owners to discuss fiscal cliff fears at a December 29 summit with the president at the White House.
 "I was excited about meeting the President but more honored that I had been chosen to weigh in on this historic issue for our country," Tillage said.
The president signed the fiscal cliff bill on Wednesday staving off the economic calamity predicted if no agreement had been reached.
Tillage, a1992 SU graduate, said he was stunned when he received the call and invitation from the White House during the Southern vs. Grambling State University Bayou Classic football weekend in November. "Of course I was going to say 'yes'," Tillage said.
He said the president was direct, warm and "made everyone feel at ease" during the hour-long session.
Other government officials at the table discussion included Vice President Joe Biden, Federal Reserve Chairman Ben Bernanke and Senior Advisor to the President Valerie Jarrett.