Nathan Haymer named interim director of bands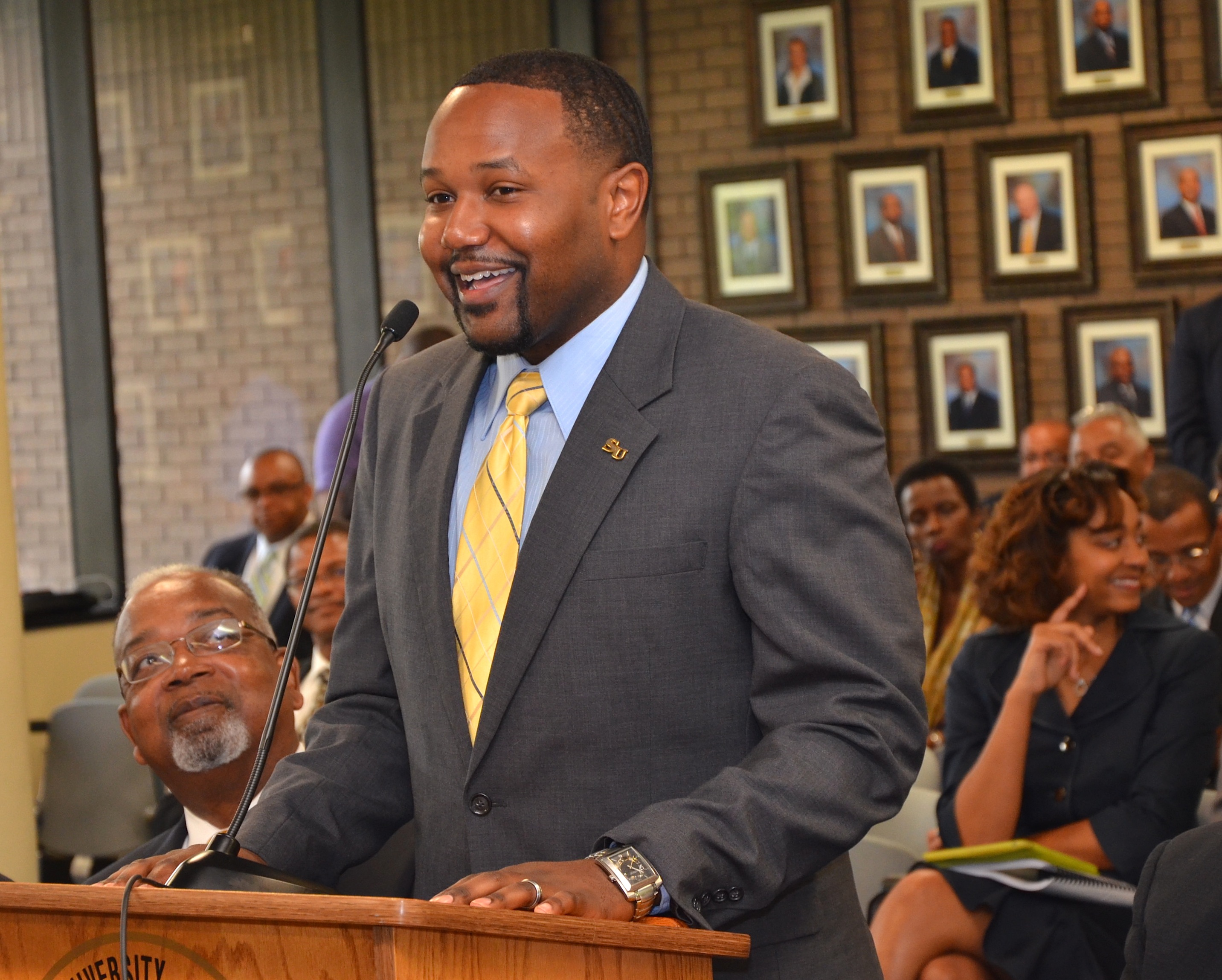 Nathan B. Haymer, the assistant director of bands, was named Interim Director of Bands by the Southern University Board of Supervisors at its meeting Friday on the Baton Rouge campus.
Haymer's promotion comes a week after former Director of Bands Lawrence Jackson decided to retire after eight years of leading the famous "Human Jukebox" marching band.
A Baton Rouge native, Haymer said "becoming the leader of the greatest band in the world has been my dream since I started band in middle school and finally achieving this great honor is a surreal experience."
Haymer went on to say, "Dreams can really come true if you work hard, remain humble and stay loyal to those who have paved the way for you. I have the utmost respect and admiration for my mentor and predecessor, Mr. Lawrence Jackson for believing in me and allowing me to serve faithfully as his assistant for the past eight years."
"I have learned so much about the business of band under his wings. While I am sad to see him retire, I am happy that he retired on his own terms with style and class," Haymer said. "I am honored to know that I have his confidence of the band being left in good hands. I will miss Mr. Lawrence Jackson dearly."
"I want our students, alumni, fans and supporters to know that we will honor the legacy of our past while embracing the possibilities of the future. In order for any organization to thrive, it must accept and adapt to an inevitable change. Expect more exciting halftime shows with a slightly larger band," said Haymer.  
Haymer, who grew up in Gulfport, Miss., returned to Baton Rouge to attend Southern University. He graduated from SU in 2001with a bachelor's degree in Instrumental Music Education and later received his master's in Leadership for Higher Education from Capella University in Minneapolis, Minn. He has 30 additional graduate hours as an addendum to his administrative degree in Music Education from McNeese State University.
As a young adult, Haymer taught himself how to play the trombone and it became his major instrument while at Southern, earning him trombone section leader for the marching and symphonic bands.
Prior to joining the Jaguar Nation as assistant director of bands in July of 2006, Haymer had been the band director at Washington-Marion Magnet High School in Lake Charles since 2002. During his five-year tenure at Washington-Marion, Haymer developed a comprehensive band program and the marching band received numerous first place awards in Texas, Louisiana, Mississippi and Tennessee, including over $20,000 in first place prize money.
He also developed the first concert band in the history of Washington-Marion to perform at the Louisiana Music Educators Association district festival during the 2001-2002 academic year.
Haymer recently received an Endowed Professorship in the Department of Visual and Performing Arts and is charged with conducting research and developing innovative strategies that will secure grants and other funding for recruitment and retention at SU.
Haymer also teaches Orchestration, Band Arranging, Music Technology and Principles of Teaching Music in Secondary Schools. He is charged with preparing aspiring music educators to become effective teachers in the areas of elementary and secondary education.
Haymer also serves as an adjudicator and clinician to middle and high school bands in various areas of the nation and the Virgin Islands, and is coordinator of the annual Southern University Summer High School Band & Dance Team Camp.
His professional affiliations include Kappa Kappa Psi National Honorary Band Fraternity, Mu Phi Epsilon, International Professional Music Fraternity, Music Educators National Conference, Louisiana Music Educators Association and HBCU National Band Directors Consortium.
Haymer is close to completing his doctoral degree, having only to present his dissertation to earn his Ph.D.