Southern University Campus Police Launched Jags Safe App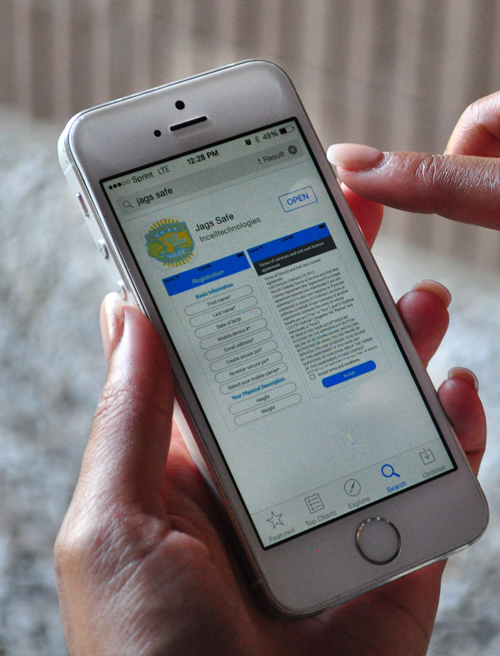 BATON ROUGE, La. -- Southern University's Campus Police Department launched its official Jags Safe app for students, faculty and staff Wednesday, August 19, to bring an added degree of safety on campus and its surrounding areas.
The free Jags Safe app will "increase the level of safety, security and integrate technology on Southern University's campus," according to Southern University's Interim Chief of Police, Joycelyn Johnson. It is designed to "have a closer connection to students, faculty and staff in regards to safety, give an extra sense of security, and to create a safety net that students can use to take ownership in their own safety," she said.
Crimes at a university can occur at any time, causing students, faculty and staff to fear being on campus. However, Southern University's campus police department wants to eliminate this concern, by giving students, faculty and staff control to easily report a crime to dispatchers.
"The Jags Safe app is a necessary addition to the campus community," according to Southern University's Dean of Students, Marcus Coleman.  "It gives students, faculty, and staff much needed instant access to campus authorities when they are in distress."
With anonymous photo and video submissions, mass text and email notifications, real time indoor positioning, and emergency weather alerts, students, faculty and staff can stay informed, protected, and in control of suspicious activity on campus.
The Jags Safe app also offers extra security features such as prompt bus and police escort services for students, faculty and staff.
"It will help students locate our campus shuttle at night, whether they have a late class or are just out late studying, to ensure that they make it to their destination safely," Coleman said.
After researching over 70 companies, Southern's campus police department is excited to be the first HBCU to have teamed up with 911 Cellular to have students instantly and conveniently report crimes, at the touch of a button.
"The app is great news for us because it pushes Southern as the leader in campus safety for HBCUs (Historically Black Colleges and Universities)," Coleman said. "This is also another reason for parents to feel excited about sending their students to Southern because we can ensure them that it's a safe campus environment." 
Chief Johnson wants students to feel protected at Southern, and know they can rely on the app in a time of need - but she encourages them to do one thing. 
"We want students to know they can be safe here," Johnson said. "We are bringing in mechanisms and tools to help take care of them and keep them safe; but students have to register if they want to use the app." 
For more information on Jags Safe, visit Southern police department website or email Officer Ashley Hurst at Ashley_hurst@subr.edu. To download the app for iOS from the iTunes Store, click here. Android users can click here to download the app from the Google Play Store.
###