Governor-elect to address SU December graduates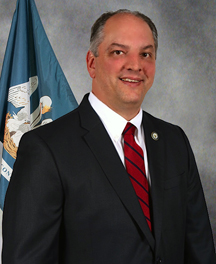 Only weeks before he officially takes office as the fifty-sixth Governor of the State of Louisiana, Governor-Elect John Bel Edwards will address the Fall 2015 graduating class of Southern University Baton Rouge, Friday, Dec.11, 2015, in the University's F.G. Clark Activity Center, at 10:30 a.m.
Edwards, who was elected to Louisiana's top office in November 2015 and who will take office Jan. 11, 2016, will deliver the commencement address to nearly 500 Southern University December graduates.
"Southern University is honored to bring Governor-Elect John Bel Edwards and his long-held support of higher education in Louisiana to our campus as we honor our fall graduates," said SU System President-Chancellor Ray L. Belton. "We look forward to his message for forthcoming SU alumni and to his leadership for our great state."
The Amite native serves as the State Representative for District 72 in Louisiana's North Shore. In the House of Representatives, he is on the Civil Law and Procedure, Education, and Judiciary committees as well as the Special Committee on Military and Veterans Affairs. He is a 1988 Dean's List graduate of the United States Military Academy at West Point. After eight years of active duty with the US Army as an Airborne Ranger, culminating with command of a rifle company in the 82nd Airborne Division at Fort Bragg, North Carolina, he went on to graduate Order of the Coif from Louisiana State University's Paul M. Hebert Law Center.
Edwards graduated as valedictorian of his Amite High School class. As one of eight children from a family long dedicated to public service, Edwards carries on the family tradition. With a father who was the elected sheriff of Tangipahoa Parish - the Edwards have four generations of Tangipahoa Parish Sheriffs in their family lineage with John Bel's brother Daniel currently serving as sheriff.
West Palm Beach, Florida native, Imani Martina Williams, will lead the 2015 fall graduating class as chief student marshal. She has a 3.806 GPA, the highest of 498 students who will also receive their diplomas at commencement.
Williams went to Park Vista Community High School in Lake Worth, Fla. and graduated in the top 25 percent of her class in 2012.
# # #