Governor-elect gives SU commencement address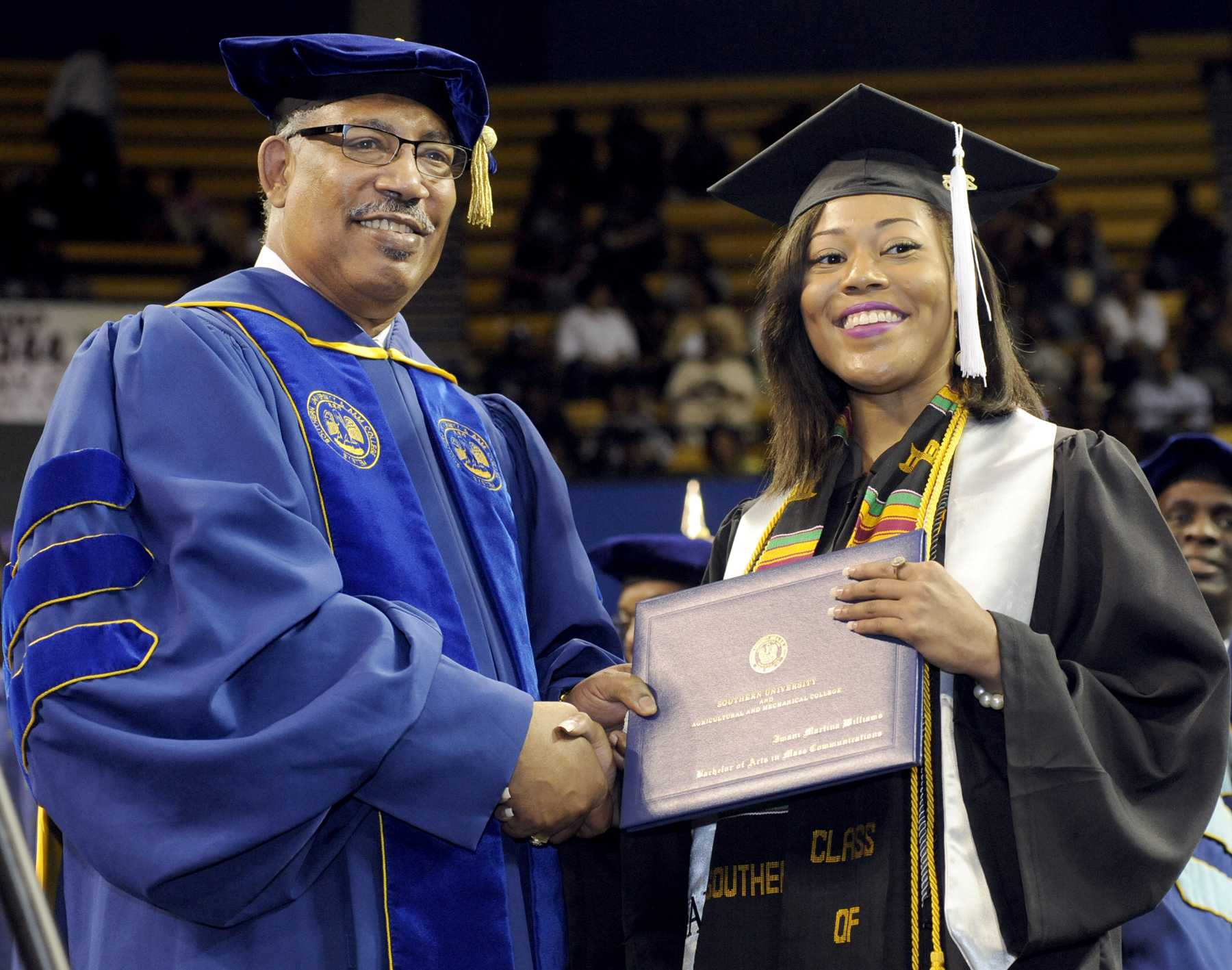 John Bel Edwards to SU grads, families: 'Great victories are not achieved by one person, but by the unique talents of many coming together to serve a common cause.'
Still reveling in an election victory and poised to take the oath of office January 11, 2016, Governor-elect John Bel Edwards made an impression on the Fall 2015 class of Southern University Baton Rouge graduates, during his keynote speech for commencement December 11, in the F.G. Clark Activity Center.
SU System President Ray L. Belton who was presiding over his first commencement as SU System President-Chancellor introduced the newly elected governor.
"Today as we honor these remarkable Southern University graduates, we welcome Governor-Elect John Bel Edwards back to SU as our keynote speaker to inspire our graduates."
In line to officially become the 56th governor of the State of Louisiana, Edwards addressed a large crowd on hand to celebrate the SU grads.
"This day is about you, it's about your accomplishments, and it's about your future," said Edwards during his opening remarks.
The Amite native is the State Representative for District 72 in Louisiana's North Shore. In the House of Representatives, he served on the Civil Law and Procedure, Education, and Judiciary committees as well as the Special Committee on Military and Veterans Affairs. He is a 1988 Dean's List graduate of the United States Military Academy at West Point. After eight years of active duty with the U.S. Army as an Airborne Ranger, culminating with command of a rifle company in the 82nd Airborne Division at Fort Bragg, North Carolina, he went on to graduate Order of the Coif from Louisiana State University's Paul M. Hebert Law Center.
Edwards framed many of his comments during his graduation speech by paying tribute to a number of SU alumni including the late Dolores M.R. Spikes, a former SU System president; former basketball great Avery Johnson, who is head basketball coach at the University of Alabama; Brig. Gen. (ret.) Sherian Cadoria, the first African-American female to achieve General rank in the U.S. Army; Bishop Joseph Walker, pastor of Mt. Zion Baptist Church of Nashville, Tennessee and International Presiding Bishop in the Full Gospel Baptist Church Fellowship, International; Lt. Gen. (ret.) Russel Honoré, who served as commander of Joint Task Force Katrina; and professional football hall of famer Aeneas Williams.
"I have no doubts that you will use your talents, your time, and your resources to make this world a better place," Edwards told SU's newest alumni.
As an example, the speaker cited fall graduate Sally Ross, a 2015-2016 HBCU All-Star, who finished at the top of the College of Sciences and Agriculture. Ross recently was one of 83 students, selected out of 450 applicants, by the White House Initiative on HBCUs to represent the University in Washington.
He also gave honor to West Palm Beach, Florida native, Imani Martina Williams, who led the 2015 fall graduating class as chief student marshal.
"When I hear stories like that it makes me look into this crowd and see the chairs just filled with opportunities. But I also see hope for a better Louisiana. That hope is what made me run for governor. But hope is just the beginning. Your futures and the futures of those who follow you, which hang in the balance, must be nurtured not only by hope, but by action," he said.
The incoming governor reflected on severe budget cuts to higher education and bad fiscal policies that shifted more costs to students pursuing an education at state colleges and universities.
"Too many of our best and brightest are leaving Louisiana for better educational and job opportunities elsewhere. You deserve better and our state deserves better."
"As your governor, I will seek not only a better tomorrow, but a better today."
Edwards said to make this vision a reality, "we need creative, talented, solution-friendly young adults like yourselves, working alongside me throughout every parish in our state."
The governor-elect ended his address by saying, "success truly is a shared dream, and only together can we move forward. It can't happen overnight -- it can't happen if you give up. Your commitment as a community to put Louisiana first means that our state's best days are ahead of us."
The Fall 2015 Class included 310 undergraduate and 184 graduate candidates for degrees. The class had 73 honor graduates (four magna cum laude, eight cum laude, 61 honorable mention).
College marshals for the SU December 20115 Commencement included:
            College of Business
            James William Fontenot, Baton Rouge
            Bachelor of Science in Business Management
            College of Education, Arts, and Humanities
            Raquel M. Sims, Houston, TX
            Bachelor of Arts in Mass Communication
            College of Engineering and Computer Science
            Melvin B. Givens, Baton Rouge
            Bachelor of Science in Mechanical Engineering
            College of Nursing and Allied Health
            Jheanelle Alexia Gregory, Kingston, Jamaica
            Bachelor of Science in Nursing
            College of Sciences and Agriculture
            Sally Demetris Nicole Ross, Baton Rouge
            Bachelor of Science in Urban Forestry
            College of Social and Behavioral Science
            Alexis De'Join Guidry, Morgan City
            Bachelor of Arts in Political Science
The SUBR Fall Class represents 41 parishes, 12 states, the District of Columbia, and seven countries.
Dustin J. Miller, of Opelousas, who recently was elected state representative for District 40, earned a master of science degree in nursing to certify as a family nurse practitioner. Miller works as an intensive care nurse at Opelousas General Health System.
Louisiana Department of Transportation and Development chief of staff Shawn Wilson received a doctor of philosophy degree in public policy from the Nelson Mandela School of Pubic Policy and Urban Affairs.
#     #     #