Trailblazing NASA astronaut to SU Founders' Day audience, students: 'Be empowered, believe you have a right to participate'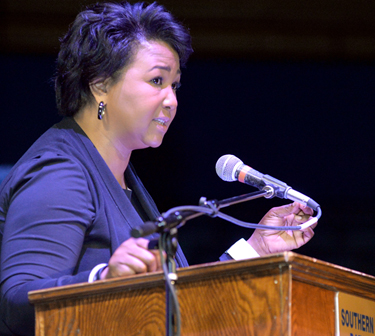 The first African-American woman to travel into space, Dr. Mae Jemison, was the keynote speaker for a combination Community Prayer Brunch and Convocation, March 9, 2016, held in observance of Southern University's 136th Founders' Day.
Jemison greeted a large crowd in the F.G. Clark Activity Center gathered for the main program in a series of events held throughout the day in honor of the annual recognition themed, "Southern University: Continuing the Journey . . . Surpassing Boundaries . . ."
"To be invited to be a part of Founders' Day even though I didn't go to SU is an honor," said the trailblazing scientist and physician who in 1987 became the first African-American woman to be admitted into the National Aeronautics and Space Administration's (NASA) astronaut training program.
Born in Decatur, Alabama, Jemison was reared in Chicago, Illinois, where her family moved when Jemison was three years old to take advantage of better educational opportunities.
"I chose my parents well," she said lightheartedly. "They were very supportive and played a major role in my success and the things I've accomplished on my journey."
From her time at Morgan Park High School on Chicago's south side, Jemison was clearly a scholar. She graduated in 1973 as a consistent honor student and entered Stanford University on a National Achievement Scholarship.
She received a bachelor of science degree in chemical engineering from Stanford in 1977. Upon graduation, she entered Cornell University Medical College and, during her years there, found time to expand her horizons by studying in Cuba and Kenya and working at a Cambodian refugee camp in Thailand.
Speaking of her personal accomplishments and to the occasion of the SU commemoration, Jemison said it's important to look back, but also to look forward. "You have to connect both," she said.
After she obtained her M.D. in 1981, Jemison interned at Los Angeles County/University of Southern California Medical Center and later worked as a general practitioner. For the next two and a half years, she was the area Peace Corps medical officer for Sierra Leone and Liberia where she also taught and did medical research. Following her return to the United States in 1985, Jemison made a career change and decided to follow a dream she had nurtured for a long time. In October of that year, she applied for admission to NASA's astronaut training program. The Challenger disaster of January 1986 delayed the selection process, but when she reapplied a year later, Jemison was one of the 15 candidates chosen from a field of about 2,000. On September 12, 1992, Jemison flew into space with six other astronauts aboard the Shuttle Endeavour, becoming the first African-American woman in space.
The groundbreaking former astronaut acknowledged others who paved the way for her opportunities at NASA.
She referred to the impact the Civil Rights Movement had on creating opportunities for minority scientists who helped NASA build a diverse workforce in the early days.
Jemison paid tribute to a group of former SU students who were being honored by the University during Founders' Day, as student pioneers who were among the first African Americans to be recruited in the early 1960's through NASA's then newly created Cooperative Education Program, and who also were highlighted in the book, We Could Not Fail: The First African Americans in the Space Program.
"Without those who took their seat at the table and help NASA build on its commitment to social justice through scientific exploration and discovery, I would not be here today," said Jemison.
She emphasized that perhaps more than being "at the table" is what do you do when you get your "place at the table."
"Be empowered. Believe you have the right to participate," she urged.
She acknowledged that it's important for universities and students to focus on Science, Technology, Engineering, and Mathematics education (STEM).
"STEM fields are cutting a wide pathway through our world and it's important that we have a seat at the table and take advantage of opportunities for the future," she explained.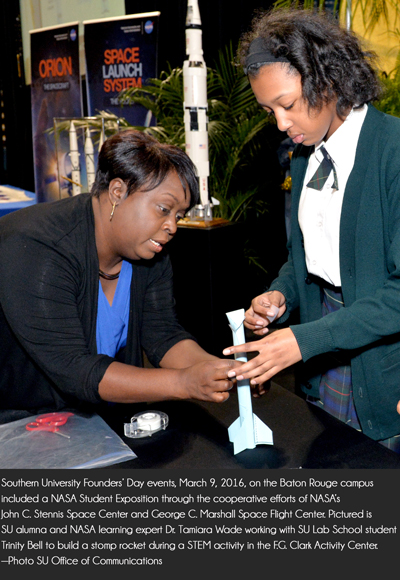 Speaking to faculty Jemison said, "We need somebody to help move us along and help us develop students. That's what universities do."
Jemison was serious in her charge to students to stay focused and to make good use of their time--at and away from the University.
"You get to choose how to use you time. Use your seconds of time wisely. The time you have today is not just about having fun. Go to class. Do your homework. You have a responsibility to do a good job everyday. Prepare yourself and look forward to the future," she urged.
Southern University System President-Chancellor Ray L. Belton thanked Jemison for her inspiration and for her impassioned address.
"Our time with Dr. Jemison today has been well spent. It is fitting to honor her legacy at the same time we pay tribute to our former students who so ably met the challenges of being the first to lay the foundation for a future generation of scientists and explorers," said Belton.
The 2016 SU System Founders' Day celebration began with a SU Laboratory School Commemoration and included the Community Prayer Brunch/Convocation, a NASA Student Exposition through the cooperative efforts of NASA's John C. Stennis Space Center and George C. Marshall Space Flight Center, a 136th Founders' Day Birthday Party, and an Employee Service Awards Recognition Dinner, honoring some University faculty and staff.
The SU Law Center hosted a roundtable discussion, "The History of the effort to access legal education statewide.1946 lawsuit, Charles J. Hatfield III v. Louisiana State Board of Education, a catalyst for the establishment of the SU School of Law," with a networking reception.
The Southern University Shreveport program was postponed due to campus closure for inclement weather.
# # #