SUBR chapter of Pi Sigma Alpha honor society induction, April 14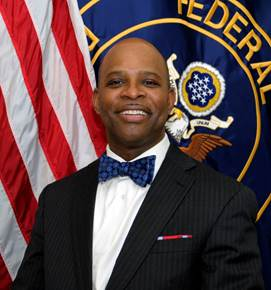 SU alum and Homeland Security official to speak
Southern University Baton Rouge (SUBR) alumnus Patrick D. Moses, assistant director for field operations, Federal Protective Service, U.S. Department of Homeland Security, will be the guest speaker for the SUBR chapter of Pi Sigma Alpha national political science honor society's induction ceremony, Thursday, April 14, 2016, 6 p.m., in the Magnolia Room of Mayberry Dining Hall.
The theme for the Xi Mu Chapter's program is Continuing to Move the Political Science Leadership Legacy . . . "Leadership Is The Capacity to Translate Vision Into Reality"-Warren G. Bennis
Moses is a 1987 (BA) and 1990 (MPA) SUBR graduate. Other SU alumni Pi Sigma Alpha members also will be in attendance.
The chapter is inducting 14 candidates including 11 students, two faculty members, and one honorary member. They are: students Marissa A. Batiste, Alexis M. Doss, E. Danielle Linkford, Sara A. Martin, Taylor P. Size, Nelson D. Taylor Jr., Arnedia K. Wallace, Den'a Wells, Diamonique L. Whaley, Dovan D. Willis, and Lonzetta M. Willis; faculty members Revathi Hines and Melanie Johnson-Cunningham; and honorary member Leon R. Tarver II, a former faculty member and former president of the SU System.
The Xi Mu Chapter was chartered in 1983 with 25 charter members.
Pi Sigma Alpha's purpose is to recognize excellence in academic achievement by college and university students in the fields of political science, government, international, and public affairs; to stimulate scholarship and interest in political science; to promote worthwhile curricular and extracurricular activities related to political science; to promote civil dialog; and to engage in any other activities that further these purposes.
Blanche P. Smith, a charter member of Xi Mu, is the advisor to Pi Sigma Alpha, and is serving as interim chair for the Department of Political Science and Geography. The interim dean of the College of Social and Behavioral Sciences, Albert Samuels, also is a member of Pi Sigma Alpha (1987).
#     #     #
PI SIGMA ALPHA - XI MU CHAPTER CONTACT:
Blanche P. Smith
Internship and Placement Director and Interim Chair
Department of Political Science and Geography
College of Social and Behavioral Sciences
Southern University and A & M College
Baton Rouge, LA 70813
(225) 771-3064
Email: blance_smith@subr.edu
MEDIA CONTACT:
Henry Tillman
Southern University
Office of Communications
(225) 771-5497
henry_tillman@sus.edu