SUBR music student follows his calling to path for a better future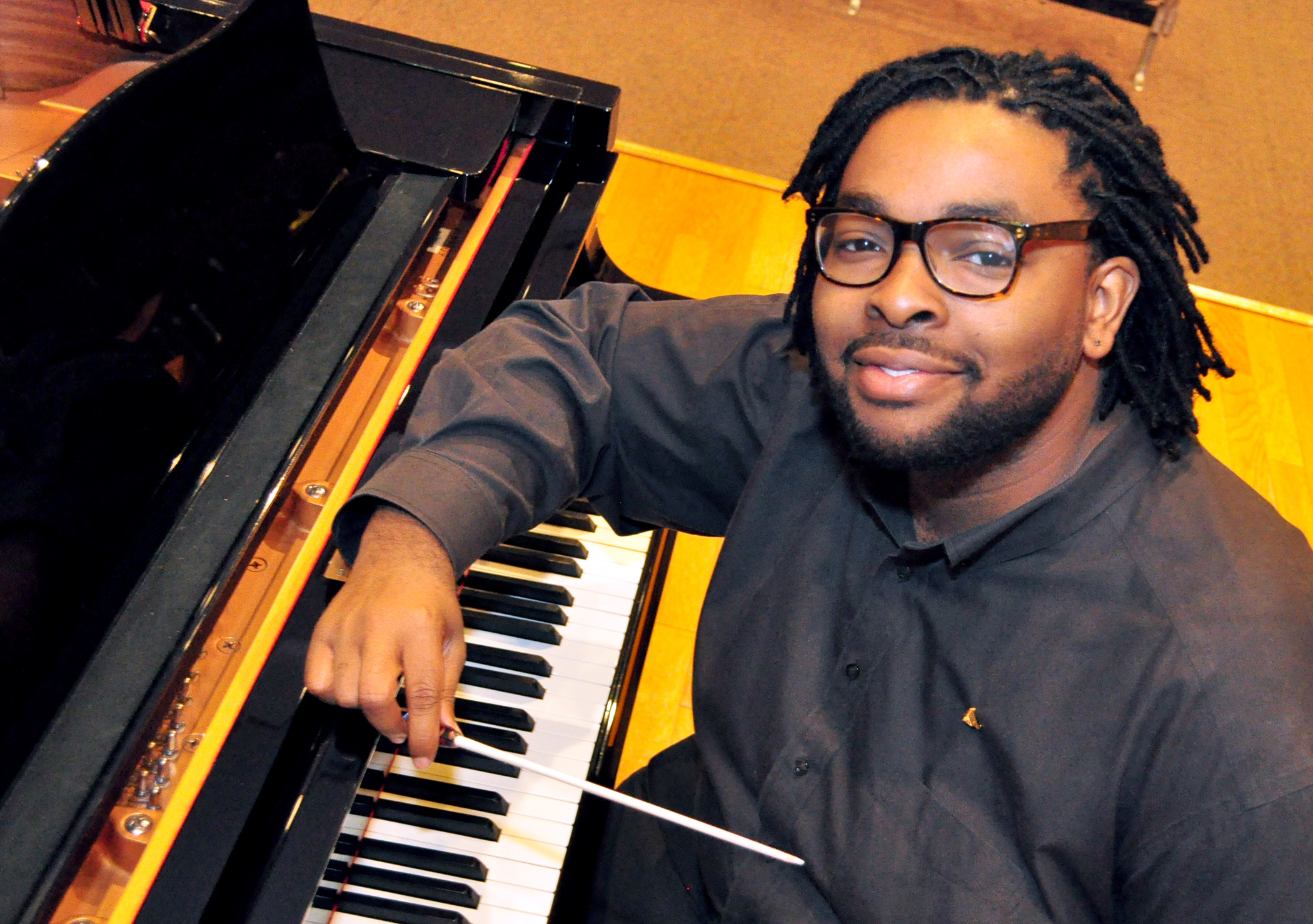 One of the most musically inclined students at Southern University Baton Rouge (SUBR) recently completed lead piano on an independent film that will premiere in the New Orleans Film Festival this October, in addition to a list of other noteworthy accomplishments.
Jerrell R. Gray, a 26-year-old, music education major, from Chicago, Illinois, with a concentration in piano, also has two musical publications for his choral settings, "The Old Rugged Cross," and "Nobody Knows The Trouble I See, Lord!," with GIA Publications, Inc.
These publications have opened doors for Gray to present his work at the Louisiana Music Educators Association (LMEA) African-American choral workshop, with assistance from Roland Carter, the Ruth S. Holmberg Professor of American Music at the University of Tennessee at Chattanooga.
"There are more doors out there, but they'll open in Gods timing. I've gotten some request to compose some works for various events, and it has opened doors for my chorale and my overall reputation as a musician," said Gray.
The up-and-coming musician conducted one of his compositions for the Hymn Lovers Conference 2016, April 7-9 in Atlanta, Georgia. His "What A Friend We Have In Jesus" composition was selected for inclusion in the conference hymn booklet.
In 2014, Gray conducted and recorded his first choral series "ACTS II," performed by the Baton Rouge Symphony Chorus. Soprano Bridget Bazile and the Baton Rouge Symphony Chorus recorded his arrangement, "Sweet Hour of Prayer."
"Music is what I'm called to do. Music is my ministry. I'm so glad that my calling and purpose is in the very gift(s) that God gave me," Gray stated.
Additionally, he was lead pianist for a run of the Tennessee Williams stage play "Vieux Carré," at the LSU Reilly Theatre earlier this month.
Gray began his musical journey early. He says his mother Sanceta Callegari, and his uncle and piano teacher Arnold Sevier, influenced and guided his interest and musical talent.
"Singing wise, I started at the age of four and five singing in the Mission of Faith Baptist Church Children's Choir under the direction of Carolyn Carter. We sang gospel, spirituals, and classical repertoire. I was nine years old when I played my first solo on trombone in third grade. My grandmother Mabel Watson played piano during the 60's, 70's and 80's. She would play the piano during the holidays and family functions. I became interested in piano shortly after and my mother enrolled me in the Sherwood Conservatory of Music in Chicago. The rest is history. I started taking piano lessons with Arnold Sevier in my teenage years and he prepared me for college," said Gray.
The talented musician's professional portfolio is growing. Gray performs as a student with the Southern University Choir, and is a member the renowned Heritage chorale, and the Baton Rouge Symphony Chorus. He also found time to form and direct The Neoteric Chorale.
"The Neoteric Chorale is a professional ensemble that takes a modern approach into the study and performance of choral music. We perform choral music from all cultures and traditions," Gray stated.
He sometimes does double billing. Gray directed his chorale group at the 24th annual Festival of Negro Spirituals held in Baton Rouge in February, and performed with the Southern University Choir, and also with Heritage, which headlined the annual Black History Month concert.
A determined Gray is intent on having a successful future in musical composing and conducting, however the road to success has not been easy.
Two years ago, Gray's financial aid ended due to the five-year eligibility requirement for undergraduate students.
This circumstance caused Gray to sit out for two years, however he worked hard to obtain the funds to be able to come back to SUBR last year to complete his undergraduate study.
The SUBR Division of Student Affairs also helped with a $500 scholarship. He thanks Akai Smith, assistant to the vice chancellor for student affairs, Joyce O'Rourke, chairperson, Arts and Humanities, and band director, Nathan Haymer, for their support.
Gray plans to graduate in Fall 2016, nevertheless he does not plan to stop there. His future plans are to go to graduate school and major in Conducting and minor in composition. In addition, he plans to go further by getting his doctorate in composition as well.
-Written by SU Office of Communications intern Ashleigh Payne, a final semester senior, in the SU Department of Mass Communications.
#   #   #