Trailblazing SUBR NROTC grad heading to Navy Nuclear Power School after commission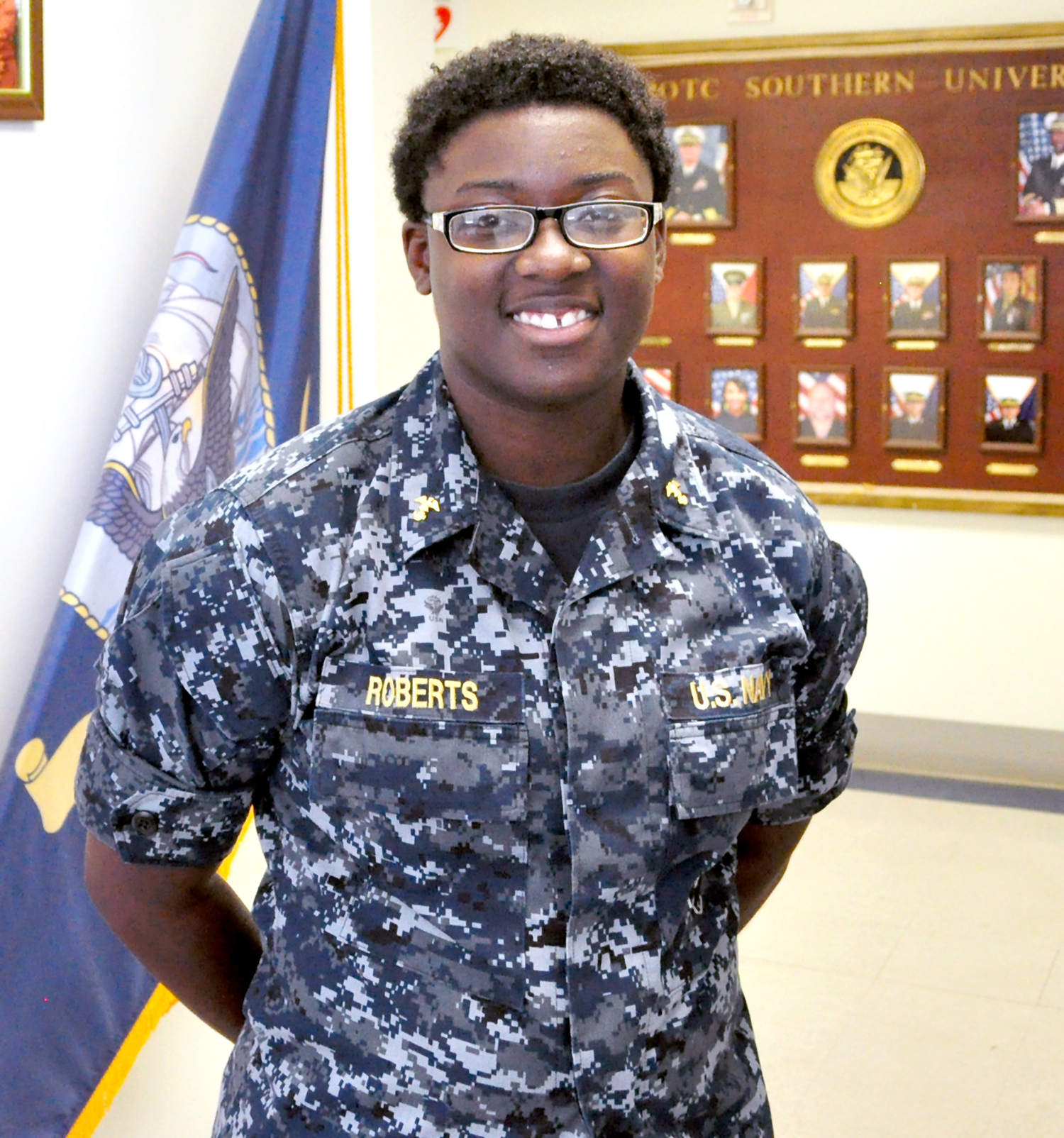 Nsombi J. Roberts walked across the stage in the F.G. Clark Activity Center on May 13, 2016, to receive her bachelors of science degree in chemistry and she also is a graduate of the SU Naval ROTC program, and on her way into the Nuclear Submarine Pipeline training program.

The Palm Bay, Florida native is not only making her mother proud by graduating from college but in June, Roberts will be heading to Charleston, South Carolina to begin her six month journey in Navy Nuclear Power School. Roberts is the first African-American woman from a Naval ROTC program to be selected into the training program and on her way to being in charge of multi-million dollar submarines. 
Commanding officer and professor of naval science Captain Anthony Chatham said they could not be more proud of Roberts' accomplishments. "Nsombi is the first ever African-American female selected from the NROTC program for nuclear submarine officer training, not just from Southern University, but from any NROTC school in the program's history dating back to before World War II."
"She is a pioneer in our Navy, and she is a shining example of the outstanding quality of student that Southern University graduates," said Chatham.
Nuclear Submarine Officers are a select group of individuals in charge of $1.5-billion vessels that manage the diving, powering, arming and operating aspect of the Navy's fleet of attack, ballistic missile, and guided missile submarines.
The selection process for the training program started over a year ago for Roberts. During her junior/senior year at Southern she realized she wanted to become an officer in the Navy and go into the submarine field. She began her application and started preparing for the three extensive interviews she would have to endure.
"I was happy to be selected because it is a difficult process and not a lot of people make it to the end," said Roberts. "This was one of the biggest moments in my life."
Roberts' mother screamed through the phone when Roberts shared the news of her being selected she said. I think she is more excited than I am," Roberts said. Roberts is the oldest child of many as she put it. 
Being ready for the interviews were easy for Roberts due to the fact that her background in chemistry has helped her to think outside the box. "Chemistry challenges my thinking and it allows me to expand my thought process for the training program," said Roberts.
Once the 22 year old has completed Nuclear Power School she will then head into prototype school in New York or remain in Charleston for another six months. From there, it's another three months of schooling for submarine officer basic course. Once the training is complete she will be assigned to a boat for the following four years at sea.
After the SU graduation ceremony on May 13, Roberts will begin her transition period in Jacksonville, Florida for three weeks as she begins apartment hunting for Charleston, and preparing for the year and half of schooling set before her.
What does this opportunity say for women in the navy? Roberts says it sets a milestone. "This is a milestone for all women and shows we can break down barriers in jobs that are male based. I am just a stepping stone," said Roberts.
"Coming from Southern it speaks to the world that we still have quality students that come from the University and from HBCUs. It lets people know that we need to give to students and the University, so that quality students can continue to be produced," Roberts boasted in reference to the institution in which the first African-American Submarine Officer haled from. "It shows the skilled students that historically black college and universities produce."
Roberts found her way to Southern University by her high school Junior ROTC manager who was from Louisiana. He told her about the program at Southern University and the school, and she was sold. This was the first time Roberts had been away from home and today she loves the state of Louisiana and Baton Rouge.
Attending Southern helped her find herself and how to stand on her own said Roberts. Through the University and the Naval ROTC program, she found mentorship and was prepared for this moment.
Roberts has many other accomplishments within her college years. She is a member of Zeta Phi Zeta Inc., was a member on the 2014-2015 Honda Academic Quiz bowl team, she is Dolores Margaret Richard Spikes Honors College scholar, a member of Beta Kappa Ki Science organization, a member of the National Institute of Science, and won second place in her round on the black college quiz game show television series that was recorded in Atlanta.  She is graduating magna cum laude with a 3.84 GPA.
###