Bright future ahead as ag sciences students pursue graduate study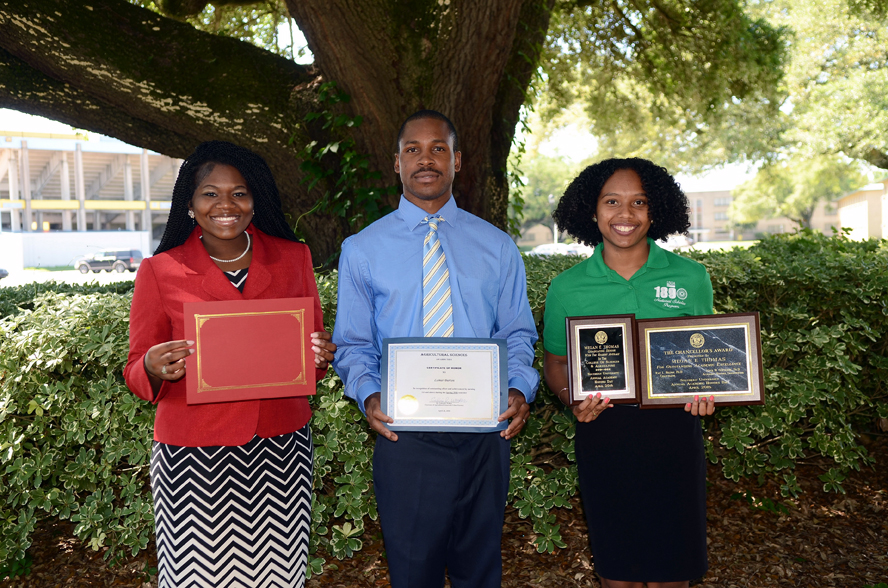 The SU Baton Rouge Department of Agricultural Science and Urban Forestry is going to miss three of their top students who will be graduating on Friday, May 13, 2016, during spring commencement. After walking across the stage in the F.G. Clark Activity Center, Megan E. Thomas, Trinity Alexis Johnson, and Lamar Burton will head off on different paths to work toward their Ph.D. in agricultural science.
Each of the three graduates has had their own noteworthy accomplishments throughout their time at Southern University.
Thomas is graduating summa cum laude with a concentration in agricultural economics. She is a USDA 1890 Scholar which accorded her a scholarship worth more than $100,000 that covered her four years while at Southern. On April 15, 2016, Thomas received the 2015-16 Southern University Chancellor Scholar Award during the Annual SU Academic Honors Day Awards Program. The Chancellor Scholar Award is based on academic accomplishments such as grades, presentations, publications, and community service. She received the 2016 SUBR College Agriculture, Family, and Consumer Sciences Academic Heisman on April 26, 2016.
Thomas completed two summer internships with USDA/Foreign Agricultural Service in Washington, DC in 2013 and 2014, and participated in the Summer Research Opportunities Program at The Ohio State University in the summer of 2015. She will be returning to USDA/FAS for an internship this summer.
Thomas will be heading to the University of Auburn in August to pursue a Ph.D. in agriculture business and economics. She received the President's Graduate Opportunity Program Fellowship from Auburn.
Johnson is graduating cum laude with a concentration in plant and soil sciences. The 20 year old will be graduating one year ahead of schedule within three years of first enrolling in Southern in June 2013. Johnson took nine hours each summer and took as many as 18 hours in the spring and fall semesters.
Johnson credits her decision to major in agriculture to her church member and mentor Robert Wallace who planted the idea in her head. Three years later, Johnson has been accepted to Purdue University with a full academic scholarship and a research assistantship where she will be working toward a Ph.D.
Her goal, "with the help and guidance of the good Lord," she says, is to one day merge her education and training in agriculture with that of pharmacology for the creation of plant-based medicines for the healing of diseases. Johnson's goal is to ultimately become an agricultural scientist and to use the plants and soils of the earth for the production of medicine. The assistantship is valued at approximately $64,000. While at Purdue, Johnson will study and work under the tutelage of SU alum, Shalamar Armstrong.
Lamar Burton will be receiving his bachelor of science degree with a concentration in animal science. He is a recipient of a Florida International University Agricultural Engineering and Agricultural Fellowship, valued at approximately $150,000 over five years. Burton will be working on a National Science Foundation funded project entitled, "Innovations at the Nexus of Food, Energy, and Water Systems," where he'll help develop biosensors to monitor agricultural systems. Specifically, he'll be helping to design and creating more efficient soil moisture sensors to help minimize the use of water and energy in farming while being able to access the measurements remotely.
In October 2015, Burton won first place in the 1st Annual Wilbur Clarke Chemistry Symposium at SU, in the undergraduate poster session. Burton will pursue studies to earn a Ph.D. in agricultural engineering.
C. Reuben Walker, chairman of SUBR Agricultural Sciences and Urban Forestry, says he is delighted to see his students succeed. "These students are accomplished and they will be missed, yet we are reloading with other "top shelf" students coming through with ACT scores of 26 to 30 and GPA's from 3.3 to 4.0," says Walker.
# # #