Recent SU grad auditions, wins $4,000 vocal scholarship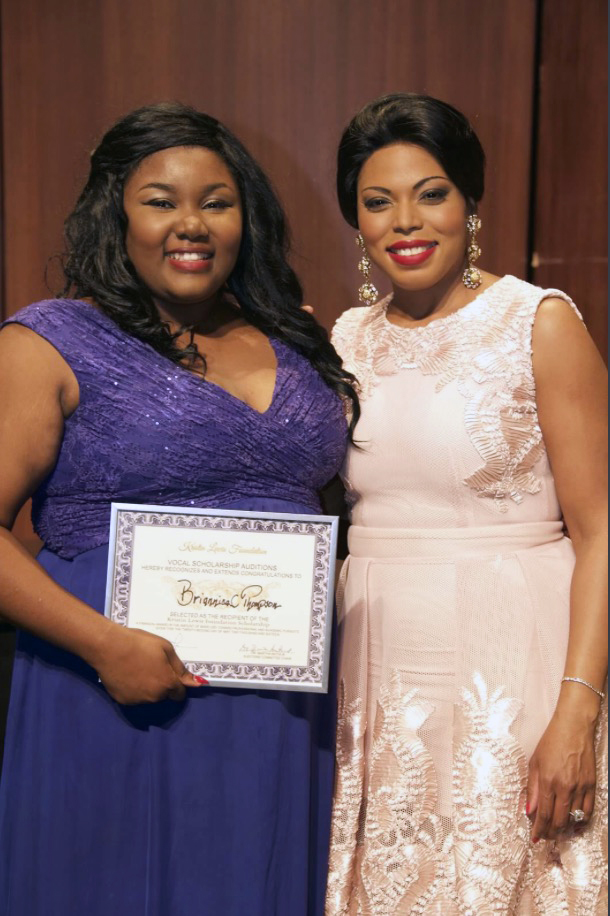 Weeks before walking across the stage in the F.G. Clark Activity Center on May 13, 2016, to receive her degree in music, 21-year-old Briannica Thompson was chosen to participate in the Kristin Lewis Foundation Vocal Scholarship Auditions in Conway Arkansas, May 21-22.
One of 15 finalists, the Monroe native won a top scholarship award of $4,000.
After a successful screening and preliminary audition the new SU alumna was somewhat unsure of her chances at the final round of the competition favored by graduate students.
"Even though I was very nervous about competing I knew it would be a great opportunity," said Thompson.
On the last day of the competition the finalists sang in the Performing Arts Hall on the campus of the University of Central Arkansas.
"I was the fourth person to go and I was really anxious about my performance. However I had been praying prior to so I knew that everything would work out in my favor. After performing one of my best performances of Verdi's 'Caro Nome' and Gounod's 'Je Veux Vivre,' I prayed that God's will be done," said Thompson.
Thompson won the highest monetary prize, which is to be used for educational costs. Other awards the non-profit presented to the top five performers included scholarships valued at $3000, $2000, and $1000, and a full-tuition and housing scholarship to the Harrower Summer Opera Workshop for the first place recipient.
"As she pronounced my name the only thing I could think was thank you Jesus! I accepted my award, congratulated everyone, thanked Kristen Lewis for the opportunity, and spent the rest of my night crying and praising the Lord," said Thompson.
During the two-day event, Thompson met soprano and founder Kristin Lewis.
Lewis, a lyrico-spinto soprano, is a native of Little Rock, Arkansas, who began her vocal studies at the University of Central Arkansas. After receiving her bachelor of arts degree, she continued with her master of music studies at the University of Tennessee. She currently lives in Vienna, Austria.
A recipient of many honors, Lewis established the Kristin Lewis Foundation in 2014 to aid in the development of younger musicians and to foster the discovery and appreciation of opera and musical culture through experiences in music. The foundation is designed to connect young singers with educational and professional experiences to further refine their talents. The Kristin Lewis Foundation Vocal Scholarship Auditions provide financial awards to young singers who demonstrate the potential for careers in opera performance.
Thompson has represented Southern University in other competitions and conferences and brought recognition and honor to herself and to Southern. Her peers and professors have also noted her talent and achievements.
"She is, without a doubt, one of the most gifted pupils I have had the pleasure to work with," said Richard Hobson, affiliate artist/professor of voice and director of opera, SUBR, who helped nurture and guide the recent SU grad and aspiring singer.
"With all her obvious talent, it took her four years to convince her parents that she should be a voice major. Apparently, when Briannica was a junior in high school, she promised her parents that she would be a lawyer. They encouraged her to major in English in preparation for law school. However, that was long before I helped her discover what is truly an unusually gifted vocal talent. She now has her eyes set on The Julliard School of Music. I believe her parents are now also convinced that singing is Briannica's true calling," said Hobson.
A day after her success in Arkansas, Thompson was invited to Chicago, Illinois, to compete as a finalist in 2016 National Student Auditions competition during the National Association of Teachers of Singing (NATS) National Conference, July 9-10. She has won a spot to compete in the first Negro Spiritual category. Thompson will be competing against students (male and female) from all over the United States for the top prize.
Thompson plans to move to New York or Boston to attend the Julliard School of Music or the Boston Conservatory of Music.
# # #