SU repeats, gains three new wins at annual HBCU awards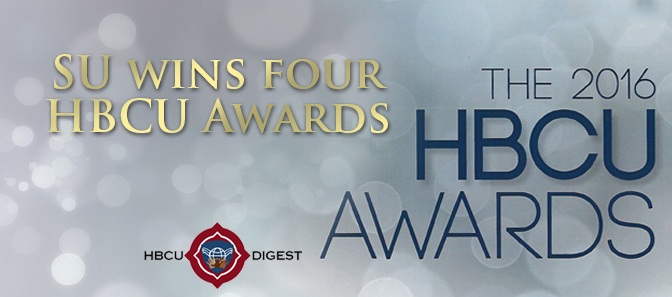 With nominations in nine categories, Southern University just added four HBCU Awards to its mantel. The SU Marching Band, physics professor Stephen McGuire, the SU Laser Interferometer Gravitational-Wave Observatory (LIGO) Scientific Collaboration (LSC), and student-athlete Devon Gales, each received a 2016 HBCU Award, July 15, 2016, during an awards dinner at the University of the District of Columbia.
The annual awards program, sponsored by HBCU Digest, acknowledges and celebrates achievements at historically black colleges and universities throughout the United States.
"The purpose of the awards ceremony is to give our HBCUs an opportunity for national exposure in key areas of campus performance," said Jarrett L. Carter Sr., founding editor of HBCU Digest.
The SU "Human Jukebox" was named 2016's "Best Marching Band." This is the third HBCU Award for the famed Jaguar Marching Band. The band previously won honors in 2012 and 2014.
"As director of bands at Southern University, I am both honored and humbled to be acknowledged among our peers as the best band. This is a testament of the history and legacy of the Human Jukebox and the band staff and I are simply continuing this great legacy," said Nathan Haymer.
The Southern University Marching Band enjoys a long list of awards and achievements, and has a resume of appearances in local, national, and international venues.
"The SU Band has performed in more Super Bowls than any other band in the country. We've performed on many national and international stages," added Haymer.
The band has entertained around the world and has appeared on several national television shows such as ABC's "Nightline," in two of film director Spike Lee's productions, and in an award-winning documentary by NFL Films.
In 2009, the band was profiled in a New York Times article on successful college marching bands. In 2010, the band's drum line traveled to the North African countries of Morocco and Algeria where they performed in theaters, children's centers, a morning television show, sporting events, and conducted workshops.
The band's dance squad, the SU Dancing Dolls, performed with pop music icon Madonna during the nationally televised halftime show for Super Bowl XLVI.
The band ranked among the NCAA's Top College Marching Band's Halftime Shows of 2015. USA Today, Sports Illustrated, Sports View magazine, and Street and Smith's sports magazine, all have at times ranked the Human Jukebox the world's number one marching band.
When gravitational waves were detected last year for the first time by both of the twin LIGO detectors located in Livingston, Louisiana, and Hanford, Washington, SU scientists part of LIGO LSC, joined others from all over the world in celebrating the groundbreaking discovery. News of the historical astrophysics event is still making headlines. Scientists observed gravitational waves-ripples in the fabric of spacetime-for the second time, December 26, 2015.
Southern University, an active member in LIGO in the area of optical materials research since 1999, was honored for its academic excellence with a 2016 HBCU Award for "Best Research Center."
The University's work focuses on minimizing noise in LIGO test mass mirrors in order to help maximize the sensitivity of the LIGO interferometers. These investigations have involved detailed experimental and computational studies of atomic composition and chemical structure of the mirror coatings by SU faculty members and students from the physics, chemistry, mathematics and computer science departments.
Stephen C. McGuire, the James and Ruth Smith Endowed Professor of Physics in the College of Sciences and Agriculture, SUBR, and principal investigator LSC, was in attendance at the awards ceremony, and accepted the award.
McGuire also was presented with the 2016 "Male Faculty Member of the Year" HBCU Award for his individual achievements.
"I am extremely proud to receive these recognitions and accept them on behalf of the many students, faculty, and administrators from Southern University, LIGO, and the National Science Foundation, whose contributions and funding over the years have helped to make this outcome a reality," McGuire said.
A Fellow of the American Physical Society (APS), McGuire is a co-author on the publications reporting the first and second direct detections of gravitational waves in the journal, Physical Review Letters.
Having published extensively in nuclear physics and its applications, McGuire lectured in the prestigious National Institute of Standards and Technology (NIST) Colloquium Series, in the spring of 2008, on the subject of "LIGO: At the forefront of optical materials research." At that point in its history the NIST Colloquium had included 21 Nobel laureates.
In 2015, he was appointed one of ten inaugural LIGO Scientific (LSC) Collaboration Fellows. Recently, on June 4, 2016, the Southern University Chapter of Phi Delta Kappa with its "Outstanding Scientist in Education Award" honored him.
McGuire is the director of the On-campus Advanced Optical Materials Laboratory at SUBR. Prior to joining the SU faculty he was an associate professor of nuclear science at Cornell University. The National Science Foundation funds his research on LIGO mirror coatings.
Also receiving a 2016 HBCU Award for individual achievement was SU Baton Rouge student-athlete Devon Gales, a member of the Jaguar Football Team who was critically injured during last season.
Gales, a sophomore wide receiver who suffered a paralyzing neck and spinal cord injury September 26, 2015, in a football game between SU and the University of Georgia (UGA) in Athens, Georgia, was picked as "Male Athlete of the Year" for an HBCU Award in athletic excellence.
A determined Gales has made great progress and through his phenomenal spirit, won the hearts of the Jaguar Nation, UGA fans and alums, and supporters from around the world, who have rallied to his aid.
After spending several weeks in Atlanta in the hospital recovering from surgery and months in a rehabilitation center there, the Baton Rouge native made a triumphant return home to much love and fanfare on March 5, 2016.
"Devon's amazing strength and unwavering faith in the power of prayer, hard work, and healing is a powerful example of true sportsmanship and courage," said SUBR interim athletic director Roman Banks.
On his road to recovery, Gales has regained strength in his muscles and relearned his basic motor skills. A major breakthrough in his recovery was recently reported on the Gales family's Facebook page with a video showing the inspiring SU student moving his legs.
Created in 2011, and crowning winners in the fields of leadership, arts, athletics, research, and community engagement, the HBCU Awards is the first national awards event to recognize the influence and impact of historically black colleges and universities on American culture, according to HBCU Digest.
Previous SU HBCU Award winners:
2012
Southern University Marching Band
"Best HBCU Band of the Year"
Southern University Alumni Federation
"National Alumni Association of the Year"
2013
Polite Stewart Jr.
"Male Student of the Year"
SUBR Men's Basketball
"Men's Team of the Year"
2014
Southern University Marching Band
"Best Marching Band"
Dawson Odums (SUBR)
"Male Coach of the Year"
Dray Joseph (SUBR)
"Male Athlete of the Year"
2015
SUBR College of Nursing and Allied Health
"Best Nursing Program"
The HBCU Awards event was part of an HBCU Executive Media Training Institute presented by the University of the District of Columbia, July 14 - 16, 2016.
Click the following link for the full list of 2016 HBCU Award winners: