Trumpet Awards founder and trailblazing broadcasting executive to SU fall grads: 'Better get on the ball'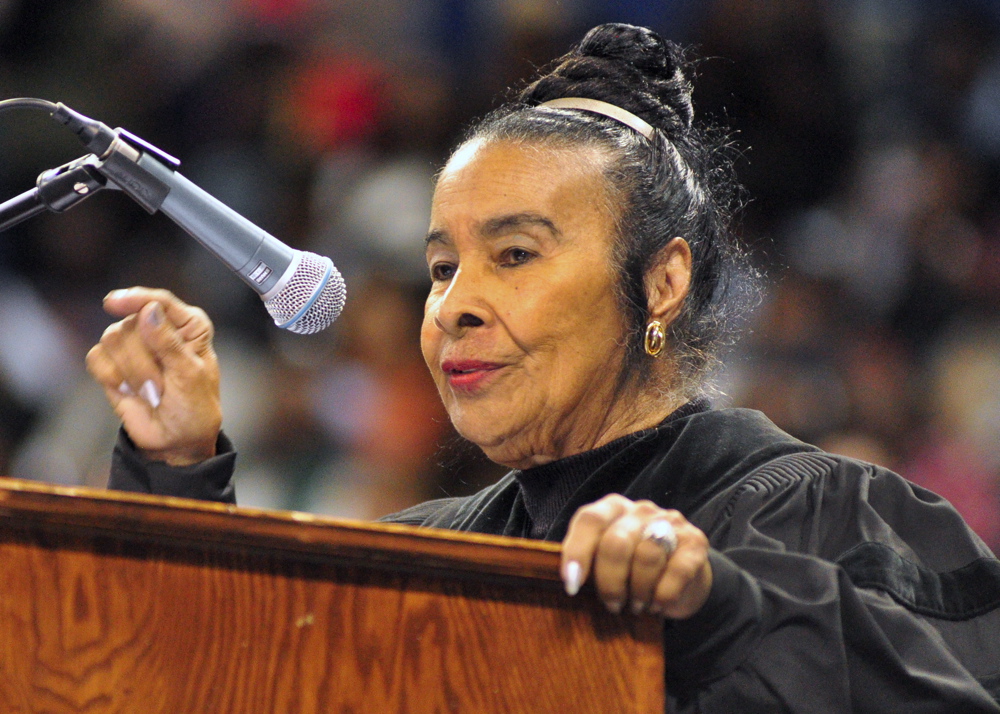 Trailblazing civil rights leader and pioneering broadcasting executive Xernona Clayton was the guest speaker for the Southern University Baton Rouge Fall 2016 Commencement Exercises, Friday, December 16, 2016, at 10:30 a.m., in the F.G. Clark Activity Center.
Clayton's message to the SU fall graduating class included "a few things to think about."
A pioneer as the South's first Black person to have her own television show and the founder, president, and CEO of the Trumpet Awards Foundation, Incorporated, and creator and executive producer of the Foundation's Trumpet Awards, Clayton talked to the Southern grads about "the urgency of now."
"Today is the tomorrow you worried about yesterday. Use today--fill it with all the joy you can find--make today count," said Clayton.
The Muskogee, Oklahoma native moved to Atlanta in 1965 where she accepted a position with the Southern Christian Leadership Conference and worked closely with the late Dr. Martin Luther King Jr. She shared a personal account of when she drove King to the airport on his way to Memphis, Tennessee in 1968. Her account of the trip included recalling King's intent to spend more time with his children and mother upon his return. King was assassinated during his visit to Memphis. The commencement speaker used the reflection to further her focus on the urgency of "taking care of business now."
She encouraged the new grads to become leaders. "We need your thinking, your brightness, your innovation, and your alertness," she stressed.
Clayton used several humorous anecdotes and thoughts throughout her remarks much to the delight of the near-capacity crowd in the F.G. Clark Activity Center.
Her final musing was a fable about a golfer attempting to land a productive swing. She explained, on two attempts, the golfer's ball landed in a hill of ants, each time devastating the ant colony. She said the two remaining ants looked at the other and declared, "If we (the ants) are going to survive this thing, we better get on the ball."
Speaking to the grads and audience, a wise Clayton shared, "Do not wait until tomorrow, plan today so that when tomorrow comes you are ready to face the day. There is no such thing as shoes too small to make imprints in the sand."
SU System President-Chancellor Ray L. Belton, along with Board of Supervisors chairman Leon R. Tarver II, presented Clayton an honorary doctor of humane letters degree during the commencement ceremony.
The SUBR Fall 2016 Class includes 330 undergraduate degree candidates and 99 candidates for graduate degrees. The class has 74 honor graduates (one magna cum laude, 10 cum laude, 63 honorable mention).
The SUBR fall graduating class represents 44 Louisiana parishes, 18 states and territories, and 11 countries. The oldest candidate is 63 and the youngest is 20. The class has 294 female and 135 male candidates.
Leading the 429 fall SUBR candidates for degrees was top student Laura Syori, who graduated magna cum laude, with a bachelor of science in biology from the College of Sciences and Engineering.
Syori, a SU student-athlete, is a native of Gitega, Burundi, a small country in East Africa. An accomplished member of the women's tennis team, she graduated with a 3.725 grade point average.
College marshals for the SU December 2016 Commencement included:
College of Agricultural, Family and Consumer Sciences
Khadijah L. Neal, Winnsboro
Bachelor of Science in Urban Forestry
College of Business
Emmanuel Jamal Baker, Monroe
Bachelor of Science in Accounting
College of Humanities and Interdisciplinary Studies
Rachelle Richard, Jarreau
Bachelor of Science in Elementary Education
College of Nursing and Allied Health
Whitney L. Plummer, Bachelor
Bachelor of Science
College of Sciences and Engineering
Laura Syori, Gitega, Burundi
Bachelor of Science
Nelson Mandela College of Government and Social Science
Nastassia Neely, Baton Rouge
Bachelor of Science in Criminal Justice
Graduation Photos, click here.