SU professor to serve on international organization executive board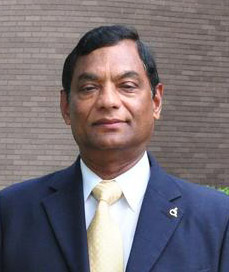 Madan Kundu, chair and professor of the Department of Rehabilitation and Disability Studies in the SU Baton Rouge (SUBR) College of Nursing and Allied Health, has been elected to serve on the Executive Board of Rehabilitation International (RI) for 2017-2021. The announcement was made during the 23rd Rehabilitation International World Congress held at the International Convention Center in Edinburgh, Scotland in October 2016.
Kundu served as North American Chair of RI during 2001-2004 and 2005-2008. He was previously elected to serve as Global Chair of Work and Employment Commission of RI for 2009-2012 and 2013-2016. In these positions, he provided leadership to implement Article 27: Work and Employment of the United Nations Convention on the Rights for People with Disabilities (UN CRPD). During his tenures Kundu also traveled to 22 countries and made 44 presentations and conducted Rehabilitation International seminars in Hong Kong and Tokyo. Annually, he is invited to participate in the Conferences of the State Parties (COSP) at the United Nations.
Kundu was actively involved in the RI World Congress Meeting themed, "Create a more inclusive world." He served on the Program Committee and made two presentations: Competencies Needed for Return to Work (RTW) Professionals for Successful Employment Outcomes for People with Disabilities, and Assessing Vocational Rehabilitation Engagement of People with Disabilities: A Factor Analytic Approach (presented on behalf of Alo Dutta, professor, Department of Rehabilitation and Disability Studies, SUBR).
During the congress, Kundu was interviewed by the producer of "Real Factory," a French television company preparing a documentary about the quality of life for people with disabilities.
Her Royal Highness Princess Anne inaugurated the congress. World-renowned physicist and cosmologist, and a person with disability, Stephen Hawking, provided the congress keynote speech via videoconference. Approximately 1,100 participants attended the meeting from 68 countries that resulted in 200 presentations by the experts.