Graduate Programs and Certificates
The MBA Online degree program prepares professionals to become global business leaders, effective organizational managers, and entrepreneurs who lead in innovation.
Deadlines for completed applications:
Fall 2019- Aug. 18
Spring 2020- Nov. 1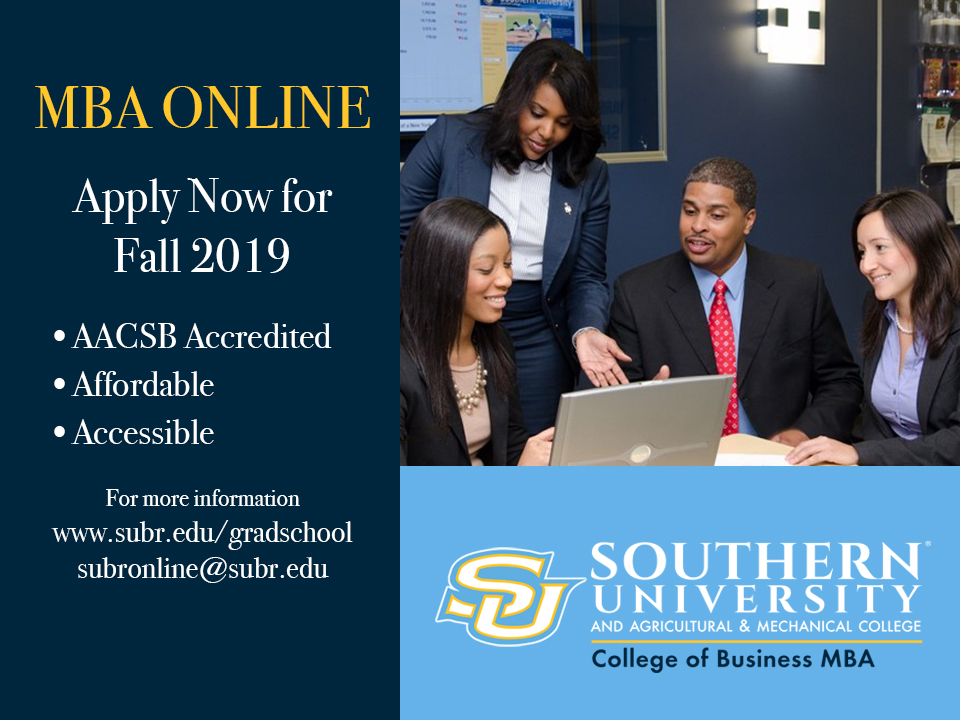 Why Choose the Southern University MBA Online?
With so many options, we think our MBA Online is the best choice for your advanced business degree. What makes the Southern University Online MBA special? It's special and the right choice because it:
Is designed for working professionals.
Offers eight concentrations to meet your career goals.
Is AACSB accredited.
Has a flexible completion schedule.
Has affordable tuition.
It has faculty who are highly qualified and nurturing.
Is designed for none business and business majors.
---
Career Preparation and Advancement
The MBA Online was developed for working professionals who aspire to transform and advance their careers, increase earnings potential, and expand career options.The program prepares professionals who can compete, and be successful global business leaders. Upon completion of the program, students are prepared for careers in government, business and industry, non-profit organizations, and public agencies. Students acquire knowledge, skills and the competencies to work in the following capacities:
Team leadership
Project supervision
Business solutions development
Organizational managers
Entrepreneurs
Contact Person:
Ashagra Yigletu, Ph.D.
Associate Dean and Director of MBA Programs
College of Business
Southern University and A&M College
Email: Ashagra_Yigletu@subr.edu
Phone: 225-771-6248 or 225-771-6249