Southern University professors shine at national conference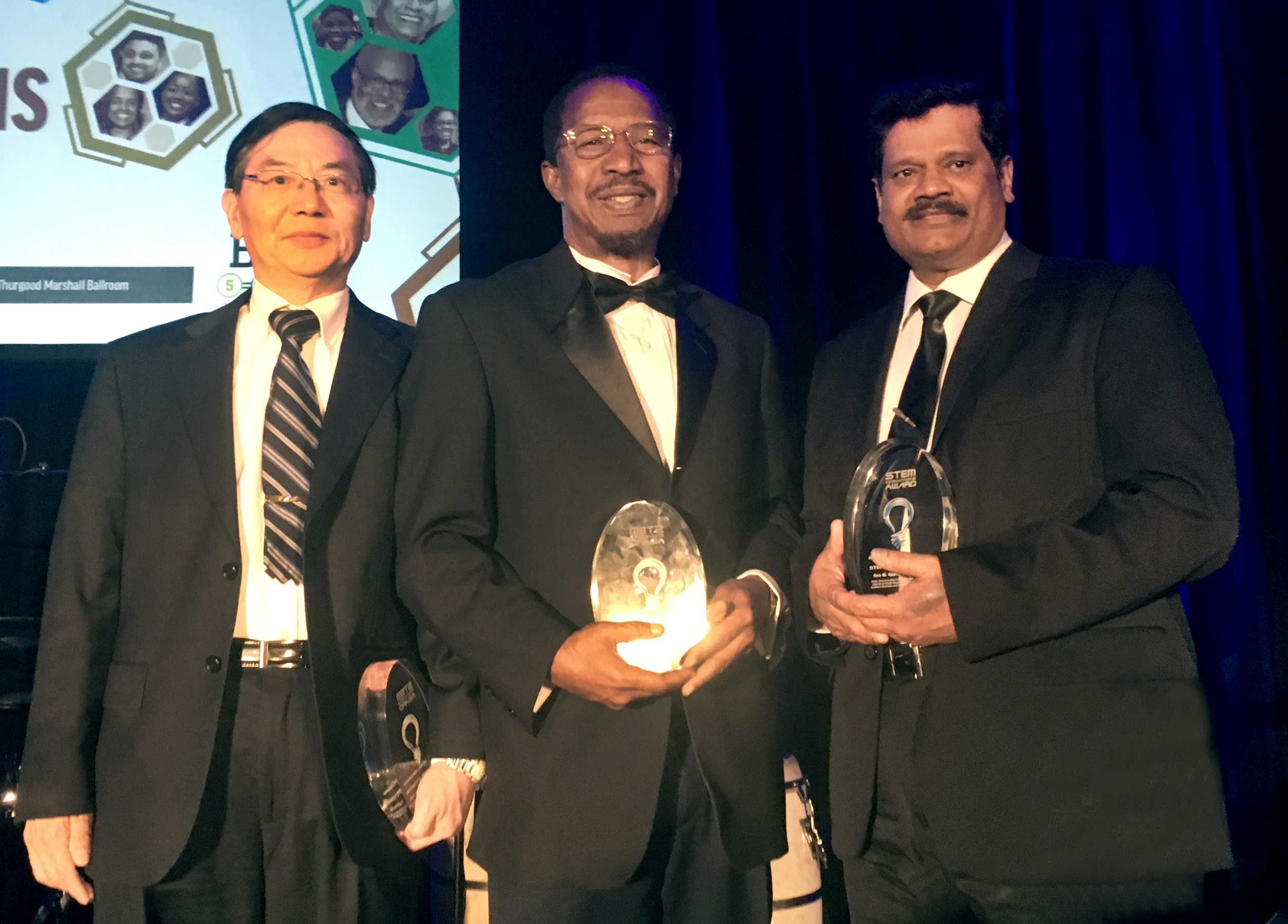 Three Southern University Baton Rouge professors were among 10 honorees to receive a STEM Innovation Award at the Becoming Everything You Are (BEYA) Science, Technology, Engineering, and Mathematics (STEM) Global Competitiveness Conference in Washington, D.C., at the Washington Marriott Wardman Park Hotel. The conference, held February 9-11, 2017, included hundreds of high school students, thousands of college students and professional engineers and scientists from industry, universities, and government.
Southern University System Distinguished Professor of physics and dean of the Dolores Margaret Richard Spikes Honors College Diola Bagayoko was recognized for leadership in the development of the Master's Program in Mathematics and Physics and the Ph.D. Program in Science and Mathematics Education at SUBR, the building of the SUBR internet infrastructure, and the integration of computers in teaching, mentoring, and learning, and the extensive creation of new knowledge disseminated through 180 publications. Of special mention was Bagayoko's correction of 50 years of the misunderstanding of density functional theory (DFT) and his completion of said theory in practice.
G.L. Zhao, professor of physics at SUBR, was recognized for serving as a reviewer for the Civilian Research and Development Foundation, the teaching of experimental and computational physics, and the conduct of both theoretical and experimental research that resulted in extensive publications. Zhao's visiting fellow position at the Mechanical and Aerospace Engineering Laboratory at Princeton University also was noted.
Rao Uppu, professor of environmental toxicology at SUBR and adjunct professor of patho-biological sciences at the LSU School of Veterinarian Sciences, was cited for directing the Environmental Toxicology Program and the Health Research Center at SUBR, his mentoring of numerous graduate students and post-doctoral fellows, and the publication of over 65 articles in peer-reviewed journals and book series. Uppu was also recognized for being a fellow of the Academy of Toxicological Sciences and awards he received for teaching and research.
At the BEYA STEM Conference, two former SUBR students were recognized for their outstanding contributions in industry. They were Zelda Gills, physicist, and Brandon Jones, electrical engineer. Nineteen SUBR students from engineering and five scholars of the Timbuktu Academy and the Louis Stokes Louisiana Alliance for Minority Participation (LS-LAMP) attended this unique conference. Some of the SU students received offers for permanent employment and for summer research internships.
The purpose of the annual BEYA STEM Conference is to bring together the best and brightest minds and industry recruiters for networking opportunities and student leadership and professional development, as well as to highlight advances in today's technology. The conference was sponsored by Aerotek and the General Dynamics Corp and hosted by Lockheed Martin Corporation, the Council of HBCU Engineering Deans, and the US Black Engineer & Information Technology magazine.