Southern to hold National Black HIV/AIDS Awareness Day Feb. 7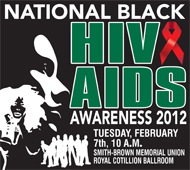 News Release
Feb. 1, 2012
CONTACT:
Edward Pratt, Southern University Media Relations 
(225) 771-4545 or (225) 771-2160
For immediate release
Southern to hold National Black HIV/AIDS Awareness Day Feb. 7
BATON ROUGE - The Southern University HIV/AIDS Prevention Program in the Center for Social Research will be observing National Black HIV/AIDS Awareness Day on Feb. 7, from 10 a.m. to 2 p.m., on the Baton Rouge campus.
There will be lectures, demonstrations and powerful testimonials at the free event set for the Royal Cotillion Ballroom of the Smith-Brown Memorial Union.
Many university and community HIV/AIDS organizations will be disseminating educational materials and providing additional services to participants.
The program focuses on a major health problem in the African-American community. African Americans represent 14 percent of the total U.S. population but account for 44 percent of all new HIV infections.
According to the Louisiana Office of Public Health, Baton Rouge ranks second in the state in estimated AIDS case rates. It also reported that the case rate for African Americans is disproportionately high in Louisiana, some six times higher than that among whites.
Guest speakers include Sylvia Andrews with the Division of Human Development and Services in Mayor-President Kip Holden's Office, Chancellor James L. Llorens and the keynote speaker will be Dr. Donald J. Alcendor of Meharry Medical College in Nashville, Tenn. Alcendor is an assistant professor at Meharry's Center for AIDS Health Disparities Research.
For more information, contact Darnell Pledger, HIV/AIDS Program Coordinator, 225.771.3010 or darnell_pledger@subr.edu
###