SU's internship program can launch your career after graduation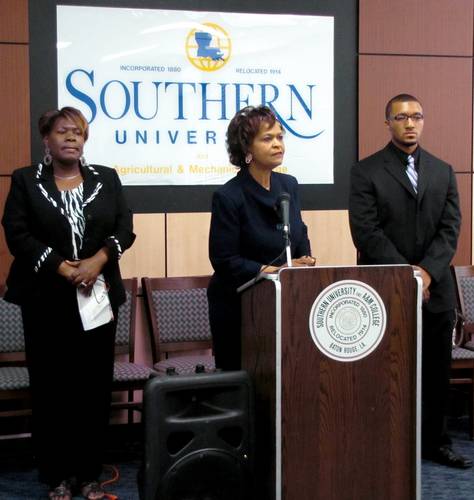 The Advance Baton Rouge Charter School Association and the Southern University College of Education announced their new "Cradle to College" Partnership at Southern University today, designed to prepare K-12 students for 21st Century roles and responsibilities in a global society.
The purpose of the partnership is to prepare students for college and support the professional development growth of Advance Baton Rouge teachers and administrators.
"This partnership places Southern University in a unique position to collaborate with Advance Baton Rouge as we foster not only the development and success of students but also to engage in cutting edge teacher training and professional development," said Dr. Mwalimu Shujaa, Executive Vice Chancellor and Provost at Southern University. "What we are launching today may soon become a model of best practice for providing education and teacher training in school districts across the state."
"We are very excited about the possibilities our new partnership with the College of Education at Southern University," said Henry Shepard, CEO of the Advance Baton Rouge Charter School Association.  "Our teachers and school leaders now have access to additional resources to help them fulfill our mission of providing every student with the opportunity to attend a college or university."
As part of the partnership there are currently over 40 "Field Service Learning" students from the College of Education working in the Advance Baton Rouge Charter schools.  The students provide the schools with additional classroom support such as working with small groups and tutoring, while gaining valuable on site experience.
"I am excited about this great opportunity for our teacher-candidates to get real world experience in a new educational environment that they will help build," said Dr. Verjanis Peoples, Dean of Southern's College of Education.  "What's more incredible is that we will be able to measure the difference we are making in the lives of these young students."
Other aspects of the agreement include:
Opportunities for ABR schools through the College of Education to establish ongoing partnerships with other Colleges and Departments such as the College of Business, College of Sciences, College of Engineering, School of Nursing and the Honors College.
Opportunities to create Saturday and summer enrichment opportunities that benefit ABR and Southern University students, faculty and staff.
ABR Honor Students in Middle and High School will attend Southern University's May graduation and be recognized during ceremony.
College Early Start Program via Distance Learning Center - Program will be supervised through the SU College of Education.  Students will receive college credit in English, math, social studies and science. 
Masters Degree Opportunities for current and future ABR employees in Special Education, Curriculum and Instruction and Educational Leadership.
Additional degree certification support for ABR faculty through the College of Education.
ABR middle and high school students will have access to University enrichment opportunities through summer programs, tutoring and SAT / ACT prep courses.
In conjunction with their partnership and commitment to preparing their students for college, the Advance Baton Rouge Charter School Association also announced today their new academy projects at 3 of their 5 schools, which will begin in the fall of 2011.
The Prescott Business Academy will teach the principles of business, ethics and business development.  Each grade will focus on a different principle while emphasizing math and ELA.
The Glen Oaks Institute of Science will focus on physical, earth and life sciences as part of the school wide curriculum.  Students will conduct monthly research projects and attend weekly science labs.
Pointe Coupee Central High School will include an Honors and Leadership Academy for 6th-9th grade students.  The leadership academy will focus on instilling in students the importance of personal leadership and team building skills in addition to service learning and community outreach.
Each school will have an honors academy, through which students will be required to wear a different school uniform, have a GPA of 2.5 or greater and a LEAP/ iLEAP score of Basic or above.
"We are preparing our students to be future 21st century leaders," said Anna Faye Caminita, Chief Academic Officer for the Advance Baton Rouge Charter School Association.  "With TAP as our core education reform model and our new partnership with Southern University's College of Education we are poised to provide our students and teachers with lasting opportunities for success."