SU's McCorkle elected vice chair of La. Student Body Presidents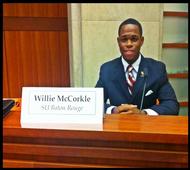 Southern University Student Government Association President Willie McCorkle was recently elected Vice Chairman of the Council of Student Body Presidents in Louisiana.
McCorkle, a senior mass communications from New Orleans, was elected May 14 by the Council of Student Body Presidents from public universities, and community and technical colleges in the state.
Each elected student body president from the various state college campuses are voting members of the council.  Council officers are voted in by the members. Meetings for the council are held at the State Capitol.
McCorkle says he is honored to hold a position of leadership on the Council and he looks forward to "uniting all student leaders of higher education institutions in the state so that we can centralize our efforts and energy to attack the main issues that affect all of us."