SU grad 1st African-American chosen for SES post at Stennis Space Center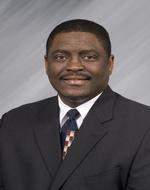 Southern University graduate Freddie Douglas III has become the first African-American to fill a Senior Executive Service position at the John C. Stennis Space Center near Bay St. Louis, Miss., according to a press release from the space center.
Douglas, a NASA manager, was chosen for the post when the manager position in the Stennis Office of Safety & Mission Assurance (SMA) was reclassified as an SES position and he competed for the new position.
"It's a blessing," Douglas said of his selection to fill the reclassified post. "Just working for NASA has been a blessing for me. And in turn, I hope I am able to affect lives for the better. That's the real measure of success."
Douglas already was serving as manager of the Stennis SMA office when the position was re-advertised as an SES position. Douglas was competitively chosen to fill the role and continue in his safety duties. The SMA office is responsible for the safety and mission success of all activities executed at Stennis, including public and private rocket engine testing and the work of more than 30 resident entities that comprise the federal city.
"We have an excellent group of folks in this office who cover a range of activities," Douglas said of his SMA team. "When it comes to safety, we cover everyone who comes through the gates at Stennis, whether they are full-time employees, short-term contractors, NASA personnel, resident agency employees or teammates. We are a safety resource for the entire center, an enabling force for everyone's mission. I can't say enough about the work of this team."
Douglas joined NASA at Marshall Space Flight Center in Huntsville, Ala., in 1983, as a professional intern. There, he worked on several projects, such as the International Space Station, the Hubble Space Telescope and the post-Challenger Accident Return to Flight effort.
Douglas transferred to Stennis Space Center in 1989. At the center, he has worked on the space shuttle main engine test project, research-and-development rocket testing and other agency initiatives. He also has served in both project and functional management positions.
In addition to an extensive work experience, Douglas received his bachelor's degree from Southern, and advanced degrees from the University of Alabama in Huntsville and Massachusetts Institute of Technology in Cambridge. He also holds the rank of commander in the U.S. Navy Reserve.