William Broussard makes Baton Rouge Business Report's 'Forty Under 40'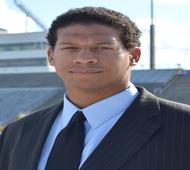 2012 Forty Under 40
William Broussard, 34
Director of Athletics, Southern University
By David Jacobs
Published Nov. 28, 2012
Some collegians are only on campus thanks to their athletic gifts. Wilfred Broussard was one of those kids who, if not for a basketball scholarship, would never have had a shot to be the first in his family to attend college. He made the honor role for the first time in his life at Grambling State, and went on to become assistant superintendent of schools for Acadia Parish.
In March, Broussard's son was named athletics director for Southern University.

"I see my father in a lot of those student-athletes that I work with, who might not have been a star student in high school," William Broussard says.
In recent years, several Southern University athletic programs have faced sanctions because their student-athletes weren't holding up the front end of that term. Improving academic performance is one of Broussard's top priorities, but he can't do it alone.
Read more from Business Report here: http://businessreport.com/2012/Forty-Under-40/William-Broussard#ixzz2DctufAce