Lavergne elected president of national mentoring program
Andrea Lavergne, a junior at Southern University, has been elected president of the Baton Rouge Chapter of Preparing Young Minds for Success. Participants are from Southern and the Baker, Zachary and North Baton Rouge areas.
Prior to becoming president, the psychology major from Lawtell, served as secretary and vice-president. Lavergne, who will take office on January 1, 2013, will preside over a membership of between 75-80 college students who serve as mentors in local inner city schools.
Other SU students who hold leadership positions locally are: Alexis Calhoun of Natchitoches, First Vice-President; Kayla Chenevert of Opelousas, Second Vice-President; Tyra L. Jackson of Rayville, Secretary; and Travante' P. Johnson of Bogalusa, Governmental Affairs Director.  
N'Kyia Moten, Maya Robinson, Jennifer Newman, and Cherie Bonner all serve on the national executive board for the parent organization Motivating Students for Academic & Career Success which oversees the Preparing Young Minds for Success Chapters.
Moten oversees programs as Executive Vice-President, Robinson handles educational policy as Senior Advisor to the National President, Bonner handles the organization's after-school tutoring programs in the Northwestern Region which covers Baton Rouge as Director of After-School Program Initiatives and Newman is the Northwestern Region Student Trustee.
Motivating Students for Academic & Career Success plans to donate $500 to the SU System Foundation on behalf of each of the students who were elected from Southern. Montrell McCaleb the organization's national president said Southern students have always been key players in community involvement and mentoring. 
For more information about the organization, visit the website www.educatingourfuture.org or if you want to volunteer call 225-771-8105.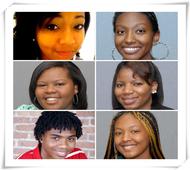 Top left to right: Andrea Lavergne and Alexis Calhoun; middle left to right: N'Kyia Moten and Maya Robinson; and bottom left to right: Travante' Perry Johnson and Tyra Jackson.