Southern honors Avery Johnson in court dedication ceremony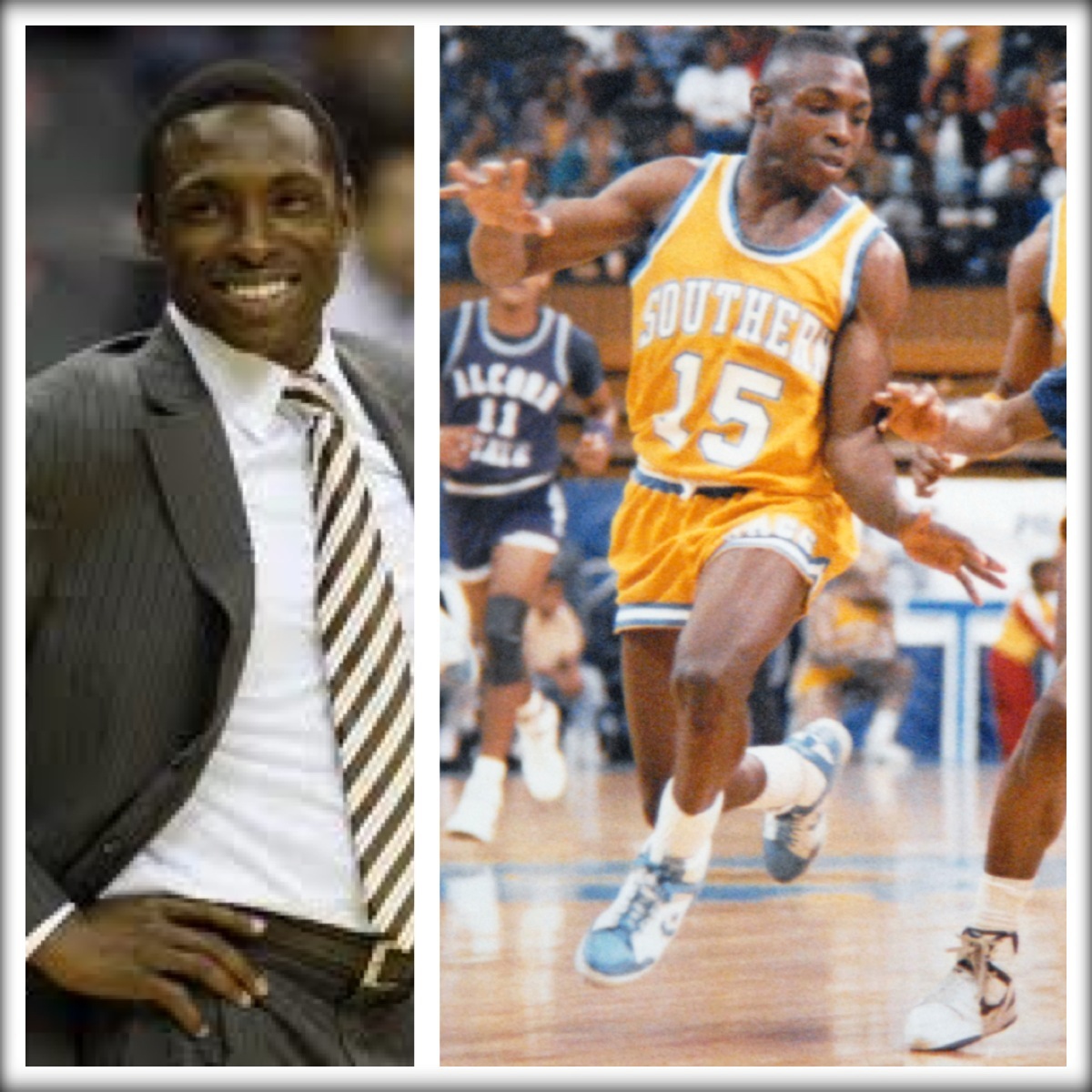 THE ADVOCATE
Before he became a household name among NBA basketball fans, Avery Johnson spent two seasons lighting up the F.G. Clark Activity Center with his jaw-dropping passing and playmaking ability.
Johnson returned to the Mini Dome on Saturday as Southern dedicated its home court in his honor and unveiled a banner bearing his retired No. 15 jersey.
During halftime of the Southern-Grambling men's game, Johnson took the microphone and flashed his famous smile.
"SU, what's up?" he began.
Johnson, whose remarkable journey to the NBA began as a St. Augustine High backup, reminded fans that champions can be born right where they sat.
"When you wear the blue and gold, you're a champion," he said. "You're special, and you're a champion."
The kind of crowd that greeted Johnson on Saturday was very much like the ones he and his teammates often entertained during Southern's glory years.
With the Southern men leading the SWAC race and their biggest, oldest rival in town, the 4,800 fans at the Mini Dome saw the Jaguars shake off a slow start en route to their seventh double-digit win during conference play.
But the buzz about Saturday's game was as much about Johnson's return as it was anything else.
Johnson led the nation in assists his only two seasons as a Jaguar, the perfect leading man for Southern coach Ben Jobe's high-flying offense.
But his journey to The Bluff was hardly a straight one, coming after one season at New Mexico Junior College and one more at Cameron University in Oklahoma.
He had to sit out his first year at Southern to satisfy NCAA transfer rules.
Highlights of Johnson shown Saturday had the young No. 15 beating some defenders with no-look passes and beating others with circus layups.
The heartbeat of Southern teams that won back-to-back SWAC titles, Johnson was a leader as much as a showman.
But he had plenty of naysayers as he began to pursue a professional career.
Johnson signed with the Seattle SuperSonics in 1988 as an undrafted free agent, then bounced around the NBA trying to find a regular roster spot. He switched teams six times before settling in with the San Antonio Spurs in 1994 and beginning a seven-year run with them.
Then came the highlight of all highlights, the jumper he sank in 1999 to clinch San Antonio's first NBA title.
The crowd at Southern roared Saturday as the famous shot swished the net on the screen above midcourt.
But the day focused on Johnson's accomplishments in blue and gold, bringing a rush of memories back to one of Southern's most prominent alumni.
"My mom and dad used to sit in those seats and watch me play," Johnson said.
As they cheered from those seats 25 years ago, Johnson's parents couldn't have known that the court down below would one day bear his name.