Southern University Gospel Choir to be part of major awards event at Essence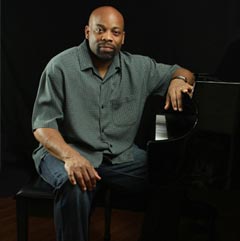 Thanks to a graduate of the blue and gold, Southern University's Gospel Choir will appear on the McDonald's 365Black Awards show set for Saturday, July 6, during the Essence Music Festival in New Orleans.
LaShawn Gary, who is the musical director for the performance, selected SU's Gospel Choir to back up Erica Campbell of the gospel duo Mary Mary. "If I was coming to New Orleans to do this, then naturally I would go to my alma mater to get the backup singers," Gary said.
The 10th annual 365Black Awards, sponsored by McDonald's, will be held at 11 a.m., in Hall H of the Morial Convention Center. The awards honor people who have made an impact on African-American culture and in their communities through business and charitable enterprises.
The show will air in August on the Black Entertainment Television (BET).
Gary, a nationally acclaimed composer, producer and arranger, is a native of Detroit. He has a B.S. in Instrumental Music Education from Southern and a Master's degree in Music Education from the University of Louisville.
Gary, the owner of LaShawn D. Gary Productions, has worked with Raphael Saadiq, the Four Tops and Keith Washington and toured internationally with other artists including the late legendary SU jazz great Alvin Batiste, who was one of Gary's music instructors at SU.
The musical director has come to Southern several times in the past few weeks to conduct practice sessions with the group. During the first session, in June, Gary told the singers, "Y'all are blowing me away."
The SU choir is lead by music major Marcella Ratcliff. "I'm excited. Everybody is excited about this," she said Tuesday.  Ratcliff, whose voice has wowed audiences on the campus, has some experience as a backup singer Kim Burrell, Donnie McClurkin and others.
Ratcliff is a native of Baton Rouge and a graduate of Baker High School.
While the choir members from the Baton Rouge campus will make up the core group of singers, there will be several others who are graduates of SU. The choir will attend a final practice session on Friday in preparation for the performance on Saturday night.
"This is really going to be great for the university," said Gary. "I feel very good about the way they have practiced and what expect on Saturday night."