SU's Naval ROTC welcomes new Commanding Officer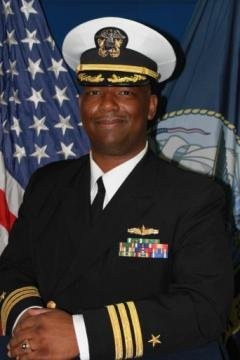 Cmdr. Tremayne Criner, Southern University's Naval ROTC new Acting Commanding Officer, will be the guest speaker at the Kiwanis Early Riser meeting Tuesday, July 23 at 6:30 a.m.
This will be Criner's first speaking engagement as SU's Naval ROTC Acting Commanding Officer. It will be held in the Magnolia Dining Room in Mayberry Dining Hall.  The event is open to the public, free for members and $5 for non-members.
"As the Acting Commanding Officer, I am proud to be a part of Southern University's NROTC unit and faculty. We are committed in developing our midshipmen in becoming strong leaders that will make a difference in our Naval and Marine Corps services," said Criner.
The Bellwood, Ill., native graduated from the United States Naval Academy in 1994 with a Bachelor's degree in Computer Science.
Criner attended the Naval Postgraduate School where he studied Information Systems and Operations and received his Joint Professional Military Education Phase I.  His shore assignments include serving as N82 Engineering Training Team Lead for Afloat Training Group (ATG), San Diego; Operations Officer at Assault Craft Unit-Five; and overseas on the Logistic Forces, U.S. Naval Forces Central Command/CTF-53 staff as the N3/Operations Officer in Bahrain.
Criner's initial sea assignment was onboard the USS AMERICA (CV-66) where he served as A-Division Officer deploying to the Adriatic Sea and the Arabian Sea. He later served as Auxiliaries Officer onboard USS SIMPSON (FFG-56) where he deployed to the Mediterranean Sea as part of the Standing Naval Forces Mediterranean (SNFM).
He served as Officer-in-Charge of the Military Detachment aboard the USNS LEROY GRUMMAN (T-AO 195) where he deployed to the Mediterranean Sea and served as Engineer Officer on USS UNDERWOOD (FFG-45) where he deployed to the North Atlantic. He later served as the Executive Officer of USS DE WERT (FFG-45) where he deployed to Fourth Fleet in support of counter-narcotics in the Eastern Pacific Ocean and to Fifth Fleet in support of counter-piracy in the Indian Ocean.


Awards earned by Criner include two Meritorious Service Medal awards, four Navy Commendation Medal awards, the Navy and Marine Corps Achievement Medal, plus various personal and unit decorations.
The Southern University community welcomes Cmdr. Tremayne Criner to the Jaguar Nation.