SU business students' team advances in national competition, finishes in top 10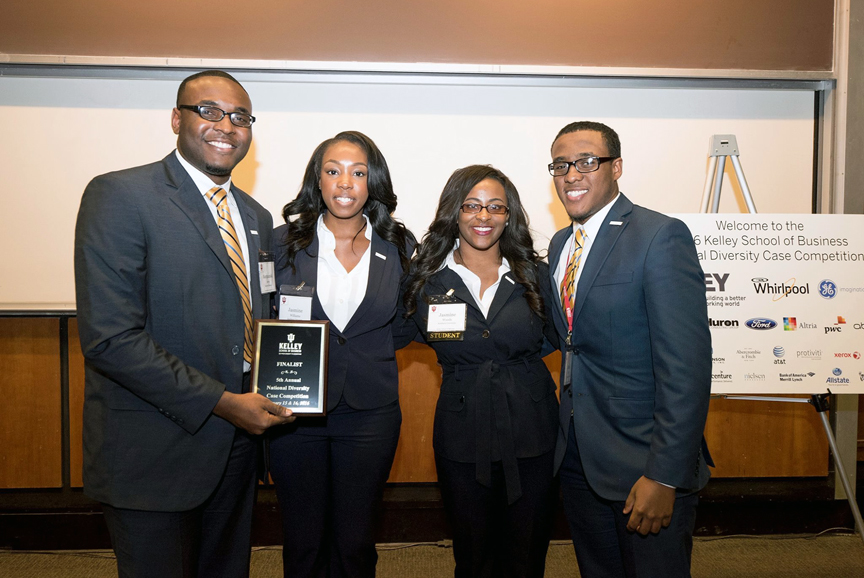 Baton Rouge, La. - A team of Southern University Baton Rouge (SUBR) students representing the College of Business traveled to Bloomington to participate in the Kelley School of Business National Diversity Case Competition (NDCC), January 15-16, 2016, at Indiana University.
Competing against top-level, diverse talent from colleges and universities across the country, the SU team placed first in their division that qualified them to advance to the final round. Out of 34 teams, SU students finished seventh overall.
The SU team included:
            Rashad Pierre, team captain
            Hometown:  New Orleans
            Major:  Management
            Marquanski Arvie
            Hometown:  Opelousas
            Major:  Management
            Jasmine Williams
            Hometown:  Dallas, Texas
            Major:  Marketing
            Jasmine Woods
            Hometown:  Shreveport
            Major:  Finance
"I was ecstatic when they announced the finalists and we had our place in the final round. We were proud to represent our University on a national level and we believe that no one will take Southern University for granted next time we go to Kelley. It was an awesome experience that I wish everyone would take advantage of. I am proud to say that I attend SU," said Pierre.
The NDCC is an annual two-day event celebrating the legacy of Dr. Martin Luther King Jr. that is open to undergraduate students from across the United States. The challenge includes a business case competition, networking opportunities, and additional workshops. Participants have opportunities to engage with corporate sponsors and recruiters, network with other talented students from across the country, and participate in a case competition offering $20,000 in cash prizes.
Student teams were provided with all meals and hotel lodging throughout the event. Students also were provided a travel stipend to cover round-trip travel to the competition.
"I would like to congratulate our case competition team for their performance in the National Diversity Case Competition. We hope that all our students will learn from the experience of this team in that it takes dedication and sacrifice in time spent in research and understanding the basics of all business disciplines to excel in business competition at the highest levels," said Donald R. Andrews, dean, SU Baton Rouge College of Business.
Toni Jackson, development coordinator, SUBR College of Business, was advisor, and accompanied the SU students.
#   #   #