SU environmental toxicology students win awards at two national conferences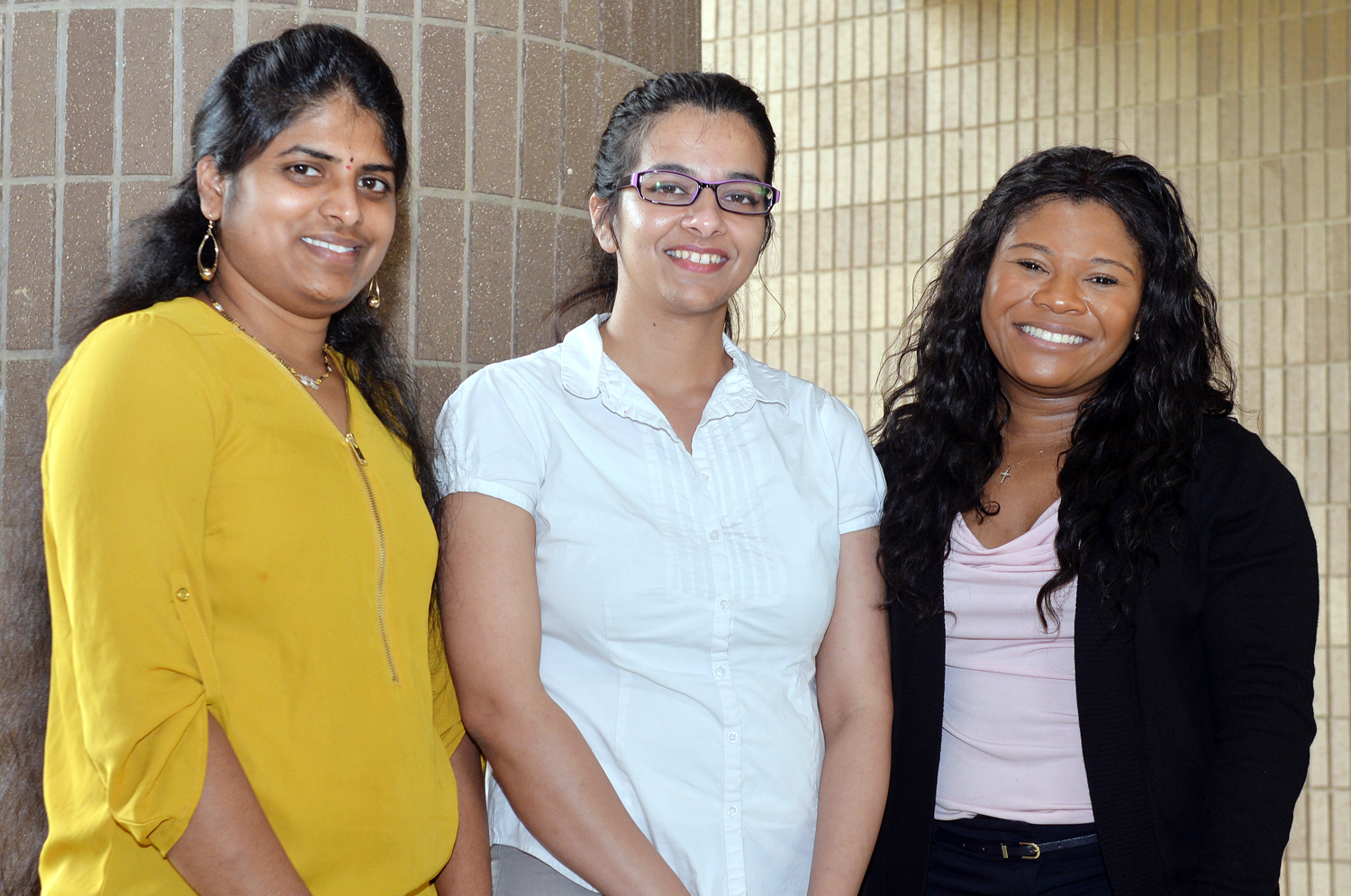 Three Southern University Baton Rouge students in the Environmental Toxicology Department (ENTX) recently won awards at two national conferences, in Baton Rouge and North Carolina, in March.
Gagandeep Kaur, Prathyusha Bagam, and Rakeysha Pinkston, graduate students in the ENTX Ph.D. program, placed first, second, and third best for their research work and platform presentations at the 74th Joint Meeting of Beta Kappa Chi and National Institute of Science. The conference was held in Baton Rouge, March 15-18, 2017, with the theme "Utilizing Innovative STEM Research to address today's current global challenges."
Kaur's research focused on determining epigenetic markers on immune related genes in Chronic Obstructive Pulmonary Disease (COPD) models, while Bagam and Pinkston's research studied the role of autophagy mechanism and proteasome variants in COPD models.
Pinkston also received second place for platform presentation at the 29th Annual Student Conference hosted by the National Black Graduate Student Association in Charlotte, North Carolina on March 22-25, 2017. The theme of the conference was "Beyond the hashtag: Taking research, innovation and solidarity from words into action."
Associate professor and program coordinator for environmental toxicology at SU, Sanjay Batra, served as the research project advisor for the three students.
"These awards provide a tremendous boost for students to strive and excel in their field of research and aim for even bigger accomplishments in the future," said Batra. "The exposure of students at the national meetings and their interaction with peers in the field will be instrumental in improving the ongoing research projects, and ensures that the students receive the optimal academic and mentoring experience thereby leading to overall growth of the program."
In addition to the awards, Pinkston was elected as a regional representative for the south central region for the National Black Graduate Student Association.
About the Environmental Toxicology Ph.D. Program
Currently, ENTX is recruiting students who are interested in pursuing their career in the field of research for fall 2017. The faculty of the ENTX program strive to prepare graduates to be leaders in the field of toxicology. The students enrolled in the program conduct basic and applied research on the potential adverse effects of chemicals and complex mixtures of environmental contaminants on biological systems and environment, and on molecular mechanisms of chemically induced toxicity. The students also are advised about the concepts and findings of toxicological research and evaluations, and are therefore prepared to serve as an information resource on toxicological matters to the state and the general public. The overall goal is to advance the science of environmental toxicology and its relevance to the wellbeing of human, animal, and plant life.