Gov. Edwards gets first-hand look at physical impact of long-term budget cuts to SU campus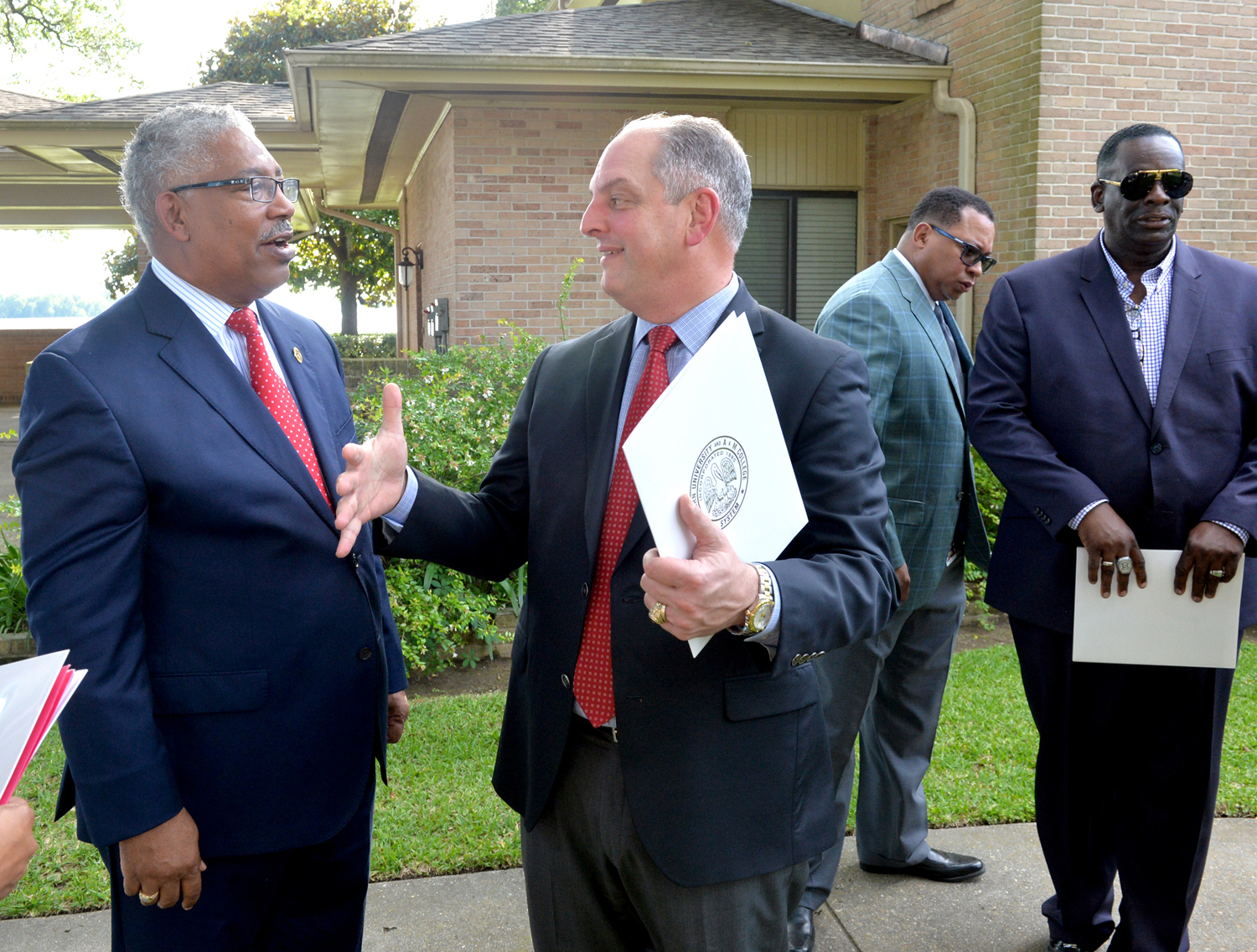 Governor John Bel Edwards, Thursday, May 25, 2017, joined by DOTD Secretary Shawn Wilson, State Senator W. Jay Luneau, and some members of his staff, visited the Southern University Baton Rouge campus to gain a greater perspective of the University's critical capital outlay needs.
The campus tour was led by SU System President-Chancellor Ray L. Belton, and SU Board of Supervisors Chair Ann A. Smith, Vice Chair Donald R. Henry, and members Leroy Davis and Domoine Rutledge.
"After eight consecutive years of responding to significant reoccurring budgetary reductions, state public institutions are challenged to maintain environments conducive to learning. The effect on buildings and grounds at Southern University Baton Rouge over a prolonged period of unfunded neglect can only be described as devastating, said SU System President-Chancellor Ray L. Belton.
Last year, the legislature appropriated $3 million for deferred maintenance for the SU System. From that point, an action plan was developed to address deficiencies in buildings, giving priority to roof repairs. At least 18 buildings needed roof replacement or repairs on the Baton Rouge landmass, including W.W. Stewart Hall. HVAC upgrades to address student and staff comfort were given priority and are in progress as well. The age of historic buildings, and the large number of buildings, present management with significant maintenance challenges.
The University also received a special $16 million appropriation to mitigate longstanding ADA projects on the SUBR landmass last year.
"We acknowledge and appreciate the significant investment Gov. Edwards and the legislature made to the SU System last year. However, our inability to consistently and timely address long-standing deferred maintenance issues have a direct correlation to our crumbling infrastructure and compromises our ability to carry out our role, scope, and mission with fidelity," said SU Board Chair Ann A. Smith.
The physical condition of System campuses from a standpoint of safety, functionally, and aesthetics constitutes one of the highest priorities for the University.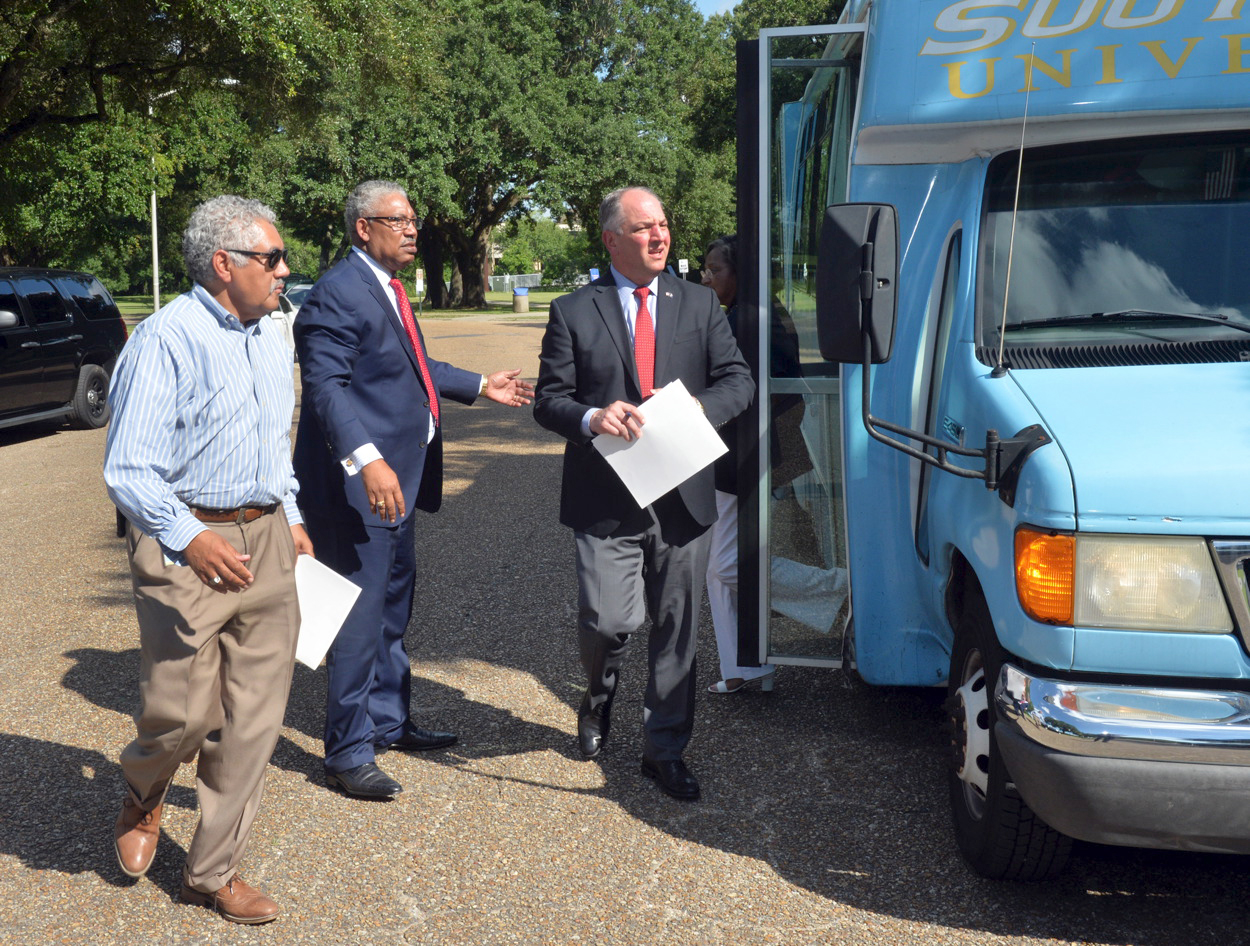 Gov. Edwards has continuously emphasized his commitment to supporting higher education and the state's public colleges and universities. Working with the legislature, the governor has pledged to help address the tremendous backlog of deferred campus maintenance projects. The total deferred maintenance backlog across the state's two- and four-year public colleges is nearly $2 billion.
"When they (deferred maintenance) impacts student safety, I think we have an obligation to see what we can do to rectify the problems very quickly. I had the opportunity to interact with President Belton last Friday, and he was telling me what a priority this is for him and the Board and Southern University. So I just wanted to take this opportunity to come out and see first-hand. And we are going to get to work to see if we can find a solution to the most pressing problems," said Gov. Edwards. "We are not going to be able to fix everything we see today that ought to be fixed right away, but those things that are most pressing we are going to work very hard to find a solution."
The System is further hopeful and continues to work with the Division of Administration for funding that will become recurring and where the backlog of deferred maintenance projects can be systematically eliminated.