SU team continues summer research in Ghana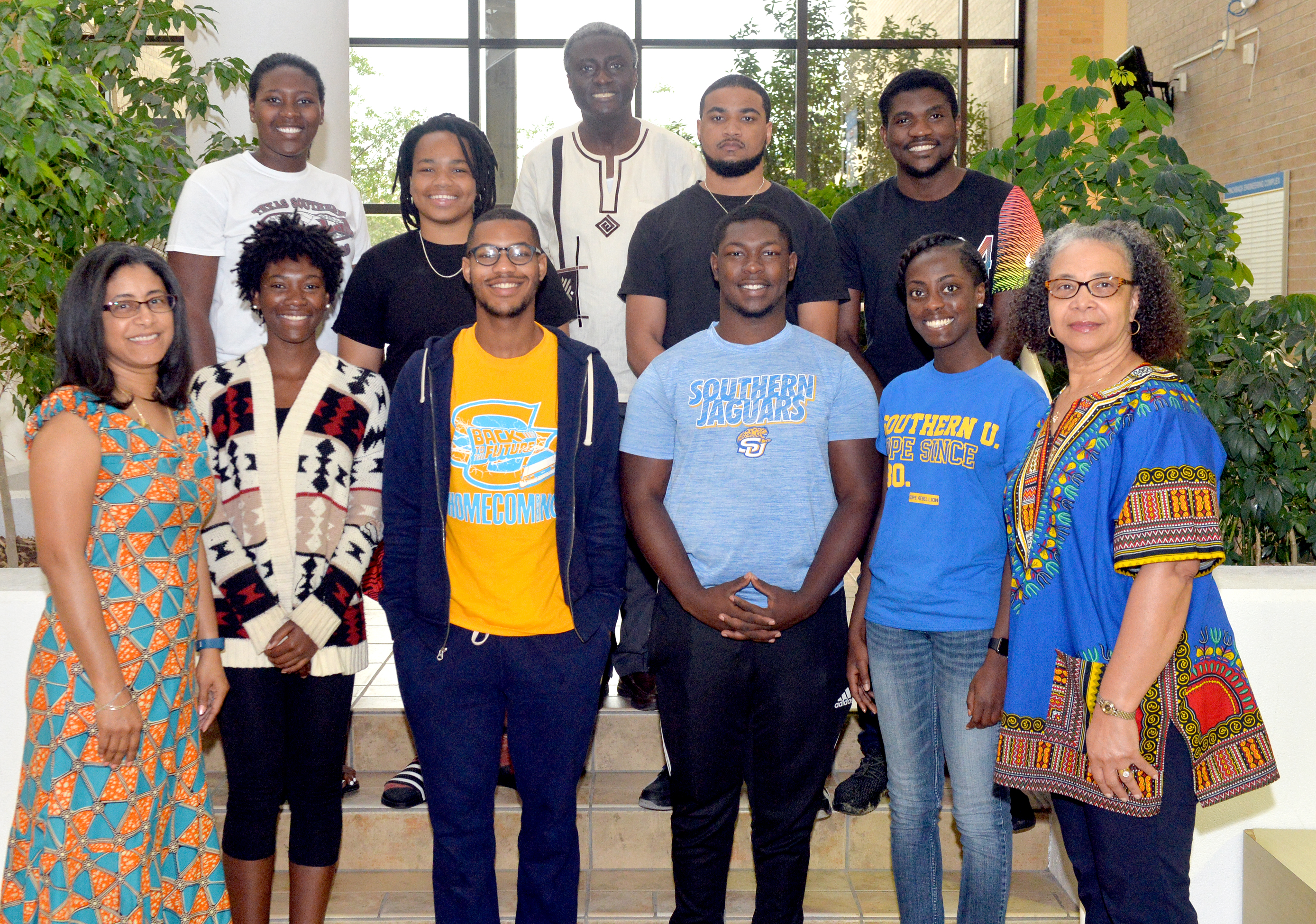 Southern University, through the SU International Research Experiences for Students (SU-IRES), for the third year has a contingent of students in Kumasi, Ghana engaging in summer research. This year, the SU research team consists of eight students from various STEM disciplines, two mechanical engineering faculty, and two staff.
The University held an opening ceremony, May 30, 2017, in the High Tech Room in P.B.S. Pinchback Hall to introduce the 2017 SU-IRES Research Team that includes students Deja Feist, senior, chemistry; Skyler Franklin, junior, biology; Raven Fuselier, senior, plant science; Kaleb Jennings, senior, mechanical engineering; Paolo Fon Ketcha, junior, civil engineering; Paula Mensah, engineering graduate student; Darrell Moses, sophomore, mechanical engineering; Jaylen Scott, senior, mechanical engineering; and, Patrick Mensah, SU IRES Principal Investigator and mechanical engineering professor; Deidre Street, executive director for institutional effectiveness and research, Office of Research and Strategic Initiatives, and SU IRES co-principal investigator; and Bernice Ruth, mechanical engineering secretary and SU IRES project assistant.
Researchers from the Southern University and A&M College (SU) Department of Mechanical Engineering in Baton Rouge, and the Department of Materials Engineering at Kwame Nkrumah University of Science and Technology (KNUST) in Kumasi, Ghana have partnered for three years to develop a low cost, but technologically efficient composite material filtration system for sustainable water purification in the Bongo Region of Ghana. KNUST has served as the host University for the Summer International Research Experience of this project and has facilitated arrangements to enable successful research, scholarly visits and made available the necessary research laboratories for student projects. By having a hands-on approach, students have learned excellent data acquisition techniques and gained the ability to analyze and interpret scientific information, which are invaluable skills to have in this day and age. The project has allowed students majoring in STEM fields to engage in hands-on international research in an unfamiliar environment and yet be able to adapt to solving problems in untraditional environments. The SU-IRES has supported 14 students (11 undergraduates and three graduates) during the past two years of summer research.
"We are grateful to collaborators in Ghana, professor Francis Momade and Dr. Albert Adjaottor, KNUST Department of Materials Engineering, for making available the laboratories and funding from the National Science Foundation that has made this project possible. Overall, this research will contribute to addressing water quality concerns and the availability of drinking (potable) water to humanity – especially in developing areas," said Mensah.
The SU-IRES Research Team experience is June 5 - July 3, 2017.