SU students study abroad in Belize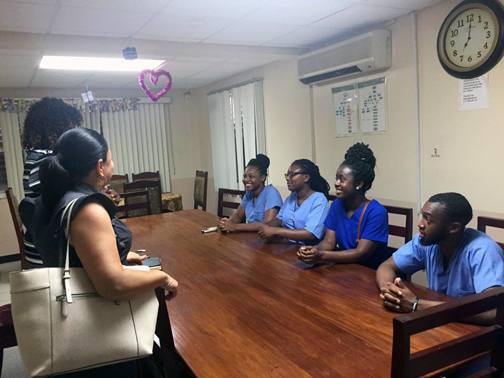 Southern University students travelled to Belize early this summer, May 14-June 4, for a three-week study abroad program through the SU Center for International Affairs and University Outreach, under the direction of Barbara Carpenter, dean and State Representative, and Kristan Gordon, assistant to the dean.
The seven students who participated included: Briana Turner, sophomore, nursing, Zachary; Alana Stevenson, junior, nursing, Monroe; Jonalyn Fair, sophomore, mathematics and physics, Houma; Justin Gay, junior, electrical engineering, Shreveport; Rayda Lathon, sophomore, mechanical engineering major, Creve Coeur, Missouri; Anita Achea, sophomore, nursing, Ghana, Africa; and Kristofer McKinney, sophomore, nursing, Mobile, Alabama. Eric Pugh, Honors College program associate and recruiter, accompanied as a chaperone.
Six of these students are scholars of the Dolores Margaret Richards Spikes Honors College, under the leadership of Diola Bagayoko, dean and Southern University Distinguished Professor of Physics.
While in Belize, SU students participated in community services at Stella Maris School Belize Academy for the Deaf, at YWCA, Matron Roberts Polyclinic II, Cleopatra Clinic, and Karl Heusner Memorial Hospital. They also took a Spanish class at Wesley Junior College.
"As always, Southern University students did exceptionally well in their Spanish class and in community service at their respective service learning sites," said Pugh. "The Wesley Junior College delegation, along with the representatives at the community service sites, spoke very highly of our students and commented that Southern, as promised, sent some of the best and brightest students."
Financial support for the Study Abroad Program was supported by several entities at SUBR. Sponsors for the Belize trip included The Center for International Affairs and University Outreach, Office of the Southern University Provost, Southern University System Foundation, Dolores Margaret Richard Spikes Honors College, College of Sciences and Engineering, Louis Stokes Alliance for Minority Participation (LS-LAMP), Office of Student Organizations and Campus Involvement, Office of Career Services, and the American Dream Construction and Consulting and Cognitive Center.
"It is hoped that more colleges will sponsor their students to partake in this unique global learning experience", said Gordon. "This opportunity allows students to see the world, to sharpen their language skills, to know their own culture through a comparison with a different one, to make lifelong friends in other countries, and to grow personally."
In addition, study abroad students can earn three credit hours of foreign language and three credit hours of service learning.