SUNO, SUBR employees receive inaugural 'Above and Beyond' Award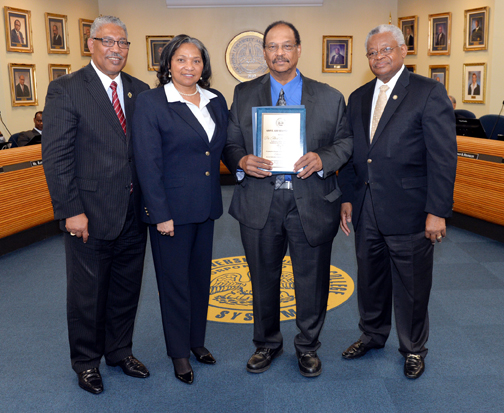 A long-time Baton Rouge business law professor and a SUNO Student Support Services director were awarded the first "Above and Beyond" Award presented by the Southern University Board of Supervisors during its regular monthly meeting February 17, 2017.
Albert D. Clark Jr., who received the employee award for January, has been working at SU Baton Rouge for 38 years. SU Board member Leroy Davis, who nominated Clark, said Clark is a dedicated employee who often stays after work to assist students.
The SUNO employee who was presented the now monthly award is Linda D. Frederick. Gloria B. Moultrie, vice chancellor, community outreach/university advancement, SUNO, described Frederick as a quintessential leader in the Department of Student Support Services for more than 15 years. "She has an open-door policy for all program problems and interests, and is willing to offer her advice and professional expertise when needed," said Moultrie.
The "Above and Beyond" Award was established to help inspire and motivate SU employees to reach their maximum performance. One award will be presented at the SU Board of Supervisors meetings each month.
"This award honors outstanding achievements in the workplace, exceptional contributions toward efficiency and effectiveness of operations, special efforts in promoting workforce excellence, or outstanding service to the University community and constituents," said SU Board Chair Ann A. Smith.
Recipients of the award are nominate their peers, the top three nominations are forwarded to the Board of Supervisors chair and vice chair for selection.
Nominations are due two weeks prior to all Board of Supervisors Meetings. Contact Maya Riley Banks at maya_banks@sus.edu or Michael Wells, at michael_wells@sus.edu
or call 225-771-4600, if you have questions or need additional information.