33 years at Southern University for one man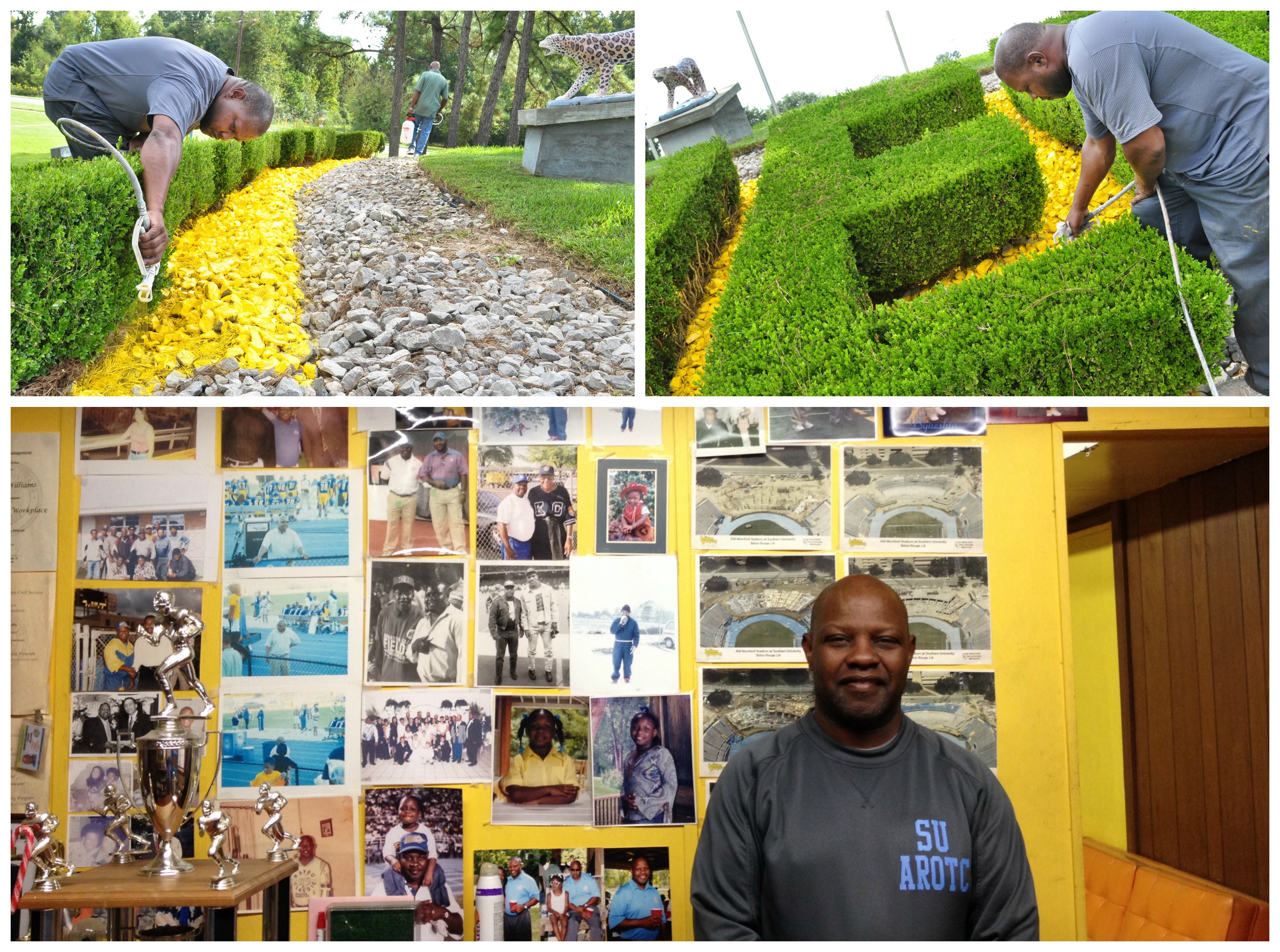 A young man, fresh out of high school, stepped on Southern University Baton Rouge's campus 33 years ago to join the grounds' team. Donnie Williams would later become the key to the operation of the athletic buildings and several other areas around the campus
Williams stands back and admires his "Wall of Fame" in his office as he shares memories of how it all started. There is a sparkle in his eyes and a smile on his face as he recaps his time at Southern just before retiring on March 31.
A country boy from Norwood, La., about a 35-minute ride from down LA19, has developed a love and connection to the place he has worked his whole professional life.
"It's my life and I love it. I bleed blue and gold and I believe blue and gold," said Williams.
Williams' career started in 1981 when then-Southern Lab Principal Dr. Thomas J. Wilcox started working at Southern University and brought Williams on board to work in the Grounds Department.
His first responsibilities included: painting for the police department; driving the equipment for all sporting teams; cutting lawns; driving the campus shuttle; operating the lights in the F.G. Clark Activity Center; taxiing celebrities visiting the campus; and the list goes on.
The Athletic Department would occasionally borrow Williams to help out when needed. That was good deal for Williams because that meant overtime and extra pay back then.
Back then, James Newton painted the field and John (a contract worker whose last name neither Newton nor Williams can remember) ran all other areas in the football stadium. Both men took Williams under their wings and from them he learned everything about the operations of the stadiums.
In the early 90s Williams' job was no longer a part-time gig with athletics. He became full-time over all facilities for football, basketball, baseball, softball, track, and volleyball.
He essentially became a one-man show.
Until his retirement, Williams operated with one other staff member, Leiland Castello, to handle A.W. Mumford Stadium, Lee-Hines Field, Lady Jaguar Field, Seymour Gym and the Activity Center.
Oh yeah, he can also be found helping to take care of the beautiful Southern Mound that greets people as they enter the campus on Harding Boulevard.
Williams said he hasn't thought about what he is going to do with his days after leaving Southern. He laughs and says, "I'll come back and help out and volunteer when they need me too."
"I am going to miss it and it is going to be hard for me to adjust too," said Williams.
Thinking back he says some of his best memories at Southern were during football season because he was able to travel more. With the football team over the years he was able to visit Las Vegas, Florida and Chicago, which he had to drive due to the plane being too heavy with the equipment.
He's retiring now, he said, because he promised himself that once his "baby girl"-the youngest of his three children-graduated from high school he would retire.  She is now in Southern's nursing program.
He also says Southern has taught him "about respect and how to respect people."
"I don't judge people by what their title is," said Williams.
Williams will not be found at home anytime soon. Besides coming back when Southern needs help, he also does field work for local schools, including McKinley High, Capitol High and Istrouma High. So if you have ever attended a game at any of these schools, the fieldwork is Williams' work of art.
Williams ended on a note saying, "I was taught by a lot of good people that showed me the way. I thank Dr. Wilcox for the job and John who got me started."
Williams loves his job, his university, the students and all the people in the Southern University community.