SU English Department earns first place in essay contest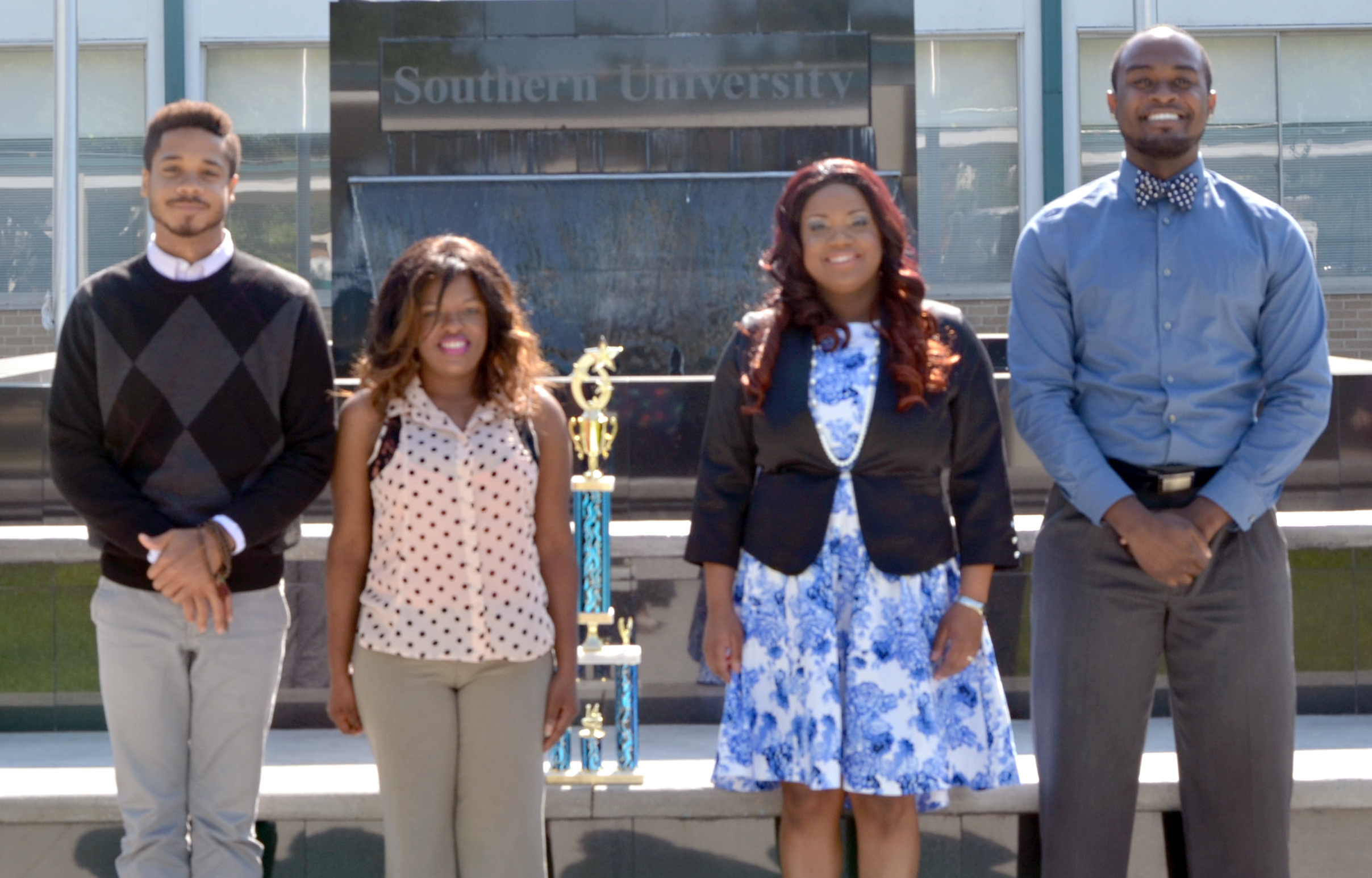 A team of four English majors from Southern University's English Department defeated two teams in the African-American Essay contest portion of the 2014 Southern Conference on African American Studies, Inc. (SCAASI) convention.
The team took first place in the writing contest, beating out Bennett College of Greensboro, N.C., and a team of students from Southern's History Department at the event held in February in the Cotillion Ballroom on the SU campus.
The conference theme was "The Aftermath of the Brown Decision: 60 Years Later." The students began at the end of the 2013 fall semester collaborating on ideas and thoughts surrounding the theme.
Southern last competed in the contest seven years ago when the English Department also took first place. This year, two Southern departments competed.
The winning team received a big trophy and individually framed certificates for their paper "Black Assimilation to the Middle-Class after Brown: Literary Portrayals by Contemporary African-American Writers."
Team members included: Tanisha Penn, a graduating senior from New Orleans; Alan Shaw, a graduating senior from Cross, South Carolina; Luke McKnight, a senior from Baton Rouge; and Naomi Ariza, a graduating senior from Alexandria, La.
Individual papers included: "Linden Hills: Assimilation and the Destruction of African-American Community," by Penn; "Satisfied with Nothin': A Mind too Scarred to Assimilate," by Shaw; and "Bad Neighbors: Unassimilated or Not?" by Ariza.
McKnight, the group moderator, who introduced the groundwork for the team's overall and individual papers, said the process involved a series of essays that centered on the theme of the convention.
"Each school had to create a unique way of presenting that theme in writing," McKnight said. "Our approach was through assimilation and how modern literature uses assimilation when it is negative and when one can use it to its benefit. And when you can compromise your own self-identity."
One of the team's advisors and an English professor, Dr. Cynthia DeMarcus Manson, said the team was assembled with "selected people who not only had writing potential but would agree to commit because it was a significant commitment of hours of work and meetings."
Manson also said the process was good for the students "because it allows our students to see how much potential they truly have. They had to write multiple drafts and formulate ideas."
Other advisors that helped guide the students included Southern English Professors Cynthia Downing Bryant and Natalie d'Auvergne-LaMotte.
Bryant said it is important that SU students achieve accomplishments such as placing first at major conferences. "Students winning this award showcase the possibilities in the English department on this campus," said Bryant. 
She also believes that students studying in humanities fields - history, English, philosophy, foreign language, mass communications - "do not get the kind of attention that should be given."
Bryant noted that it is important for the public to know that students in the field of Humanities are being taught to be critical thinkers and sound communicators.
The four students said that being part of the team and winning for Southern's English department was a joy and means a lot.
Shaw said it is significant to him because "it adds on to another accomplishment. I am part of the fraternity Kappa Alpha Si and so it is a good representation of a black fraternity on a national level."
Ariza said,  "It means that I can do more than whatever I can dream of and Southern has taught me that I can really apply myself ...do research that will prepare me for the next stage of my life which is graduate school. I never would have thought I could accomplish so much were it not for the guidance of the professors in the English department."
"The experience was unique," said Penn. "It allowed me to explore myself as a writer. To get my opinions and thoughts in order to write this paper and learn how to write in a different manner, not just writing for a teacher but for myself and learning to express my feelings and thoughts and to have someone else listen to them and find them good enough to win first place."
The thrill of bringing ideas to life as a group is what McKnight enjoyed about the process. "I get a lot of joy from bringing ideas to life. I do that regularly but never at a collaborative level. Winning was the result of really good work with good intent. Coming in first place shows the capability of the English department."
Bryant said, "It is good that Southern University's College of Education, Arts & Humanities students are showcased to let people know that SU students can formulate thoughts and articulate them well.
SCAASI began in 1979 following a successful statewide African American History and Culture program at Texas Southern University.  It is a regional conference for professors throughout the South who gather annually to present and share critical papers.
Each year a portion of the conference is devoted to undergraduate students to provide opportunities to educate and showcase undergraduate scholars.
In the photo on the front from left to right: Luke McKnight, Dr. Cynthia Manson,Tanisha Penn, Naomi Ariza, Alan Shaw, Dr. Natalie d'Auvergne-LaMotte and Dr. Cynthia Bryant.