SU Dancing Doll makes NFL's Saintsation dance team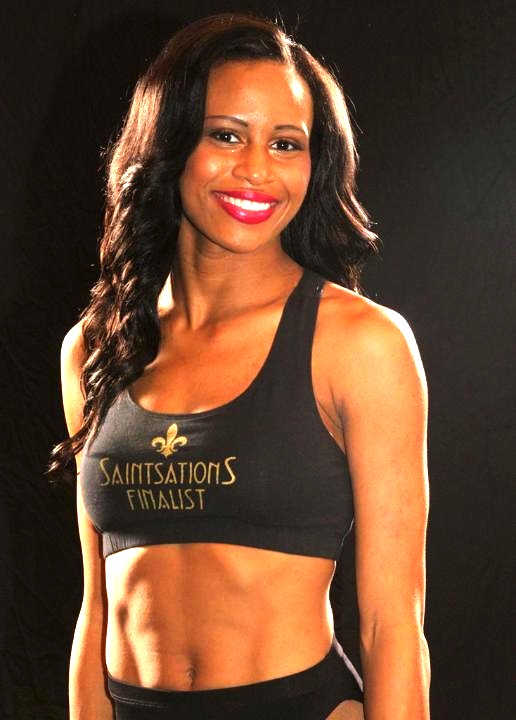 A few days ago Prentice Garrett was studying in the quiet of Southern University's John B. Cade Library.
Then she started nervously searching a website for a list she hoped would include her name. She found it. It was the names of the dancers chosen to be among the new SaintSations, the dance/cheer team for the NFL's New Orleans Saints.
And, there it was: Prentice Garrett. "I started shaking. I was in the library and wanted to shout. I had to stop shaking," said Garrett, who has been a member of Southern's famous Dancing Dolls for the past four years.
Garrett called home and got her family and friends in Stone Mountain, Ga., excited about her selection. "Everybody was happy for me," the 23-year-old said.
For now though, Garrett plans to be in step with the spring class of 2014 to receive her degree in biology on May 9 in the F.G. Clark Activity Center.
Garrett came to Southern intent on getting a degree and becoming a Dancing Doll. She had seen the SU marching band and the Dolls when she was a high school freshman at Redan High School in Stone Mountain. She was instantly sold on the Dolls.
She earned a spot on the Dolls and the rest was history. It was as her college career was ending that Garrett didn't want to hang up her dancing shoes.
"Once my fourth season was up, and I had only 20 hours left to graduate, I began to reflect on my dance career. I came to the realization that I wasn't ready for it to end," she said. "Even though I was making advances in my desired career path, that didn't fill the void of not dancing."
She sought advice about the SaintSations and decided to tryout. "I had no idea what I was getting myself into," said Garrett.
There were over 200 girls in the first tryout. That number was whittled down to 57. And that's when the really scary part started. The next cut - down to 36 - would be the end of the road for the competition and perhaps Garrett's dancing career.
But, she was chosen to be one of the 24 dancers who will be on the field at Saints home games in the Mercedes-Benz Superdome. The other 12 solely perform promotional appearances, she explained.
How does she compare the pressure of the tryouts for the Dolls and the SaintSations.
"The audition process for Dolls is very intense. All parts of the audition are in one single day," she said. "The pressure and the stress you have during Doll auditions is unreal."
"SaintSations auditions," she said, "is a process consisting of workshops and multiple cuts over multiple days. It gives you a better chance of grasping choreography and the overall style of the team. However, the waiting for the results of each round, day to day, was nerve racking. I have never been more on edge."
How does her selection rank with being among the Dolls to dance with pop superstar Madonna during halftime of the 2012 Superbowl.
"Madonna is Madonna," she said. "There are only a handful of people on this earth who could say they danced with an entertainer of her stature. I don't think I could dream up a cooler dance experience, and I'm sure my former teammates of the Dolls and my new teammates on SaintSations would agree."
 "I will say that my moment with Madonna was short lived, and the bonds and relationships that are in progress with being a part of the SaintSations are for a lifetime," she said. "The moments I will have with SaintSations aren't temporary, they're forever, or for at least the next four years if I'm lucky."
Garrett said her job will include field performances and some personnel appearances promoting the Saints organization.
"It's going to be fun," she said. "But it's not going to be all that I do."
Garrett said her goal is to become a high school science teacher, but she does not rule out the possibility of eventually becoming a college science teacher.
"Graduate School is definitely in my future," she said. "However I have not decided what degree I would like to pursue. It's between Secondary Education and Genetics." 
Garrett got a taste of the teaching profession during her final semester when she worked as a student interventionist at Villa Del Rey Elementary School in Baton Rouge, assisting fourth grade teachers with reinforcement of concepts in math, science, and social studies.
 "I hope to enroll in Louisiana Resource Center for Educations in the fall to obtain my alternate teaching certification so that I can start teaching in the fall of 2015," she said.
There is a sense of anticipation now for Garrett as she thinks about and prepares for her SaintSation performances in the Mercedes-Benz Superdome.
"What's great about this is that when I go out on the field I will be representing my university," she said.  'I will be representing Southern University. I love it."