Southern University grad gets his music debuted in Japan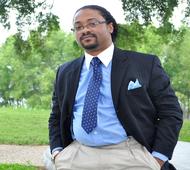 T. P. Carter is a Southern University graduate in music and now he is closing in on completing his studies to get a law degree from the Southern University Law Center.
Getting that degree and becoming a lawyer is great, but it's what happened recently that has Carter buzzing.
A musical piece he wrote several years ago and which had never been performed publicly, was rolled out and played in of all places, Tokyo, Japan. "Takin' It On Home" was performed at the Kanto Honor Band Concert at the International School of the Sacred Heart. The orchestra was comprised of top musicians from international schools in the Tokyo area.
"This is a big deal for me," said Carter, who was all smiles. "It is a struggle for an artist to get their work heard by the public...This is very humbling."
Carter is native of Scotlandville and graduate of Scotlandville Magnet High School. He followed in the footsteps of his parents and came to Southern in 1998 to study music under the legendary jazz musician and music professor Alvin Batiste.
"It was amazing and an honor to be taught by "Mr. Bat," he said. Working with Batiste, widened his musical knowledge and encouraged him to continue writing compositions which Carter had started in high school.
After getting his degree in Jazz Studies and Trumpet Performance, Carter moved on to get a master's degree in music from the University of Louisiana at Lafayette.  There he reunited with Dr. Quincy Hilliard, a music professor he had worked with briefly when he was in middle school.
It was Hilliard, Carter said, that encouraged him to write the composition that would become "Takin' It On Home."
Carter said he "will be graduating" in December from the law center and plans to pursue a career in intellectual property and copyright law.
Carter was not in Japan when his music was played, but has been able to watch a Youtube video of the performance over and over again. Interestingly, it was Hilliard who conducted the performance of the song in Tokyo.
"This is just amazing," Carter said.
Click here to view  "Takin' It On Home,"