Bonds are made at Southern University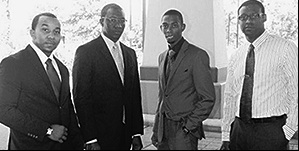 Last week in an article on Diversitycareers.com, four Southern University alumni were featured for their unique bond that started at SU and carried with them through graduate school, earning their doctorate and even into their successful careers. Justin Boone created a blog to help guide students who are thinking about graduate studies, "The Transition: From Undergraduate to Graduate School."
The four alumni are: Brandon Richard, specializes in materials science and optics for Northrop Grumman in Huntsville, AL; Eric Huey, chemical etching process engineer for Intel Corp in Hillsboro, OR; Frank Alexander, will be heading to Munich, Germany to do postdoctoral research in biomedical micro-electro-mechanical systems for cancer diagnostics as a Whitaker Scholar, working at biotech company cellasys GmbH; and Justin Boone, a radio frequency microwave design engineer for defense contractor Northrop Grumman at their Baltimore, MD site.
Below the young men share the reasons they credit Southern for their bond and success.
What did Southern teach you during your time at the university?
"During my tenure at Southern, I learned that in order to succeed, I had to take ownership in my educational journey. For me, I was more focused on taking advantage of the many opportunities that Southern provided me with instead of expecting them to appear right in front of me. Sure, when you attend a university, your always asked what did the school do for you, but in all cases no matter how many opportunities the school provides you with it's up to you to take advantage of everyone for your own personal advancement. I developed this drive, ambition, and dedication for success while enrolled at Southern University and I owe it all to those who played a significant role in my progress.  By far, Southern taught me how to be independent and self-driven in regards to my career advancements." - Justin Boone.  

"The greatest thing my time at Southern taught me was the importance of time management.  As a member of the Timbuktu Academy and the College of Engineering, the bonds I forged with my friends helped to cement these recently developed skills because everyone in my social circle also placed a high priority on study time and doing well in their coursework."- Frank Alexander.
How has developing this bond in undergrad help with your success in your life now?
 "Developing these close relationships at Southern was extremely helpful to my success because it proved to me that strength was in numbers. With the help of my fellow colleagues, perseverance became second nature during our process. Anytime I was faced with educational and even emotional hardships, I always had someone to talk to who could easily relate to my issues and offer a piece of friendly advice. It was critical that I had those close friendships because I was receiving guidance from people who genuinely cared and not those who were giving general advice. When you have those types of people in your corner, you can overcome anything that life throws your way." - Boone.
"The majority of my friends embraced a "work hard, play hard" mentality.  During the week, you could find most of us in Pinchback studying until the wee hours of the night, but on Friday or Saturday night you could easily find us unwinding somewhere in the Baton Rouge nightlife."- Alexander.
"Having fellow colleagues with similar goals in mind allowed us to assist each other in making contact with the necessary people and gaining the required knowledge to meet our milestones and make progress towards our ultimate goals." - Brandon Richard.
"Bonding with classmates was equally important to me as the educational training I received. Many of my classmates are still involved in my life presently, both personally and professionally." - Eric Huey
How did Southern prepare you to further your education at a higher level?
"Southern helped me prepare to further my education by providing valuable resources at my disposal such as seminars, workshops, and career fairs where university representatives came and shared detailed information about their various programs. By attending these events, I was able to receive scholarships, which included opportunities for me to conduct research during the semester. These experiences motivated me to continue my education beyond undergraduate studies, realizing that I still had the hunger to obtain more knowledge." - Boone
"I have to attribute my preparation for graduate school primarily to my time in the Timbuktu Academy and my time spent doing research in the Electrical Engineering department.  As a requirement of the Academy, I was required to perform research in my department and apply to do summer research either at Southern or an outside institution.  These experiences doing research are what ultimately prepared me to perform research at the next level, and were key to me getting accepted into the doctoral program at the University of South Florida." - Alexander.
"Southern University prepared me to deal with both common and uncommon scenarios unique to the overall college experience. Seeking opportunities, competing on a national level for internships and awards, as well as producing novel research were some of the many skills obtained at Southern University and were more than useful in my graduate studies."- Richard.  
"Southern University prepared me to further my education by placing me in circumstances and exposing me to opportunities that I feel are unique to the HBCU experience." - Huey.
Click here to read the Diversity Career's article. http://www.diversitycareers.com/articles/college/14-sumfall/options_phds.htm
###